Ripped Handsome British Gay Porn Exhibitionst, Tony Wilder
Years Active: 2015
UK NAKED MEN INFO:
Age: 25
Height: 6'0″
Weight: 170lbs
Cock Size: 7″ 8″ uncut
Sexual Orientation: gay
Body Hair: some hair
Body Type: ripped
Prefers: versatile
Likes: Men, boys, burly guys and smooth twinks, this insatiable hunk runs the gamut of men, he wants them all.
His only porn appearance to date, this ripped, handsome, flirty, big-dicked man made a big impression. A stunning, uncut dick and a cum shot that could stun anyone, he just cums SO much.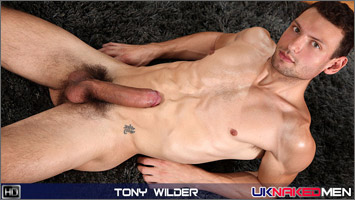 TONY WILDER UKNM SOLO
This guy is my favourite, new obsession, Tony Wilder, insatiable, ripped body, horny, flirtatious, BIG uncut dick, loves to show off and cums like old faithful, jet after jet of squirting spunk. I'm doing my damndest to get him back for a duo. He pumps that juicy, glistening cock, edging himself closer and closer to a splattering – squirt after squirt after squirt of warm seed YUM! Such a hot hunk!
CLICK HERE TO GO TO HIS UK NAKED MEN DETAILS