William Higgins Czech Gay Porn Star, Tony Mark / Leo Beast
Years Active: 2014 – 2015
WILLIAM HIGGINS INFO:
Age: 20
Home Town: Radvanec
Height: 181cm/5'11"
Weight: 73kg/160.6lb
Foot Size: EU43/US8.7/UK8.2
Penis Size: 16cm/6.3″
Profession/Student of: Unemployed
Hobbies: Sport
Favorite Sports: Soccer
Active Sports: Ice-Hockey
Movie/Music/Sport Stars: Judi Dench
Visited Coutries: Spain
Want to Visit Coutries: USA
Dream of My Life: I don't know.
Zodiac Sign: Taurus (April 20 – May 20)


TWINKS IN HEAT: HORNY FLIP-FLOPPING MASSAGE RESULTS IN LOADS OF JIZZ & PISS!
Pyotr Tomek is fucking hot when he steps out of the sauna – in more ways than one! – but young masseur, Leo Beast, is a man who thinks he can help. If anything, however, the temperature in the room probably only increases once the fellow starts to work his magic on young Tomek's thighs; and the bulge of Tomek's erection under his massage towel only seems to underline the point.
   Yes folks, these two lads are in heat real bad, and there's only one possible means of relief for either of them. It's something that new boy Beast appears to understand quite intuitively, diving down onto his buddy's handsome ramrod and teasing the crown with his tongue before taking it fully into his mouth. A move that Tomek himself is quick to reciprocate; before both pals lie down on the massage-table 69-style so that they can simultaneously feast on all the hard dick on offer. Just watching these two cherubs in action is surely more than enough to get most red-blooded viewers to the brink; but matters only intensify when Tomek finally turns his attention to Beast's tight little pucker, fingering it momentarily before energetically thrusting his hard shaft deep inside.
   Never one to miss out on the pleasure that only cock can give, however, Tomek is soon insisting on role-reversal – passionately riding his pal's dick cowboy-style, getting off to suck it, riding it again, and repeating the pattern until his balls can quite literally take no more! It's a terrific, nad-busting performance; topped only by the sight of the two lads heading off to the sauna for a much-needed piss!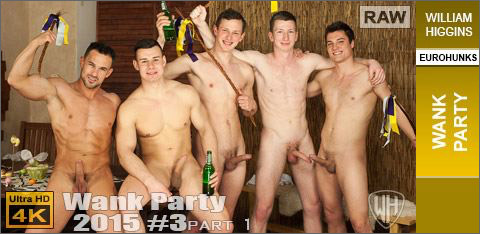 WANK PARTY 2015 RAW #3
For our EASTER WANK PARTY 2015 we lined up a great cast, Jirka Mendez, Martin Porter, Tony Mark, Laco Meido and Paul Hunter. We find Martin and Jirka waiting for some beer. It is delivered by Paul, who removes the caps from the bottle and hands a bottle to each of the others. It seems they have lost their friends who are out looking for girls to hit with their birch sticks, an Easter tradition. Then the others, Laco and Tony arrive. Paul gives each of the new arrivals a beer too. It seems they didn't have much luck with the girls. To make up for it they decide to use Laco's ass instead. Then strip him from the waist down and start to flick their sticks over his sexy ass. Then they release him and go back to drinking beer. Jirka and Paul start to rub Laco, soothing him after his ass was made sore. As he rubs Laco's chest Jirka leans over and kisses him. Martin moves over to Tony and starts to rub his legs, as he watches the others. Jirka licks on Laco's nipples as a bare-chested Paul rubs that sexy body. They remove Laco's tee shirt and he starts to rub Paul's leg as Jirka takes off his tee shirt. Martin and Tony kiss and start to get naked as Paul reaches over to Jirka to rub his chest and groin. Tony has Martin'as jeans open and reaches in to grope him. Meanwhile Paul kisses Laco as things start to really heat up. Tony loves Martin's big chest and starts kissing on it as Jirka has Laco naked and sucks on his cock. That cock is rock hard as Jirka sucks it, and Martin's is throbbing too with Tony's mouth wrapped around it. Laco kisses Paul as Jirka keeps on sucking and Tony does a great job on Martin's rock hard dick. Then Paul moves to join Jirka, sharing Laco's throbbing cock. They kiss too and takes turns sucking. Then Tony is naked and hard and Martin shows that he loves to suck cock too. His handsome face encloses Tony's beautiful cock, working up and down on it. Paul does the same to Tony with Jirka encouraging him. Then Jirka and Paul get naked too, their cocks all ready for action. Paul moves to stand in front of Martin who takes that hot cock in his mouth. Laco sucks on Jirks as Tony takes a turns a turn on Paul's cock. Then Martin sucks again as Tony switches to suck Jirka. they all take turns on Jirka's and Paul's cocks and then start some rimming. Martin lays on his back with Tony tonguing his hot hot. Jirka lays on top of Paul, both their asses available for Laco to rim. His pierced tongue laps as each hot. Martin loves Tony's hot tongue and then enjoys a finger joining it to work his hole, as Laco continues to work on the other two guys. That has set things up so well for the final part.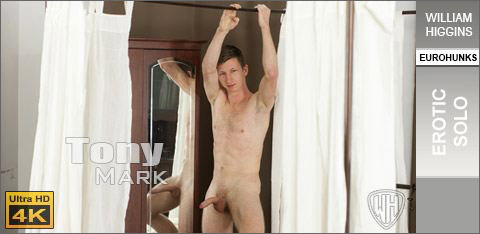 EROTIC SOLO: TONY MARK
Tony Mark is aged 20 and lives in Radvonec. He is unemployed and likes his soccer, ice hockey and sports generally. He is a cute looking guy and does a very nice interview, in English. Then he stands and begins to run his hands over his body. He lifts, and removes his tee-shirt to show off a very nice chest, with a nice amount of hair. Tony lowers his jeans and underwear too, releasing a large cock. He is quickly wanking on the cock with one hand, as the other rubs over his chest. As he wanks Tony pulls the foreskin back and forth, revealing the cock head. He lays down on the bed and continues to wank his cock. A helping hand arrives and drips some oil onto Tony's chest and starts to massage it. The hands removes Tony's underwear and jeans and then continue to run his hands over that sexy body. Then the helping hand takes hold of Tony's cock and begins to wank it for him. That dick is a big one and looks so good being wanked. Tony turns over and, as the hands rub over his hot ass hole, he pushes his cock back between his legs. The hands wank on Tony's cock and then a finger slips into that sexy ass too. Tony's ass gets a good fingering and his cock is wanked too. He turns over, onto his back, and lifts his legs in the air, showing off that sexy hole. The helping hand uses a foot to rub over that sexy hole, pushing a toe inside. Then, holding the cheeks apart with his feet he fingers the hole again. Then the feet rub all over Tony's cock and balls as well. Then Tony's cock is wanked again, this time until it is rock hard and shooting a big load of creamy cum, to end a lovely video.
WILLIAM HIGGINS
STR8HELL
STAXUS
CLICK HERE TO GO TO HIS WILLIAM HIGGINS BIO PAGE
EROTIC SOLO: TONY MARK
WANK PARTY 2015 RAW #3
HORNY FLIP-FLOPPING MASSAGE RESULTS IN LOADS OF JIZZ & PISS!