Colt Studio Model Gay Porn Star, Tony Ganz
Known Aliases:
Years Active: 1995 – 2001
COLT STUDIO INFO:
Nationality: U.S.A.
Height: 5′ 10″
Endowment: 7.5″ cut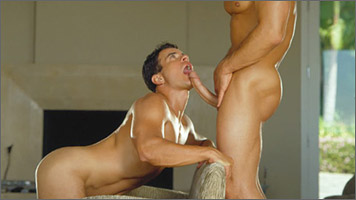 WORKLOAD
During a lunch break on a construction job Tony and Mark, who live together, discuss the obscene phone calls they've been receiving at their house. Then it's back to work. Later, at home, sure enough there's another call. While Mark listens, Tony finishes his shower and then, when he joins Mark in the bedroom, he is given the phone. Standing there naked, he listens and whatever he hears gets to him… and if it gets to him, it soon gets to Mark. Before you can say "your five minutes are up", everything is! From then on its non-stop sex between two very hot, very horny dudes who really love each other and what they are doing. It's a twenty minute oral orgy for two, Plus you, of course.

BG ENTERPRISE

CLICK HERE TO GO TO HIS COLT STUDIO DETAILS

COLT ANNIVERSARY ALBUM #6
The COLT Digital 35TH ANNIVERSARY ALBUM #2 – Superstars Part 2 – An extraordinary chronicle of highlights from COLT Studio's first thirty-five years, showcasing the highest standards of male erotica.
Featuring COLT Men Joe Reitano, Tony Ganz, Ken Ryker, Skyler Hawks, Tim Rawlins, Jason Braham, Terry Delong, Doug Perry, Dick Huge, Derek Kraus, Dusty Manning, Anthony Page, Thor Anders, Beau Wheeler, Dave Sansone and last, but not least COLT Man Superstar Pete Kuzak.

COLT 50th ANNIVERSARY ALBUM #2 – LEATHER
Since 1967 COLT Studio has been setting the standard in masculinity, showing the male physique in all its glory. The world has changed a lot over the last 50+ years, but what hasn't changed is COLT's dedication to providing you with the world's hottest and strongest men… COLT Men are what dreams are made of.
In celebration of our anniversary, we have put together a brand-new set of digital magazines dedicated to the rich history of our COLT Men. Our 50th Anniversary Albums show you exactly what you want to see and much, much more. Our second installment, Part 2 – LEATHER, brings into focus those men who are living and breathing their sexy lives in and out of leather.
Whether you like em' hairy or smooth, bulging muscles or lean and ripped… We can all agree that there's nothing quite like a man sporting the likes of leather and looking oh, so confident doing so. These men have what it takes and they know exactly how to wear it. Why not find out for yourself?
Follow along as we offer you the legendary equipment of legendary COLT Men, such as Mark Christian, Chris Ingram, Jesse Ditmar, Adam Champ, Tom Chase, Erick Korngold, Dick Huge, Alain Gerard, Samuel Colt, Tony Ganz, Joe Falco, Mark Alexander and Ryan Hayward.

COLT CALENDAR MEN #10 – ICONS
COLT Calendar Men Digital Magazine #10 – Icons is a full-color digital compilation of major highlights from various COLT Calendars which features some of our most iconic COLT Men from over our 50+ years in PDF downloadable format.
Features COLT Men Icons: Steve Kelso, Mike West, Carl Hardwick, Jerry Haymes, Jeff Williams, Taylor Burbank, Tom Chase, Anthony Page, Tony Mills, Coe Faulkner, Mack Boudreau, Rudy Burke, Spike Maynard, Mark Christian, John Pruitt, Franco Arbruzzi, Andrew Berlin, Roger Hickock, JD Amos, Boyd Hanson, Peter Lovette, Dusty Manning, David Hubble, Link Benedict, Roger Price, Haus, Pete Kuzak, Kevin Ritchie, Gavin Blake, Martin Kramer, Terry DeLong, Alain Gerard, Joe Reitano, Fred Slinger, Dick Huge, Tony Lombardy, Dave Sansone, Doug Perry, Thor Anders, Rio Majeska, Rick Koch, Tony Ganz, Franco Corelli, Don Arden and Chet O'Roark.

COLT CALENDAR MEN #11 – LEATHER
COLT Calendar Men Digital Magazine #11 – Leather is a full-color digital compilation of major highlights from various COLT Calendars which features some of our most iconic COLT Men from over our 52+ years in PDF downloadable format.
Features COLT Men Icons: Cover man Walt Ford, Pete Kuzak, Mike Pereyra, Joe Falco, Mark Alexander, Haus, Neal Howard, Nick Dipalma, Franco Corelli, Joel Hancock, Tony Mills, Beau Wheeler, Pat Webb, Ed Ventresca, Mike West, Skip Piston, Tom Chase, Erik Korngold, Buddy Houston, Ken Ryker, Buck Hayes, John Bell, Tony Lombardy, Jake Andrews, Wade Neff, Rod Roddick, Rio Majeska, Jesse Ditmar, Jake Tanner, Chet O'Roark, Mike Dasher, Billy Herrington, Marshall Cline, Todd Maxwell, Jason Brahm, Carlo Masi, Nick Battle, Scott Butcher, Frank Vickers, Link Benedict, Gus Mattox, Ray Dragon, Diego De La Hoya, Zak Spears, Gunner Hyde, Paul Underwood, Bruce Abidor, Matt Horner, Fritz Bowman, Tony Ganz, Taylor Burbank, Jeff Williams, JD Amos and Brant Royale.

COLT MEN 36
Presenting COLT Men Tony Ganz and Mark Sierra!

COLT STUDIO PRESENTS 21: MUSCLES IN LEATHER #2
COLT Men in leather with COLT Muscles! What else do you need to say?

COLT CALENDAR MEN #7
COLT STUDIO PRESENTS 20: MUSCLE IN LEATHER #1
COLT 40
COLT SPURS 23
COLT SPURS 25: WHOPPERS #2

COLT LEATHER CALENDAR 1995
COLT MEN CALENDAR 1995
COLT MEN CALENDAR 1996
COLT ANNUAL MAN CALENDAR 1997
COLT CALENDAR 1997
COLT HAIRY CHESTED MEN CALENDAR 1997
COLT LEATHER CALENDAR 1997
COLT MEN CALENDAR 1998
COLT LEATHER CALENDAR 1999
COLT COUPLES CALENDAR 2001
COLT HAIRY CHESTED MEN CALENDAR 2001
COLT LEATHER CALENDAR 2001
COLT MEN CALENDAR 2001
COLT MEN CALENDAR 2002
COLT COWBOY CALENDAR 2003
COLT COWBOY CALENDAR 2008
COLT LEATHER CALENDAR 2007
COLT MEN PLAYING CARDS

COLT COLOR PRINTS: CP-318
COLT COLOR PRINTS: CP-319
COLT B&W PRINTS: E-48
COLT SLIDE SET: S-341

JIM FRENCH: masc.
BRUNO GMUNDER: SENSUAL MEN
THE BIG PENIS BOOK
UNZIPPED September 2001
TORSO June 2001
JOCK November 2003

MEN MAGAZINE PRESENTS: COLT STUDIO

WATCH IT NOW AT: Tony Ganz @ AEBN / SMUTJUNKIES THEATER