William Higgins Czech Gay Porn Star, Tomas Hozman
Known Aliases: Jake Palace, Czech Hunter 46, Rob Tadon, Jacob Fluke, Jacob Hawke, Jacob Hawk, Kay Kavanah, Lukas
Years Active: 2012 – 2015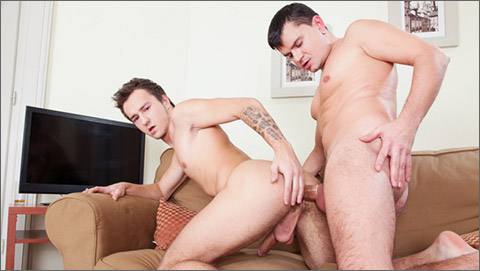 TOO BIG FOR TWINKS 7: Ricky (Ritchy Segely) fucks Jacob Hawk
While Richy is trying to read in peace, Jacob keep bothering him about that big package in his pants.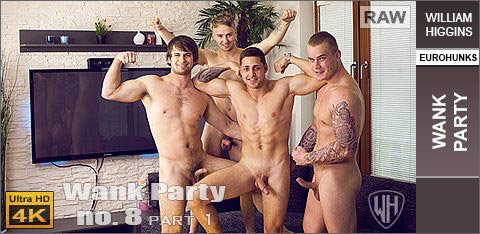 WANK PARTY 2014 #8
In WANK PARTY 2014 #8 we start part 1 with Vlado Tomek and Viktor Burek relaxing as they watch TV. They are then joined by Tomas Hozman and Jindra Durak. Tomas sits next to Viktor, and the two of them are soon rubbing each others' crotches. They begin to kiss and Vlado, seeing that suggests to Jindra that they play too. As Jindra scoots up to join Vlado Viktor removes Tomas' tee-shirt. Vlado does the same with Jindra and returns to kissing him. Then Vlado and Viktor remove their tee-shirts too. Vlado leans over and kisses on Jindra's nipples. Meanwhile Viktor's jeans are open and Tomas begins reaching inside for some cock. Tomas' jeans are soon open with Viktor groping his as Jindra kisses on Vlado's hot chest. Viktor pulls out Tomas' rock hard cock and starts sucking on it. Vlado's big cock is hard too as he jeans come down, and Jindra's mouth quickly closes around it. With Tomas naked Viktor keeps on sucking that throbbing cock. Tomas leans over and kisses Vlado. Jindra sucks Vlado's cock, licking his balls too. Then Jindra gets naked, releasing his own hard cock, which Vlado goes down on, right away. Meanwhile Viktor's dick is up too and Tomas eagerly starts sucking it. Vlado really works his mouth over Jindra's cock, with Tomas sucking on Viktor's, while his own is being wanked. Tomas is hot for cock and his head bobs up and down on Viktor's dick while Jindra wanks Vlado, who sucks on his thick cock. Then Tomas turns and begins sucking on Vlado, with Viktor returning his mouth to work on Tomas'. Then Vlado moves, to sit on the back of the sofa, so that Viktor and Jindra can share his cock. With Jindra on his knees to suck that cock Tomas gets behind him and starts rimming his hot hole. Viktor's mouth wraps tight around Vlado's cock sucking it until it flops out, and Jindra's mouth quickly closes around it again. All this hot sucking and rimming has set things up for more hot action in part 2.
MALE REALITY
WILLIAM HIGGINS
WILLIAM HIGGINS STR8HELL
BOY FUN
GAY WAR GAMES
CZECH HUNTER
SWEET AND RAW
BADPUPPY
BOY FUN
BIG DADDY