Handsome Hung Swedish Daddy Lucas Entertainment Gay Porn Star, Tomas Brand
Known Aliases: Thomas Brand
Years Active: 2012 – 2022
LUCAS ENTERTAINMENT INFO:
Height: 5'10
Weight: 209 lbs
Dick Size: 8″
Position: Top
Swedish stud Tomas Brand is all top, and when seeing this guy in action we wouldn't want him any other way. If there's an ass in need of a pounding, Tomas is the guy to get the job done. Having sex in gay porn is a fantasy Tomas always dreamed of fulfilling, and he's clearly good at what he does. Tomas loves fucking on the beach and he loves submissive guys who are willing to take his cock in all ways!
AEBN INFO:
With a smooth, chiseled bodybuilder physique and an uncut cock that measures 8.5 inches long, Swedish import Tomas Brand is nothing short of stunning. Special attention goes to his ass, which is a perfectly bubble-shaped work of art. He's a top and we can't get enough of watching him fuck! Tomas is at his best when he's buried to the hilt in man ass. Watch him in Bangers and Ass (Lucas Entertainment), Raul and Tomas (Lucas Kazan Productions), and other smoldering titles.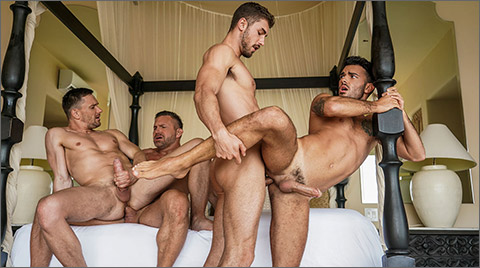 BIG BARE COCKS: Craig Marks, Tomas Brand, Andrey Vic, Pol Prince | Raw Foursome
There's no better foursome than one that features these four power-house Lucas Men models: Craig Marks, Andrey Vic, Pol Prince, and Tomas Brand, the King of All Muscle Daddies. And even though Tomas Brand comes off as a powerful alpha-male top, he has a submissive side and likes to get his ass fucked every once and awhile. And he gives it up to the tall, blue-eyed beauty that is Craig Marks, who penetrates Tomas and goes balls-deep in the macho daddy. All the while, Andrey Vic and Pol Prince are taking turns fucking each other up the ass. And to think, all of the incredible action started out as some foreplay in the pool! Don't miss the incredible dick-sucking and ass-fucking action starring the Lucas Men Craig Marks, Tomas Brand, Andrey Vic, and Pol Prince!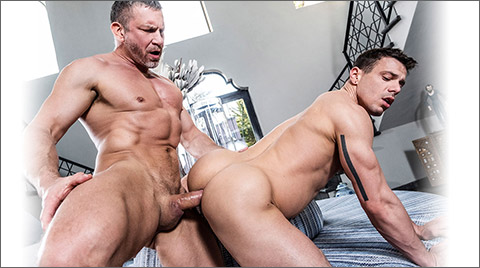 ENDURING DADDY'S DISCIPLINE: Tomas Brand Slams Jesse Santana With His Hard Uncut Cock
The job of Tomas Brand, the King of All Muscle Daddies, is never done. There's always a young man in need of the guidance of a true daddy. Jesse Santana is one such young man, and Tomas is more than happy to give him all of the attention he needs. Jesse opens his mouth to suck on Tomas' daddy dick, and spread his legs so he can feel the powerful thrusts of Tomas' as he fucks Jesse bareback.

BAREBACK AUDITIONS 9 – EAGER TO PLEASE: Ben Batemen Fucks Tomas Brand In The Ass Raw
Tomas Brand, the King of All Muscle Daddies, loves the chance to give a new Lucas Man a proper introduction to the studio. Tomas is known for being sweet and strong at the same time, and he's as tender when fucking a guy as he is rough and dominant. Ben Batemen gets this special treatment from Tomas, but it's not just Ben taking it up the ass. Every once and awhile, Tomas likes bending over and giving up the goods, and Ben's adorable smile grins ear to ear at the chance to bang a guy as sexy as Tomas raw in this awesome gay sex scene!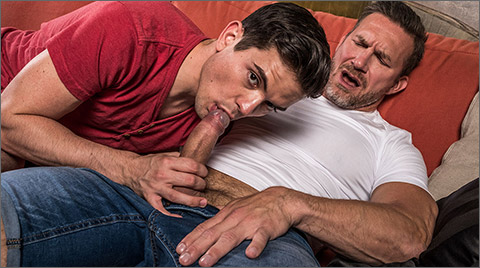 MUST SEED TV: FILL MORE GUYS | Tomas Brand, Dakota Payne
It's a parody, it's a reboot — it's a reboot-parody! It's Must Seed TV! Lawrence Fillmore (Tomas Brand) is making it work the best he can, but with a talkative twink like Corey (Dakota Payne) under his wing, sometimes the only way to get some peace and quiet is when his mouth is full. But when they come as horny as Corey, you have to fill more than just his mouth — and luckily Lawrence loves to fuck! Corey might not be his son, but Lawrence is definitely a daddy, and this daddy is always ready to Fill More Guys.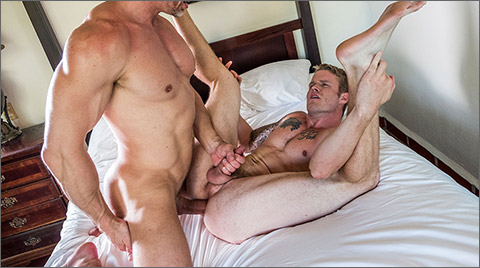 BOTTOM BOY BITCHES: Shawn Reeve Rides Tomas Brand's Top-Daddy Cock
Shawn Reeve wakes up to find himself alone in bed. His top-daddy lover, Tomas Brand, did a good job wearing him out the night before by fucking him rough and raw in the ass. The next morning, Shawn finds Tomas in the shower cleaning up, and the sight of the water running down his exquisite physique gets him hard all over again; Shawn starts playing with his hard-on as he watches. Tomas isn't one to ignore the needs of his boy, so he takes Shawn to bed all over again and fucks the hell out of him. Tomas' cock is fat and uncut, and Shawn proves he's a real taker when he's bouncing on his daddy's dick at the 10:50 time stamp.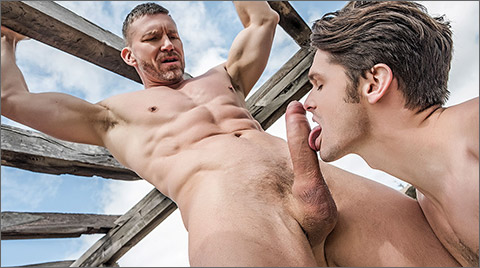 RAW DILFS: Devin Franco Bottoms for Muscle-Daddy Tomas Brand
Devin Franco has a major daddy fetish and enjoys hanging out with older men, and that includes befriending the King of All Muscle Daddies, Tomas Brand. Devin is always cruising for daddy dick, and when Tomas catches him checking out guys on his phone, he makes an advance. This is an opportunity Devin can't pass up: he's had a major crush on Tomas for a long time, and giving up his hole to an experienced power top like Tomas is a reward for any hungry bottom.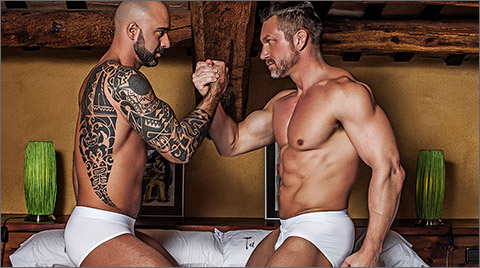 BAREBACK BOYFRIENDS & BROS: Tomas Brand Breeds His Real-Life Boyfriend Angelo Di Luca
The return of Tomas Brand to Lucas Entertainment has been a long time coming. He's the ultimate muscle daddy top in the gay porn industry (even if he bottoms once and awhile). He and his real-life boyfriend Angelo Di Luca (a sexy muscle bear) were invited to the set so they could give us a glimpse into their private sex life. A key observation is how much Angelo loves servicing Tomas' uncut cock: he takes great care while he's blowing his boyfriend, as you can see at 3:10. The second is that Angelo works hard to take Tomas' dick up his ass in as many different positions as possible, and he isn't shy about stopping during the middle of anal sex to suck on Tomas and lube up his dick with some spit. This guy likes the kink of ass-to-mouth!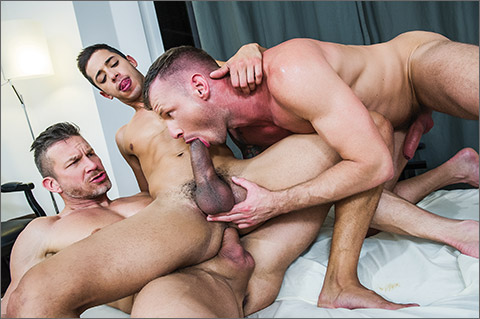 TOMAS BRAND AND LOGAN ROGUE SHARE DRAE AXTELL'S HUGE LATIN COCK
Who knows what was going through the minds of Tomas Brand and Logan Rogue when they saw Drae Axtell walking onto the set, other than the fact that they're going to pound a gorgeous Latin man. Judging by the smile on Drae's face, he's excited at the chance to switch back and forth between to daddies that are eager with their new paramour. This humble Lucas Entertainment writer has never seen Drae Axtell's monster cock in person, but judging from what's seen on camera it is ridiculously large. And when Tomas and Logan get a look at this kid's meat, both diligently take their time rotating turns servicing it. Check out 6:50 to see some awesome three-way oral sex action; Tomas is doing everything he can to swallow that cock up! Tomas soon after wants to induct Drae into the hall of men he's had take a ride on his cock, so the Latino hops on to stretch out his hole. But because Logan is a true sport, he happily jumps in the middle and takes Tomas and Drae at the same time!
CLICK HERE TO GO TO HIS LUCAS ENTERTAINMENT DETAILS
VIDEO ON-DEMAND: Tomas Brand @ AEBN SMUTJUNKIES THEATER
NOW STREAMING: Tomas Brand @ NAKEDSWORD
Hot or Not? Let us know.
[Total:

385

Average:

4.8

]