Slender Czech Gay Porn Star, Tomas Adamec / Lou Devane / Jose Manuel
Known Aliases: Thomas Adamec (Ayor), Simon Dusek (Titan, Oldmann), Jose Manuel (AVI / EuroCreme), Josef (Phil St John), Josef Kob (CzechBoys.com), Adas Dorem, Joey Sambuca, Josef Sobotka, Manuel Hossa, Manuel Olimar, Peer Paulus, Pepino Sobotka, Rocco
Years Active: 2006 – 2012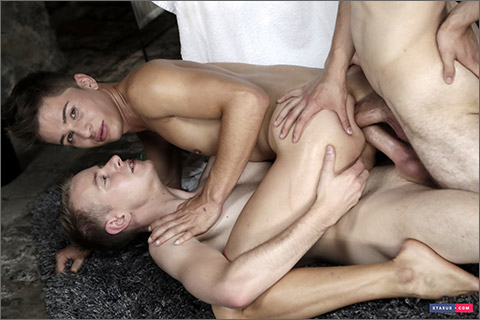 TOUCH MY MEAT: ANGEL LOPEZ GETS TWO COCKS SHOVED UP HIS OVER-MASSAGED HOLE
Most guys only get one fellow to give them a rigorous rubdown; but, as we all know by now, Angel Lopez isn't just your ordinary, run-of-the-mill fellow. Fact is, he's the kind of young man who could very easily have a queue of would-be massagers – and on this occasion it's the all-too-lucky Milan Sharp and Julian Fox who get the honour. What horny gay man wouldn't give their hind teeth to exchange places with them? As it is, however, the rest of us mere mortals must simply marvel at their good fortune; as they oil his sweet, Latino flesh and very slowly make a move on that gorgeous, uncut cock that they know is nestling in his crotch.
   Of course, it isn't too long before any pretence of a normal massage is abandoned; with Sharp producing a big black dildo, which he unmercifully prods into the youngster's all-too-eager ass-hole. That's just a prelude for what it to come, however, given that by this point both Sharp and Fox are quite literally gagging to thrust their own dicks into Lopez's hole; and indeed there's almost a gasp of relief when Sharp finally buries his oversized schlong into its natural resting place.
   Anyone expecting this to be just your average threesome is in for a mighty big surprise, however. For Lopez is a slut extraordinaire; and having enjoyed every inch that Sharp can muster, he's encouraging Fox to join the fun. Cue a truly amazing double-penetration, which will no doubt seriously risk a premature climax from the entire viewing population; before all three lads cream like fury, most notably Sharp into Lopez's now over-worked boy-cunt!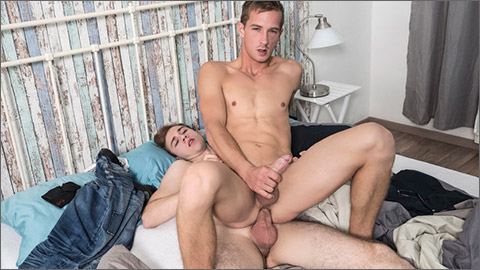 TOMAS ADAMEC GETS FUCKED RAW BY THE MONSTER 18 YEAR OLD COCK OF LUCAS MORRISON
Who needs Grindr when there are hot as fuck guys hanging out at the park? Tomas is sitting on a park bench minding his own business, when sexy 18 year old Lucas Morrison walks by. Lucas gets a look at Tomas and decides he wants him. Lucas sits down next to Tomas and gives him a hard stare. Tomas is confused. Does he know this person? Lucas gets up and motions Tomas to follow. Finally Tomas realizes that he is being lured to fun gay fucking with this hot young teen ager. He follows eagerly and soon they are back in Lucas' bedroom sucking face and getting naked. Once they are fully nude they begin to suck each other off. Both have huge thick uncut cocks that they barely can fit in each other's mouths. Tomas has a better idea. If it can't fit in the mouth, then lets try to sit on it. And he does. Tomas rides Lucas' hard cock bare and raw. They fuck in as many positions as they can before Tomas lets loose ropes of hot cum as Lucas pounds bareback into him. Then Lucas pulls out and cums and shoves the cream back inside giving Tomas a hot creampie.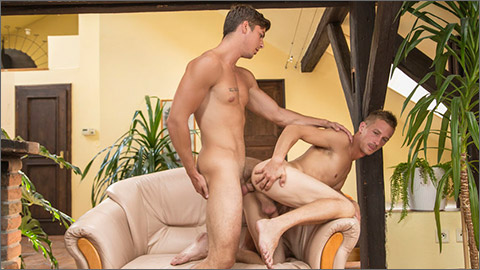 TOMAS ADAMEC CUMS ON HIS SIX PACK WHEN RICK JONAS BAREBACKS HIM HARD
Rick Jonas knows what you want to see. He is already hard underneath his underwear. Then Tomas Adamec comes through the door. He's hard too. They pull out their dicks. Tomas walks over and plants a kiss on Rick. They start to kiss hard and their tongues dart into each other's mouths. Then Tomas starts to suck on Rick's uncut cock. Then Rick leaned over and started to suck off Tomas. Then he turns around and offers his hole to Rick. Rick dives in tongue first. He licks him hard and fast until Tomas begs for a dick. Rick takes his hard on and shoves it deep and raw inside of Tomas. Tomas gets barebacked every which way he can until finally he cums ribbons of white hot jizz all over himself as Rick pounds away. Then Rick pulls out and cums on Tomas' hot hole.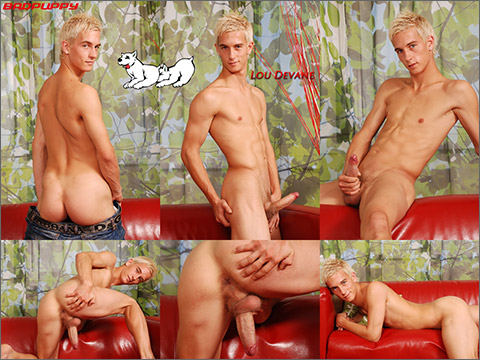 LOU DEVANE SOLO
We met 26 years old Lou Devane a while back at a party! He is a bartender at a local strip club, loves working out at the gym and loves showing off his cock. He walked over to us at the party and told us that we needed his huge cock on video. He pulled it out right there, on the spot and we could not have agreed more. According to Lou he masturbates every chance he gets, so he figured why not get paid for it and have fun at the same time. He sits back on the chair, removes his jeans and proceeds to rub his thick, stiff cock. Using both hands and stroking from different angles, Lou is a man on a mission. He turns and kneels on the chair, spreading his ass cheeks wide open, showing off his man hole as he tugs down on his cock. Lou slowly works his fingers into his asshole which stimulates him more and his cock is getting even harder. Sitting back down on the chair, you can tell he's about to blow and with a few final strokes; Lou blows a thick creamy load all over the chair.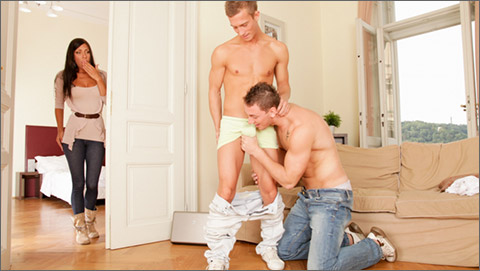 MY BOYFRIEND IS GAY 6
She thought they were best friends, she didn't know they shared everything, and we mean everything.
STAXUS
RANDY BLUE
BADPUPPY'S DANNY RAY COLLECTION
MALE REALITY