William Higgins Czech Gay Porn Star, Tom Vojak
Years Active: 2014 – 2015
William Higgins Model Name: Tom Vojak
Age: 22
Home Town: Prague
Height: 179cm/5'10"
Weight: 78kg/171.6lb
Foot Size: EU42/US8.5/UK8
Penis Size: 17cm/6.69″
Profession/Student of: Bartender
Hobbies: Sport
Favorite Sports: Ice-Hockey
Active Sports: Boxing
Movie/Music/Sport Stars: Jacqueline Bisset
Visited Coutries: France
Want to Visit Coutries: Greece
Dream of My Life: To be famous.
Zodiac Sign: Aquarius (January 20 – February 18)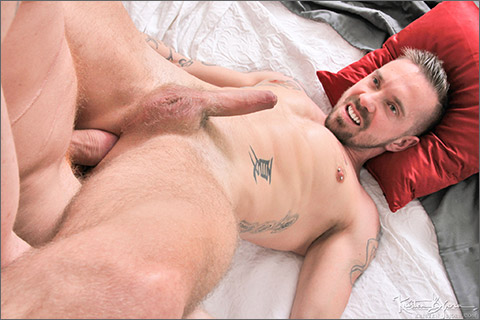 SKINS – THE TOURIST: TOM VOJAK FUCKS STEPHAN RAW
Tom is out playing tourist when he comes across a sexy man, Stephan in front of an old church. Tom asks Stephan to take his picture and then shows him a real treat for a local, a pic of Tom's huge, uncut cock. Stephan quickly invites Tom over and as soon as they arrive they begin stripping their clothes off. Tom takes Stephan's ragging hard cock into his mouth as Stephan takes Tom's rock hard cock into his throat in a hot 69 position. Stephan then moves into a better position to show Tom his true cock sucking skills and takes him balls deep. Hungry for that huge cock, Stephan spreads his legs open as Tom spits on his hole and fingers him until he is ripe for the picking. Stephan then squats down on top of Tom's bare cock and takes him whole. Tom slams Stephan so hard that his balls are banging up and against Stephan's fat ball sac. Changing up positions, Tom puts Stephan on his shoulders and drives his straining cock deep within Stephan's wet hole. The sensation of that huge cock penetrating him hard and deep in this position drives Stephan wild as he blows his load. Tom strains to hold on just a little longer, but at last he can do so no longer and covers Stephan's hot, pink hole with his thick, creamy load. Tom uses his own cum to lubricate his cock as he shoves it back inside of Stephan. Now that was a great and unexpected tourist stop.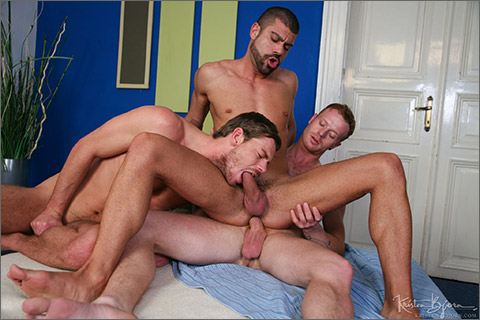 RAW ADVENTURES #16 – HOT WINTER: ARNAU VILA, TOBY DUTCH & TOM VOJAK
Arnau and Toby meet up after leaving the gym and Arnau tempts Toby with pictures of his sexy boyfriend Tom. This cold winter day just got a lot hotter. Tom takes his huge cock out and begins feeding it to the boys. Arnau and Toby are hot cock suckers and more than eager to get a taste of this hot cock. Toby and Arnau take turns on Tom's cock until Arnau is put in the middle and Toby eats his ass as Tom forces his hard cock down his throat. Toby is so hot from eating Arnau's tight ass that he blows his load. He then coats his fingers with his cum and probes Arnau's pink hole with his lubed up fingers. Toby is then put in the middle as Arnau feeds him his cock and Tom plunges his long, raw cock deep inside of his hot hole. Tom switches things up and has Arnau ride his bare cock as Toby sucks Arnau's throbbing cock. Tom then again switches things up and starts a raw fuck train with Arnau in the middle. Arnau fucks Toby as Tom fucks Arnau. The first to blow his load is Arnau and he sprays it all over Toby's wet hole. Tom strokes out his huge, creamy load all over both Arnau and Toby's cock and balls before shoving his cum soaked cock back into Arnau's dripping hole and Arnau plants his wet cock back inside of Toby's drenched hole. Now that is how you heat up a cold winter day!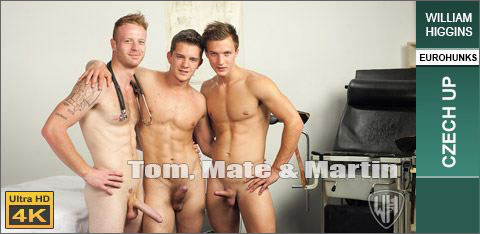 CZECH UP: MATE MORE & DR TOM VOJAK & MARTIN MERLOT
Mate More is due for a Czech Up from Dr Tom Vojak and Sister Martin Merlot. He has reported a bad back. Martin helps Mate off with his tee shirt and then, as he bend over, Tom checks his back. He decides that Mate needs the back massaged. So, with his jeans off he lays on the massage table and Tom begins to manipulate his back. He uses some oil, as Martin lowers Mate's underwear. Tom has Mate turn over and begins to work on his legs too. Then Mate is told to sit up, legs over the edge of the table. Tom checks him out some more, concentrating on the neck and shoulders. He decides a more thorough investigation is needed and has Mate remove his underwear and sit in the examination chair, with his legs in the stirrups. Like that Mate's ass is spread and Tom can take his temperature. As the thermometer slips into Mate's ass his cock is soft and resting on his balls. He has a temperature and Tom decided to massage his groin. Martin helps with that and Mate's cock starts to grow. Tom leans over and sucks on the big, hard cock as Martin leans over and kisses Mate. Tom sucks on the cock and rubs his hands over that sexy ass as Mate reaches for Martin's cock. Tom then kisses Mate as Martin bends over and sucks on the hard cock. Tom also slips a finger into Mate's hot ass. He fingers that hole as Martin steps up so that Mate can suck on his beautiful cock. Tom keeps up with the fingering and then leans in to rim the hot hole. Mate's mouth is wrapped tight around Martin's cock as it fucks his face. Then Tom's big, fat cock is out too, and he moves so that Mate can wank and suck it too. Mates takes turns on each of the medic's dicks. Tom's cock is so hard and needs more than sucking, so he stands between Mate's open legs and slides it deep into his tight ass. Mate takes that big cock and sucks on Martin's at the same time. Tom fucks him deep, spreading his hole wide. His big cock really works that hot hole as Mate' moans with pleasure. With Tom's big cock pounding that ass Mate grabs his own and wanks it until it releases his hot, creamy cum. Tom keeps fucking as Martin wanks himself. Tom's cock reaches the point of no return and he pulls out to shoot his hot cum over Mate's groin. He leans over to kiss Martin and then he takes turns with Mate to suck on that hard cock. Martin leans back on the table as they both suck his throbbing cock. Martin needs some ass too though so Mate kneels between Tom's legs, so that Martin can fuck him. With a cock deep in his ass Mate sucks on Tom some more. Martin fucks that ass with nice long strokes, speeding up. It doesn't take him long before he pulls out and shoots his hot cum all over Mate's sexy ass. Then they all kiss each other to end a great Czech Up.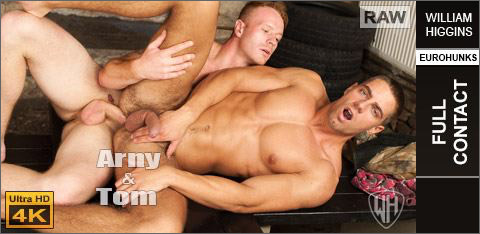 FULL CONTACT: ARNY DONAN & TOM VOJAK RAW
Our sexy hunk Arny Donan is in the dungeon enjoying a wank and hoping for some fun with a hot guy. Tom Vojak, a big dicked straight guy walks in and stands watching for a while. Then he moves to join Arny, kissing his chest and grabbing his hard cock. Tom drops to his knees and sucks on that stiff dick before standing and kissing Arny. He goes back down on that cock giving it another nice suck before leading ARny through to another chamber. Arny lays down and Tom goes back down on his cock. He sucks on that meat as Arny runs his hands over himself. As he sucks Tom removes his shirt, showing off his hot, hairy chest. Then he pulls Arny's legs up and dives into his hot hole with his tongue. Arny moans as he feels Tom's tongue on his hole. Then he feels a finger slip into it. Tom wants that ass and is soon naked, with his massive cock rock hard. He has Arny on his knees and fucks his big cock deep into the waiting ass. Arny moans as he takes Tom's pole deep into his ass. Tom fucks him real well, stretching his hole wide. He turns Arny over, onto his back and continues his deep fucking. Tom loves his dick deep in that ass and moves to a spoon position. His throbbing cock fucks that ass as Arny holds his stiff cock up. Back into missionary position they continue to enjoy a hot fuck as Arny wanks his cock too. Tom pulls out and stands in front of Arny who sucks on his big cock. Then Tom grabs it and a few tugs on that meat make it shoot a big, creamy load all over Arny's chest. He leans over and kisses him again to end a great scene.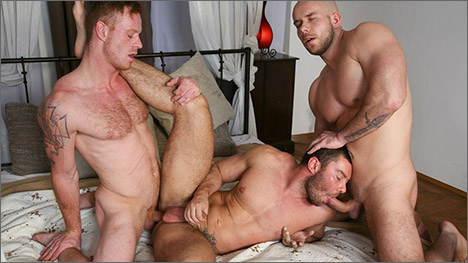 RAW ADVENTURES #12 – SMELL MEN: MAREK BOREK, PATRYK JANKOWSKI, TOM VOJAK
On a crisp winter day Tom and Marek are hanging out in the park when Patryk comes along. Intrigued by the two hot strangers Patryk approaches and the pheromones are raging out of control. Tom and Marek reach into their pants and rub their cocks then force Patryk to smell the scent on their hands. This gives Patryk a hard on that won't quite. Once Patryk has been marked with their scent they return to their apartment with him. The guys all strip down to their underwear and Patryk takes in the full man smell of Tom's cock and balls. Tom disposes of his underwear and Patryk consumes his gigantic uncut cock in one gulp. Patryk is turned onto his back and force fed Marek's huge cock while Tom services Patryk. Tom and Marek go back to back and hover above Patryk's hungry mouth as he begins to service both of their hairy holes with his tongue. Patryk is then flipped on his side as Marek forces his raw cock up his ass and Tom face fucks him with his massive cock. Being flipped around again, Patryk sucks and tastes the hot fuck juices on Marek's cock as Tom stuffs his raw cock up Patryk's ass. Marek and Tom lie down on the bed and Patryk squats down on one hot cock after the other. Marek blows his load all over Patryk's balls causing Patryk to blow his load and Tom feeds his load into Patryk's hungry mouth. Do you love the smell of hot sex?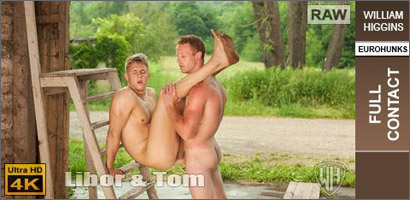 FULL CONTACT: LIBOR BORES & TOM VOJAK RAW
Tom Vojak and Libor Bores are out in the country. Expecting rain they decide to take shelter in a barn. It is an ideal place to enjoy a little fun and quickly Libor has kissed Tom and opened his shorts. Tom's cock flops out and Libor starts sucking on it. That cock gets very hard indeed, with the big balls swinging below, as Libor takes it deep in his throat. As he sucks Libor also has his over stiff cock out of his shorts. Tom starts to move off to another location with Libor following him. Libor then stands on some wooden steps, his cock just at the right height for Tom to suck on his cock. He sucks on Libor's beautiful cock and wanks himself. Then he moves, bending over, exposing his hot ass hole. Libor laps at the hot hole, his tongue getting it all nice and wet. He wanks himself and then Tom as he rims the hole. Libor loves the thick hardness of Tom's cock and is soon sitting on it, riding his ass up and down. That cock stretches his hole real good. Libor wanks himself, moaning as his ass rides Tom's throbbing pole. Then Tom grabs Libor's dick and wanks it. Libor gets off that big cock, but he isn't finished with it. He bends over and Tom shoves the dick all the way back in his hot hole. He fucks that ass deep and hard with Libor moaning as he feels his hole being stretched. Moving again Libor supports himself, and rests his legs on Tom's shoulders so his friend can continue fucking him. Tom's thick cock thrusts deep into Libor's eager ass. Long thrusts, working his cock in and out really has Libor moaning with pleasure. A final change, with Tom taking that ass from behind has Libor wanking himself and shooting his hot cum all over the ground. Tom continues to fuck that hot ass, and moaning as he does it. He pulls out and shoots his cum all over Libor's face. Libor quickly sucks the spent cock into his mouth to drain every last drop out of it. Then he stands and ends the scene by kissing his hard-fucking buddy.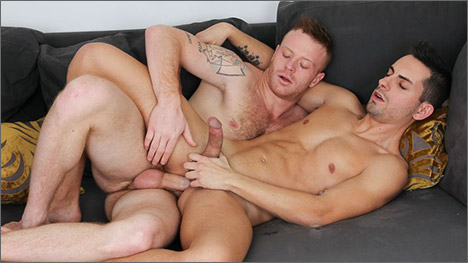 RAW ADVENTURES #9 – INTENSE: TOM VOJAK, HUGO ARIAS
RAW ADVENTURES #12 – SMELL MEN: MAREK BOREK, PATRYK JANKOWSKI, TOM VOJAK
EROTIC SOLO: TOM VOJAK
FULL CONTACT: LIBOR BORES & TOM VOJAK RAW
FULL CONTACT: STEVE PERYOUX & TOM VOJAK
WANK PARTY 2014 XMAS
WANK PARTY 2014 #7
WILLIAM HIGGINS
WILLIAM HIGGINS STR8HELL
KRISTEN BJORN