Czech Gay Porn Star, Tom Hawai
Known Aliases / aka: Joe Kean, Boni Durk, Tomas, Durk Bonim
Years Active: 2004 – 2006
STUDIO 2000 INFO:
Hair Color: Light Brown
Height: 5'8″
Body Hair: Smooth
Endowment: 8″
Tattoos: No
Eye Color: Green
Foreskin: Uncut
Position: Top
Body Type: Gymnast
Piercings: No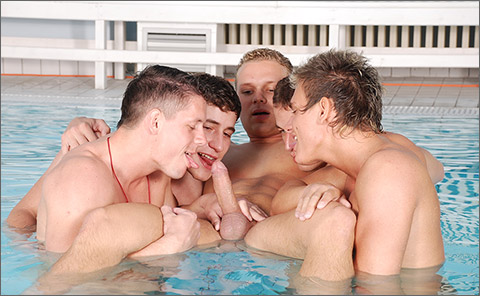 SPLASH – POOLSIDE ORGY
What happens when four of the hottest swimmers get together with an equally hot coach after swim practice? All five get naked, the coach and three of the swimmers sit down on the side of the pool with the fourth swimmer orally servicing the lot. Moving back and forth down the line of hot man-meat our servicing swimmer winds up back on the coach's cock working it until it erupts into a hands-free gooey mess of jizz running down the length of his cock. Each of the other swimmers are greeted with a blowjob ending in awesome hands-free cum shots. The four of them jump off the ledge into the pool and grab up the fourth swimmer who had just so willingly pleased the lot of them. They surround him; taking turns pleasing his cock, until it starts spewing thick glob cum into the pool. From this point forward; until an incredible climax, these five studs take turns fucking and sucking each other's beautiful bodies, cocks and asses. When it's time for the happy ending you won't be disappointed. Bodies and balls tighten; cum starts shooting and dripping everywhere as these five young studs get each other off.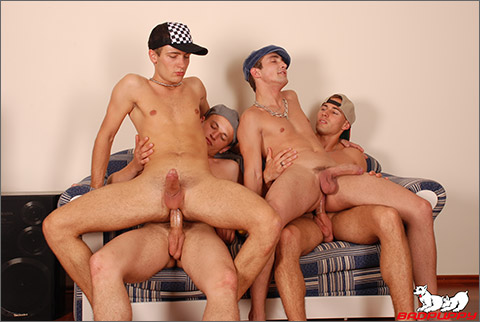 BOYS IN THE BAND (SCAMPS SCENE 2)
Chose Armando, David Browning, Tom Hawai and Sam Robins just finished their music practice when Chose decides they should all try his new way of playing their musical instruments. He pulls down the zipper to his pants down and pulls out his cock which is already rock hard. As he slaps his cock against the drum-pad the other three immediately catch on and follow suit. Their pants and shirts quickly hit the floor and hard cocks were all soon whacking the musical instruments. As these four hot studs are standing next to each other they realized they each really wanted the other. David and Sam drop to their knees and immediately swallow their respective studs cock. After getting two really good blowjobs Chose and Tom kneel and have the other two stand and they begin servicing their cocks; while continuing to jerk their own. Chose is the first to blow his load as he jerks his cock all over David. David gives us a hands free shot as he squirts a lot of jizz all over the floor. Tom is next to give us another hands free and talk about hot, as it runs down Sam's chest. Sam does not surprise as he squirts his creamy load all over the floor. This quartet of hot me go from cum shots to three of them lined up eating ass on the floor. David gets up and drives his cock deep into Tom while Chose comes in and pushes his cock into David's ass. As David is fucking Tom, Chose just has to sit there and let David do all the rocking. It's not long before Sam wants in on the actin and he jumps over and starts riding Tom while Chose jumps on David's cock. Sam is the first to shoot as he's riding Tom's thick cock and his load goes everywhere, with a long creamy stream dripping down his cock. David shoots his load as he sits as far down on Choses cock trying to stimulate his prostate. Chose and Tom both grab their cocks and with a few quick jerks, their already excited cocks squirt cum all over the floor. The camera fades on four very hot studs falling into each other and passionately kissing.
BADPUPPY'S DANNY RAY COLLECTION
WILLIAM HIGGINS
HIGH OCTANE PRODUCTIONS / HERVÉ HANDSOME