Super Hung and Handsome American Gay Porn Star, Tom Chase
Known Aliases / aka: horsehungmusclebutt, breedpony
Years Active: 1996 – 2009
BIG MUSCLE INFO (2002):
Year Born: 1965 his age Dec 31 2006: 41
Height: 5′ 10"
Weight: 200
Waist: 32
Chest: 48.0
Arms: 17.0
Forearm: 10.0
high: 27.0
Calf: 17.0
Body Fat: 11.0%
exclusive contract with Falcon Studios, but on loan to Colt
AEBN INFO:
One of porn's finest hairy hunks, Tom Chase made his big debut in the mid-90s. His masculine features quickly made him a favorite with both fans and industry insiders. In 1998 Tom, along with Mike Branson, won a GayVN Award for Best Sex Scene for the film California Kings. His scene in Falcon's California Kings is still one of his most popular scenes with fans and one of the few in which he performs as a bottom. Tom is also best known for working exclusively with two of the largest gay porn studios, Falcon and COLT. As a Falcon star he appeared in films like Deep South, The Big Thrill, Heatwave and Fever. Tom is one of the few performers selected as model for the "Falcon Supercock" line of dildos. Tom's work with COLT includes the films Open House, Waterbucks 2, Couples 3 and Naked Muscles: The New Breed where he once again performed as a bottom for Carlo Masi. In 2004 Tom was inducted into the GayVN Hall of Fame where he announced his retirement from the industry.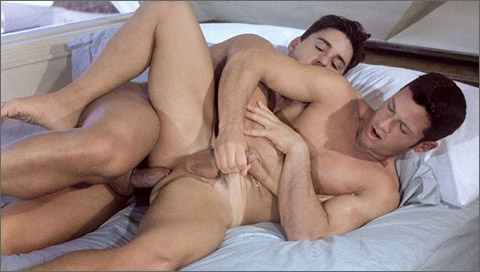 THE BIG THRILL SCENE 2: Tom Chase fucks boytoy Tristan Paris
The next morning, legendary stud Tom Chase shows up with his new boytoy Tristan Paris. After a long ride in the car, Tom and Tristan decide to clean up in one of the most sensual shower scenes ever. Tom explores every inch and crevice and hole of Tristan's body. First with his fingers and then with his tongue. After Tom thoroughly rims Tristan's smooth hole, the action moves to a bedroom. Rarely have romance and sex been captured so perfectly on film. Tom and Tristan are perfect together and it isn't long before Tom is sliding that famous cock deep inside Tristan. Plunging deeper and deeper, harder and harder until both studs are lost in rapture and blow their loads.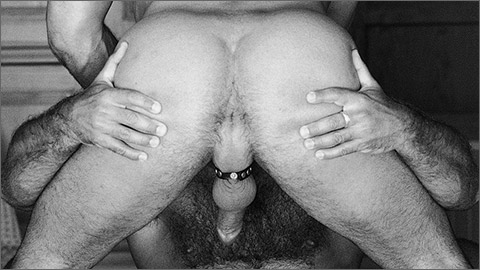 OPEN HOUSE
This has got to be the wildest real estate deal ever recorded! Tom Chase is a successful agent in Palm Springs who has come to expect surprises from his clients. He's put to the ultimate test when he meets his newest client, the massive Eric Korngold. The air is charged with masculine electricity as these two studs start peeling off their clothes. And when the pool man arrives, thats when things really get wild!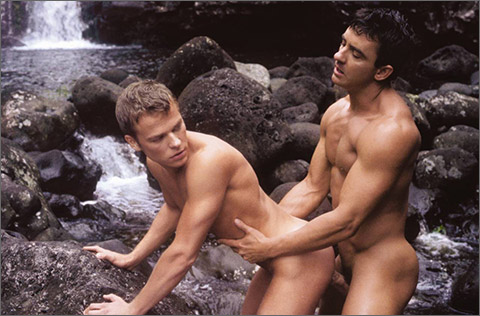 HIGH TIDE: Tom Chase fucks Matthew Anders
Seven years later, Matthew Anders is back where he belongs-with Tom Chase, the true love of his life. Time has not diminished their ardor, rather it has only strengthened their bond. Rediscovering themselves, the lovers frolic in the surf, playing in the sand, walking hand in hand. They seal their love with a kiss in the surf, while in the background a cathedral of waterfall and rocks reflects their passion. Matthew devotedly sucks Tom's huge cock drawing every rock-hard inch deep into his throat. The two transmit their undiminished love to each other with long looks; their passion steamy and sensuous. Tom lovingly takes Matthew's cock into his mouth, then meanders to his hole, massaging and priming it for a full session of fucking. They make up for lost time as Tom pumps Matthew full with his huge dick, each stroke throbbing with pleasure and passion. They stroke off and finally explode, releasing their essence. Still basking in the afterglow, they sit alone on the beach, as the waves serenade them.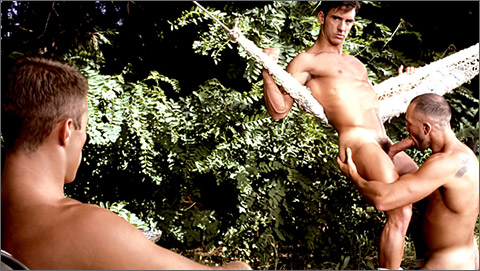 HEATWAVE: Tom Chase fucks Adriano Marquez with Logan Reed
Logan Reed is led blindfolded into the back yard, where Tom Chase and Adriano Marquez are already hard in action. Like predatory stags, daring and sizing each other up, trying to figure out who should master whom, the two men prod each other into heavy foreplay. Adriano hungrily sucks Tom's huge cock, swallowing the engorged tool in its entirety. The men tease each other, slapping, spitting, pounding, creating a tension too hot to ignore. First on the hammock, then holding a tree. Adriano gets the fucking of his life by Tom who slams and shimmies his fat dick up Adriano's hole. Looking directly into his eyes, Tom sends Adriano into a delirious state of bliss, controlling the rhythm of his breathing, the rhythm of the sex play, until neither man can stand it. They both explode spurting jets of cum as Logan enjoys the show, jacking his fat cock.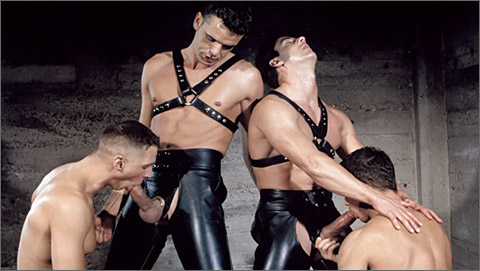 THE CHOSEN (FVP-111)
Tom Chase and Buck Meadows fuck, dildo-fuck & fist Steve Pierce and Christopher Scott
Top leather men Tom Chase and Buck Meadows work-over bottom boys Steve Pierce and Christopher Scott. The demanding tops stretch their boys' holes with an assortment of dildos…larger and larger until finally Steve and Christopher are fully relaxed and open. Then Tom and Buck lube up their fists and slide them in…working their hungry bottom boys until everyones' needs have been entirely fulfilled.
CLICK HERE TO GO TO HIS COLT STUDIO DETAILS

COLT CALENDAR MEN #11 – LEATHER
COLT Calendar Men Digital Magazine #11 – Leather is a full-color digital compilation of major highlights from various COLT Calendars which features some of our most iconic COLT Men from over our 52+ years in PDF downloadable format.
Features COLT Men Icons: Cover man Walt Ford, Pete Kuzak, Mike Pereyra, Joe Falco, Mark Alexander, Haus, Neal Howard, Nick Dipalma, Franco Corelli, Joel Hancock, Tony Mills, Beau Wheeler, Pat Webb, Ed Ventresca, Mike West, Skip Piston, Tom Chase, Erik Korngold, Buddy Houston, Ken Ryker, Buck Hayes, John Bell, Tony Lombardy, Jake Andrews, Wade Neff, Rod Roddick, Rio Majeska, Jesse Ditmar, Jake Tanner, Chet O'Roark, Mike Dasher, Billy Herrington, Marshall Cline, Todd Maxwell, Jason Brahm, Carlo Masi, Nick Battle, Scott Butcher, Frank Vickers, Link Benedict, Gus Mattox, Ray Dragon, Diego De La Hoya, Zak Spears, Gunner Hyde, Paul Underwood, Bruce Abidor, Matt Horner, Fritz Bowman, Tony Ganz, Taylor Burbank, Jeff Williams, JD Amos and Brant Royale.

UNZIPPED June 2009, September 30, 1997
INCHES April 1997
ALL MAN July 1998
INDULGE #013
JOCK December 1997, March 1997, November 1996
MANSHOTS April 1997, Jan/Feb 1997, May/June 1998, September 1999
NUMBERS April 2000, December 2000, January 1997, June 2000, September 1997
JOCK – ALL STARS Nov-Dec 1996, October 1998
JOCK – COLLECTORS March-April 1998
STROKE v17 n05
SAVAGE MALE July 1996 #24
XXX SHOWCASE July 1997

BRUNO GMUNDER: FALCON – HEROES – MEN OF FALCON
BRUNO GMUNDER: FALCON – LEGENDS – MEN OF FALCON
BRUNO GMUNDER: ULTIMATE FALCON
COLT – HAIRY CHESTED MEN
GAY PORN HEROES: 100 MOST FAMOUS PORN STARS
FALCON 1999 CALENDAR
FALCON: 2000 CLASSIC FALCON MEN CALENDAR
ADAM GAY VIDEO: 1998 PORN STAR CALENDAR
ADAM GAY VIDEO: 400 PORN STARS
ADAM GAY VIDEO: 500 WORLD'S GREATEST PORN STARS
ADAM GAY VIDEO: EROTICA v01 n06
ADAM GAY VIDEO: THE FALCON MOVIES OF JOHN RUTHERFORD
ADAM GAY VIDEO: THE TOP 40 FILMS OF CHI CHI LARUE
BAD BOYS OF VIDEO 2
MEN MAGAZINE PRESENTS: COLT STUDIO
MEN MAGAZINE PRESENTS: FALCON 30th ANNIVERSARY
MEN OF FALCON PLAYING CARDS

TOM CHASE SUPERCOCK

COLT 50th ANNIVERSARY ALBUM #1 – HUNG
COLT 50th ANNIVERSARY ALBUM #2 – LEATHER
COLT 50th ANNIVERSARY ALBUM #3 – HAIRY
COLT CALENDAR MEN #10 – ICONS
COLT CALENDAR MEN #11 – LEATHER
COLT MEN 39
COLT MEN 43
COLT 40
COLT SPURS 26: UNDERCOVER

BUTT BEATIFUL 2014 CALENDAR
COLT BUTT BEAUTIFUL 2010 CALENDAR
COLT BUTT BEAUTIFUL CALENDAR 2002
COLT COUPLES 2010 CALENDAR
COLT COUPLES CALENDAR 2008
COLT COWBOY CALENDAR 2003
COLT HAIRY CHESTED 2010 CALENDAR
COLT HAIRY CHESTED MEN CALENDAR 2002
COLT LEATHER CALENDAR 2002
COLT LEATHER CALENDAR 2003
COLT MEN CALENDAR 2002
COLT MEN CALENDAR 2003
HAIRY CHESTED 2012 CALENDAR
HAIRY CHESTED 2013 CALENDAR

COLT MEN PLAYING CARDS
HAIRY CHESTED MEN PLAYING CARDS
COLT COLOR PRINTS: CP-448 / CP-449
COLT B&W PRINTS: N-52

WATCH IT NOW AT: Tom Chase @ AEBN / SMUTJUNKIES THEATER
AVAILABLE FROM: Tom Chase @ TLA VIDEO