Rugged Handsome American Gay Porn Star, Todd Maxwell
Years Active: 2004 – 2006
COLT STUDIO INFO:
Birthday: May 9
Hometown: Phoenix, AZ
Current Residence: Phoenix, AZ
Zodiac: Taurus (and every bit a Taurus!)
Height: 6'0″
Weight: 220 lbs.
Hair: brown
Eyes: brown
Chest: 48
Waist: 32-33
Legs: 26 quad
Arms: 18.5
Body Hair: moderate
Body Type: very muscular / bodybuilder
Sexuality: gay
Endowment: 7.5 – 8 "
Cut/Uncut: cut
Hobbies: working out, huge baseball fan, theatre, literature, tennis
Sports: competitive swimmer through college, baseball, tennis
Special Interests: see above
Personal Accomplishments: graduate with honors from Cornell University
Marital Status: single but looking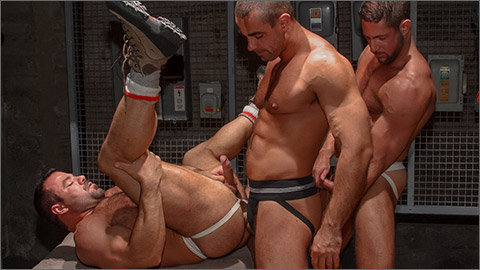 DRILL: TO THE POINT – THE SHOP:
Todd Maxwell and Matthieu Costa (top and bottom) and PJ Dixon (bottom)
Coffee break is almost over. Carpenter PJ Dixon has fallen asleep, leaving him prey to his trickster buddies Todd Maxwell (the husky, gym-toned American in the blue t-shirt) and Matthieu Costa (the handsome, and, as you'll soon see, huge-nippled and uncut Frenchman in the green t-shirt). Trapping Dixon inside a packing crate, they use their hole saw to core a couple of glory holes through its side, and Dixon eagerly power sucks two loads out of the overheated guys. Then they throw the hairy-chested studbottom across the crate, lube up his furry buttcrack with probing tongues, and fuck his brains out. Costa's plowing pushes Dixon over the brink, and as he's kissing the contented bottom, Maxwell rams his cock up the Frenchman's ass. With Dixon sucking his uncut meat and Maxwell screwing his tight ass, Costa can't keep from blasting out his balls, and the men collapse in a three-way kiss.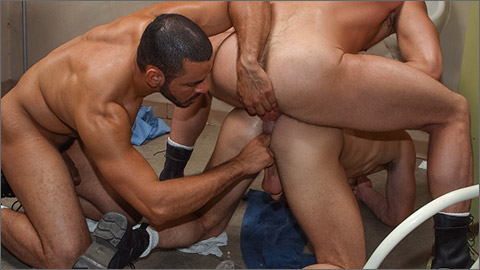 BACK TO BARSTOW: Diego De La Hoya & Todd Maxwell fuck Sebastian Tauza
It's all just a little too intense. We gotta get away for a breather. But stoppin' by the local gas station isn't gonna help — one of Joe Gage's best T-room scenes is going on. When attendant Diego De La Hoya finds the john infested with hot blooded, heaving guys, he puts it into lockdown and starts workin' over the bearded, sweaty men. Handsome, dark-eyed and uncut Tauza gets his choice ass crammed full by both muscle man Maxwell and uncut bruiser De La Hoya, but there's a lot of partner swappin' goin' on as the guys suck, rim and fuck each other until the two tops erupt into searing orgasms, and Tauza tops both with the biggest load of all.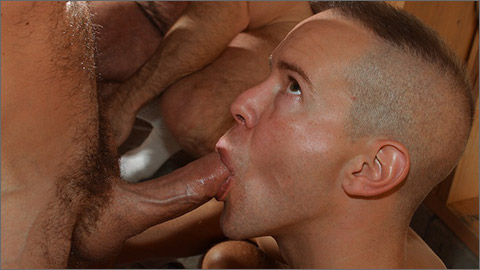 BACK TO BARSTOW: Randy Elliot, Todd Maxwell and Troy Banner
3-way oral scene with cumshots featuring Randy Elliot, Todd Maxwell and Troy Banner.
CLICK HERE TO GO TO HIS TITAN MEN DETAILS

COLT CALENDAR MEN #11 – LEATHER
COLT Calendar Men Digital Magazine #11 – Leather is a full-color digital compilation of major highlights from various COLT Calendars which features some of our most iconic COLT Men from over our 52+ years in PDF downloadable format.
Features COLT Men Icons: Cover man Walt Ford, Pete Kuzak, Mike Pereyra, Joe Falco, Mark Alexander, Haus, Neal Howard, Nick Dipalma, Franco Corelli, Joel Hancock, Tony Mills, Beau Wheeler, Pat Webb, Ed Ventresca, Mike West, Skip Piston, Tom Chase, Erik Korngold, Buddy Houston, Ken Ryker, Buck Hayes, John Bell, Tony Lombardy, Jake Andrews, Wade Neff, Rod Roddick, Rio Majeska, Jesse Ditmar, Jake Tanner, Chet O'Roark, Mike Dasher, Billy Herrington, Marshall Cline, Todd Maxwell, Jason Brahm, Carlo Masi, Nick Battle, Scott Butcher, Frank Vickers, Link Benedict, Gus Mattox, Ray Dragon, Diego De La Hoya, Zak Spears, Gunner Hyde, Paul Underwood, Bruce Abidor, Matt Horner, Fritz Bowman, Tony Ganz, Taylor Burbank, Jeff Williams, JD Amos and Brant Royale.

MEN MAGAZINE PRESENTS: TITAN MEN
UNZIPPED  January 2005
UNZIPPED  December 2005
HONCHO  October 2006
BEAR  #68
FLESH 4 MEN  Summer 2007
XXX SHOWCASE  v14 n01
MEN SPEZIAL 5: COLT
BUCKSHOT VIDEO MAGAZINE #4
COLT LEATHER CALENDAR 2005
COLT HAIRY CHESTED CALENDAR 2006
COLT MEN CALENDAR 2006
UNIFORM MEN 2013 CALENDAR
COLT – HAIRY CHESTED MEN
ADAM GAY VIDEO: 500 WORLD'S GREATEST PORN STARS
MEN OF THE INTERNET
TITANMEN 2005 CALENDAR "WORK"
UNZIPPED 2006 CALENDAR