Cute Uncut Canadian Power Bottom Gay Porn Star, Thyle Knoxx
Known Aliases:
Years Active: 2017 – 2021
MEN.COM INFO:
Hair Color: Brown
Sign:
Eye Color: Blue
Dick Size: 8″ uncut
Height: 5'11"
Weight: 160
Sexual Positions: Versatile Bottom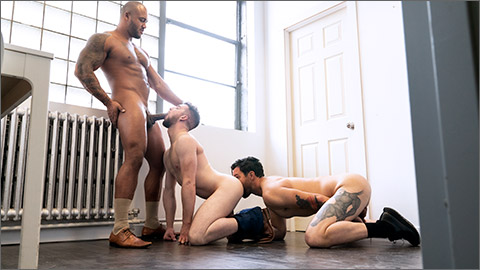 MY BOSS IS A DICK: Jason Vario fucks Beau Reed & Thyle Knoxx
Co-workers Beau Reed and Thyle Knoxx are swamped with work when their boss Jason Vario comes in to check on their progress. When they ask for an extension, Jason lets them know it comes at a price as he locks the door and strokes his bulge. Thyle knows his boss means business as he whips his cock out and Thyle gets to sucking while Beau fights for a taste of his own. Soon, Beau is able to get his lips around Jason's cock while Thyle licks Beau's eager hole. The man in charge takes his position when he bends his employees over a desk side by side and alternates between fucking their holes bareback. Jason keeps control as he moves Thyle to insert his cock in Beau while he stays planted deep in Thyle's crack. Jason takes turns fucking both of his hard workers until both Jason and Thyle breed Beau's hole while he spills his on the floor.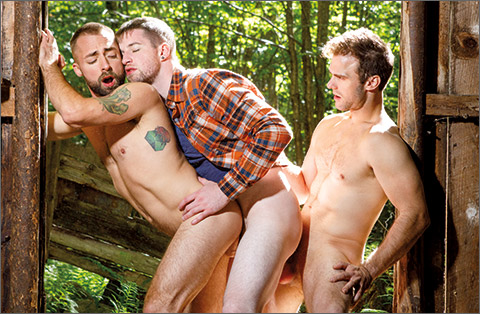 INTO THE WOODS: Gabriel Clark fucks Thyle Knoxx who fucks Jeremy London
Jeremy London and Thyle Knoxx are hiking thru the woods when they stumble on Gabriel Clark working shirtless in his barn. After showing them around, Gabriel goes to find a saw and leaves the couple in the barn. Thyle goes for it and grabs Jeremy's bulge. Gabriel notices them having some fun thru a crack in the barn wall and whips out his cock while he watches. Thyle and Jeremy know they're being watched, so Thyle gets down to suck his man's cock while their new friend watches. Thyle is hungry for cock and invites Gabriel over to join them so he can suck both their dicks. Soon, Gabriel is on his knees eating Jeremy's ass while Thyle sucks his cock. All three take turns tasting each other's cocks before Thyle slides his meat into Jeremy's ass bareback. While Thyle fucks Jeremy, Gabriel gets to the back of the fuck-train and slides his dick in Thyle's hole. It's a cock-riding, hole-stretching frenzy in the woods that ends with Gabriel taking two loads in his mouth before spilling his own spunk on the forest floor.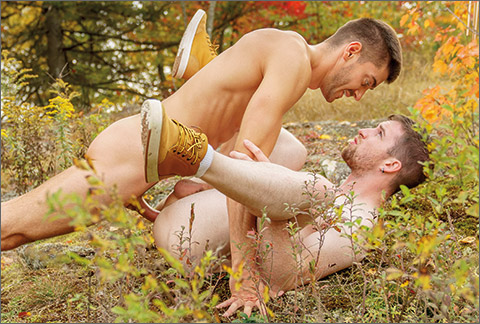 INTO THE WOODS: Rafael Louis fucks Thyle Knox
Rafael Louis and Thyle Knoxx hike to the perfect spot for Rafael to breed Thyle's hole. Once in their spot, they proceed to ditch their clothes. While Rafael plays with Thyle's nipples, Thyle is busy unzipping his buds' jeans to pull out his massive cock. They both take turns gagging on each other's cock before Thyle gets bent over, has his hole rimmed and Rafael's cock sliding up into his ass bareback. Thyle takes it hard doggy style and Rafael delivers a passionate pounding from behind. Switching positions, Thyle gets down in the dirt and spreads his legs so Rafael can get between them and drill his hole. Rafael keeps pumping Thyle's hole in the wilderness until he can't hold back any longer and paints Thyle's ass with his thick cum, and Thyle drains his load.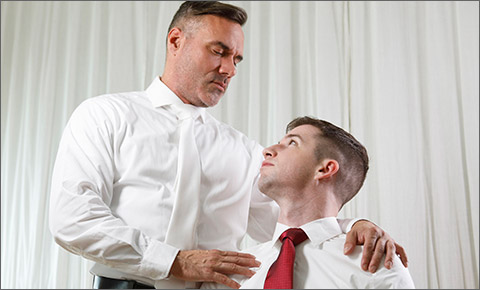 THE INITIATION OF ELDER KNOXX 1: SINFUL INTERVIEW
President Skye and Elder Knoxx
Elder Knoxx has a very important meeting with President Manuel Skye. As he sits beside him, President Skye begins the interviewing process, and surely, Elder Knoxx starts confessing even his darkest thoughts. Lucky for him, President Skye assures him that this is the safest place to fulfill his most sinful fantasies.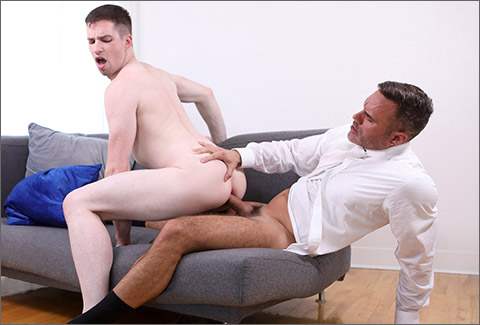 THE INITIATION OF ELDER KNOXX 2: THE CALLING
President Skye and Elder Knoxx
It's time for Elder Knoxx's physical examination, where director Manuel Skye will make sure that his body is strong enough to withstand the Lord's trials.

THE INITIATION OF ELDER KNOXX 3: TRANSGRESSIONS
President Skye and Elder Knoxx
After Elder Knoxx's transgressions President Manuel Skye is forced to take the appropriate disciplinary action. Blindfolded, Elder Knoxx is about to take on a hell of a ride.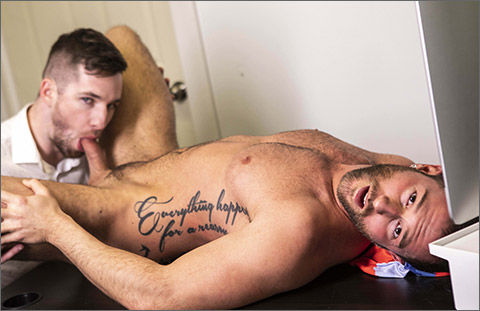 I WANT TO BE FAMOUS
Tanner Hall is a hot young guy with ambitions of being a famous influencer. He seeks out the help of superstar agent Thyle Knoxx who is used to these hot young hunks and knows exactly how to get the most out of them. He fucks their tight asses and has them fuck him deep, hitting his P-Spot. They engage in the hottest versatile sex with a good dose of sucking a hard dick and glanding one another.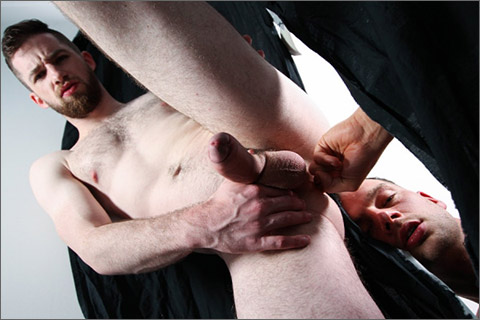 ANONYMOUS BREED – PART 1
Damon Heart is looking for an immediate, NSA release; an anonymous hole to fuck, breed and then leave. Behind a dark curtain awaits a slutty, eager sub – Thyle Knoxx – starving for a stranger's load. Damon plunges his cock through the gloryhole, wasting no time filling that warm mouth and ass on the other side. After inseminating the boy, he leaves just as quickly as he arrived. Satiated.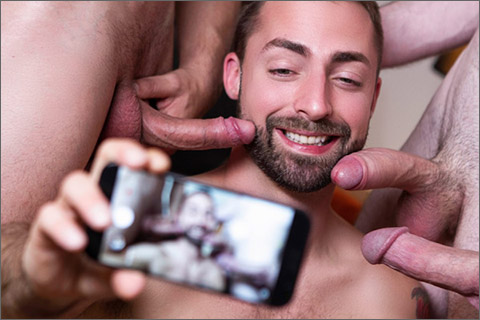 THE CUM DUMP – PART 3
With two hookups down so far today, cum slut Jeremy London is looking to impress by fucking with three more — and, making it to Cum Dump status! On the PansMeet app, he matches and invites over Alex Mecum, Ace Quinn, and Thyle Knoxx — ready for dicks and punishment.
   Watch as the three masqulin men feed Jeremy their cocks and cum, ending in an epic cream pie. Don't ever tell Cum Dump Jeremy that he's boring.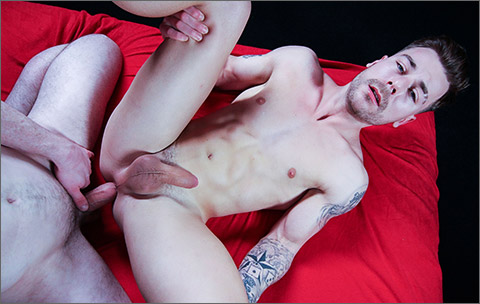 FUCKERBATE – PART 1
Popular social media personality, Thyle Knox, has always dreamed of going to New Zealand. He puts a plea out to his loyal followers to help him fund his dream vacation in hopes he'll eventually raise enough to make his dream a reality. Upon arriving home one day, Thyle receives an anonymous letter at his front door… inside the letter is a challenge. If he chooses to accept the challenge and successfully complete the task, his anonymous fan promises an immediate financial contribution towards his goal.
What lengths is Thyle willing to go to make this all happen?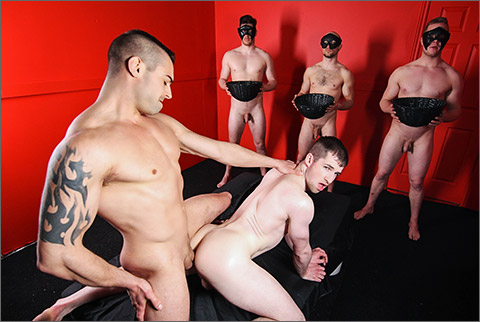 FUCKERBATE – PART 2
Part 2 of the Fuckerbate series begins right where Part 1 leaves off with the countdown on Thyles phone counting down, giving him minutes to begin his next challenge. This time it is Thyle's turn on the receiving end and he is paired with one of the biggest cocks in gay porn – Jack Kross.
Is Thyle's ass up to the challenge?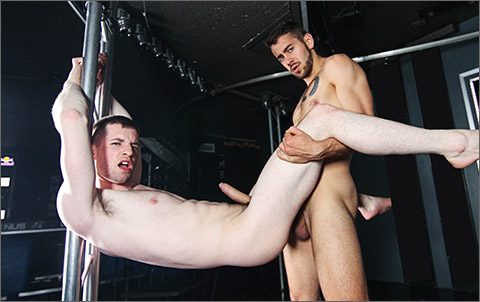 FUCKERBATE – PART 3
Part 3 of the Fuckerbate series finds Thyle center stage with a small audience and one demand… "Dance Monkey"!! Thyle tries his best to show off his moves but truthfully fucking is much more his forte. Up steps Dante Colle to help Thyle complete his next challenge.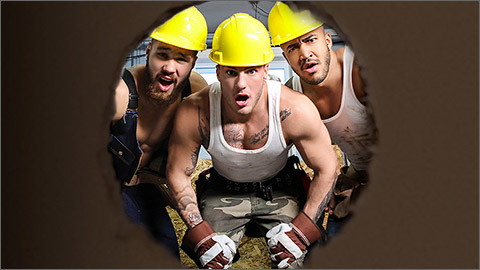 MEN AT WORK
Jason, William, and Morgan are hard at work and don't notice they are being watched through a peephole on their construction site by Thyle and Joey. The two men are so turned on by their hot sweaty bodies and are more than happy to give the boys a much-needed break by offering up some ass and an eager mouth hole.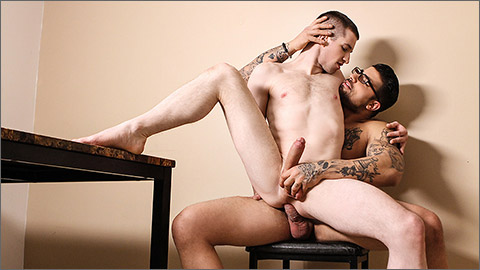 ASS CONTROLLER – PART 3
Ryan invites Thyle over for a dinner date with friends; little does he know, he's in for an extra treat as Ryan surprises him with an ass controller. It's all fun and games from there!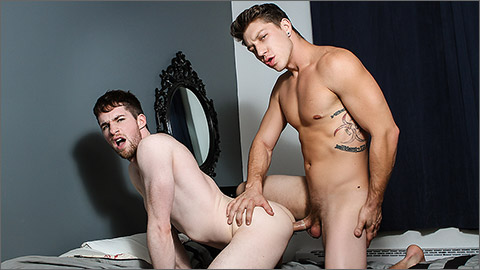 PRANKSTERS – PART 2
Paul Canon is at it again pranking as many men as he can find by walking up to them with a huge hard-on. Lucky for him, Thyle Knoxx is all but too happy to be pranked!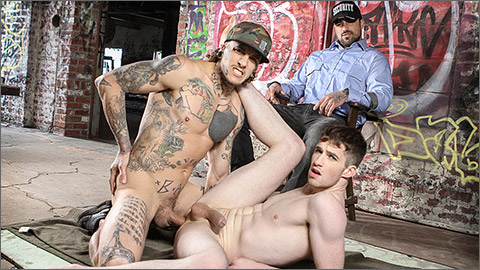 SECURITY WATCH
In a cold & crumbling landscape, Thyle is hand-cuffed and aching for some bareback abuse. Enter sex beast Bo Sinn who savagely throat-fucks him with his monster cock before impaling Thyle's spanked-raw ass. When security guard Ryan Bones discovers them, he is treated to a a visual feast that leaves him panting for more. This may be our most addictive scene yet!
CLICK HERE TO GO TO HIS MEN.COM DETAILS
VIDEO ON-DEMAND: Thyle Knoxx @ AEBN SMUTJUNKIES THEATER
NOW STREAMING: Thyle Knoxx @ NAKEDSWORD