American Power Twink Exhibitionist Gay Porn Star, Texas Holcum
Years Active: 2014 – 2016
TWITTER @TexasHolcum

HIS FIRST DICK
Johnny Torque is one of the coolest guys at school, and a friend of Texas Holcum's brother. When Johnny drops by to hang out with Texas's bro, Texas is home alone. His brother went to the gym, so Johnny decides to hang out and pass some time chatting with Texas.
  Johnny takes out a pornographic magazine, featuring photos of naked girls. Johnny sees that Texas is kind of grossed out by the magazine. This is a clear indication to Johnny that Texas MUST prefer boys. Texas has never even had a girlfriend! It all just adds up. Johnny knows that the right thing to do would be to help Texas become accustomed to nice, hard dick.
  Johnny's begins the process by pulling out his cock and guiding Texas's hand to it. Texas is so nervous he can barely look in Johnny's direction. But, being the sweetheart he is, Johnny talks softly and warmly to Texas, encouraging him to relax and enjoy the experience.
  Soon, Texas is licking and sucking the fat dick, letting his inhibitions slowly melt. The next step Johnny takes is removing Texas's shirt and laying him down on the kitchen table. Johnny takes out Texas's swollen cock and returns the oral favor by slurping on Texas's ripe dick nice and deep.
  When Johnny feels Texas is ready for the final step, he bends sweet Tex over the table and slides his pulsating erection into Texas's tight, virgin ass. He works up to a good, solid pace, pounding Texas like good, older friend should.
  Next, Johnny sits in a chair and lets Texas ride his dick. Texas sure likes this a lot! He has a bit more control than he did in the last position.
  Finally, Tex lays on his back on the table and Johnny gives him a hard fucking. Join this fun learning experience and watch Texas have his very first, but definitely not last, sexual experience with a boy!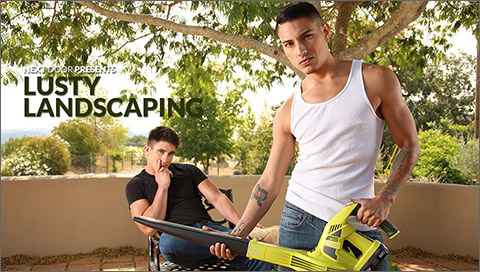 LUSTY LANDSCAPING
Texas Holcum is always complaining about his landscaping job. 'It's too hot out, it's boring, they don't pay me enough.' Well today, he's getting quite a nice bonus! As he moves with a leaf blower around to the back porch of the palatial estate where his crew is working for the day, he notices an open window.
   Texas keeps sweeping the red, clay tiles, but can't help but steal quick peeks into the window. He sees a bed and soon after realizes there's a well-defined, nude male body lying in it. He also realizes that the man is relaxing face down. He figures that if he can stay quiet, he can creep closer to the window for a better look at what appears from a distance to be a great ass.Texas puts down the broom, gets closer, and sees that it is indeed a wonderfully plump rump. He decides to pull his cock out, since no one else is around. He jerks for a few minutes, getting it totally nice and hard. Since he's been able to go this far without being discovered, he figures 'why not climb inside the window and get an even closer look.
   So he does. And once inside, he can't keep his hands and mouth off that tempting ass. He leans down, still with his stiff dick out, spreads the cheeks and licks that stranger's hole. Resting Derrick Dime, owner of the home, perks up, but doesn't move at first, partly because this tonguing feels so, so good, and partly because he knows if he waits a few moments, he can get this punk intruder right where he wants him.
   Derrick flips onto his back after a while. Texas, wrapped up in the moment, takes the opportunity to sample a tasting of Derrick's fine-looking cock. 'Wow can this guy suck!' Derrick thinks. But just as Texas begins getting even more comfortable with this strange man's dick in his mouth, Derrick springs into action.
   He grabs Texas by the neck and throws his face down onto the bed. He whispers in his ear, just before he bites it, that Texas is about to get more than he bargained for. Derrick spits into Texas's ass and then rubs his wet hole with his thumb. Texas never could've expected this, but he's definitely liking it! Derrick inserts his swollen, meaty cock into Texas's eager hole and gradually works up the pace into a nice, steady, hard fucking.
   After a while, Derrick decides he wants a taste of Texas's dick, so he lays him down and bobs on his firm piece for a while. Then he instructs Texas to climb atop his erection and ride it. He does for a while, then goes to his back so this guy can slam his ass some more.
   Join this pair as they let the adrenaline boost their intense sexual passion. And just after the amazing, explosively hot climax, find out what makes Texas freak the fuck out!!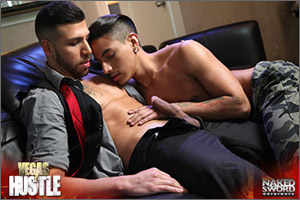 VEGAS HUSTLE – EPISODE 1 – DON'T BET ON IT
FX Rios is shady fixture in Vegas nightlife specializing in supply and demand. When he meets innocent young Texas Holcum he seduces him with free tickets to Hustlaball, but Texas soon learns that everything has it's price. FX kicks back, whips out his fat cock and orders Texas to go down on him. Texas swallows FX's huge tool while the sinister top fingers his hole, getting it ready for action. FX grabs a taste of Texas' pretty hole and big dick before bending him over the fucking his ass hard. Texas goes for the gold by riding FX's cock then shows his appreciation for the "free tickets" by gulping down FX's hot cum. After all his hard work, does he make it to the party?
NEXT DOOR STUDIOS
GAY ROOM
GAY ROOM / MEN POV
NAKEDSWORD
CLICK HERE TO GO TO HIS GAYROOM BIO PAGE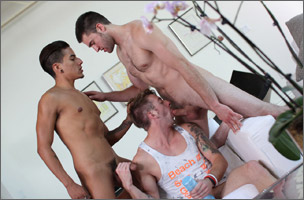 GETTING IT FROM BOTH ENDS
HOT PILLOW FIGHT
EDGING HIS COCK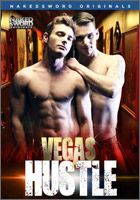 VEGAS HUSTLE