Hung Texan Stud Gay Porn Star, Tex Davidson
Years Active: 2015 – 2017
TWITTER INFO:
• Gogo Dancer • Trainer • Escort • Adult Performer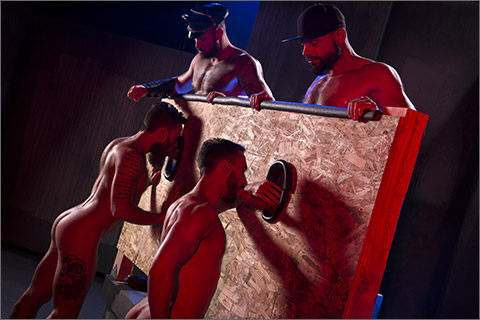 BEARDS, BULGES AND BALLSACKS!: Tex Davidson, Michael Roman, Ryan Finch & Hoytt Walker
Tatted leather daddy, Michael Roman, and bearded muscle hunk, Tex Davidson, stick their big hard cocks through a double glory hole. They don't have to wait a second before Ryan Finch and Hoytt Walker come in and offer up their hungry mouths to suck them off. Hoytt takes on Michael, and Ryan gets Tex's massive curved cock. The horny studs both suck dick like it's the last one they'll ever see. They gag and spit as they get their faces fucked and their throats stretched. Hoytt walks over to give Ryan a helping hand with Tex's tasty meat. They take turns sucking him off and give him a double blowjob with a slobbery, wet mouth on each side of his big sweaty cock. Tex thrusts his pole between their mouths until Michael steps in to offer up a third mouth. Tex pounds Michael's mouth through the glory hole until the guys pair up again. Snagging Hoytt away to a bench, Michael sits down to let the bearded stud suck his cock one more time. Hoytt's big balls hit the floor as he bobs up and down on the tatted daddy's cock. Hoytt tickles Michael's big hairy sack with his tongue and begs for cum in his face. Michael lets go and slathers Hoytt's bushy beard and wide-open mouth with a massive load of jizz. Hoytt gobbles up every last drop and sucks what didn't land on his face off the tip of Michael's still throbbing cock. Michael returns the favor to the bearded stud. He sucks him off and tugs his nuts until Hoytt blasts his own load on Michael's face, beard, chest, and in his mouth. The studs rub beards and swap cum as they catch their breath from the eye watering, thirst quenching, cock sucking marathon.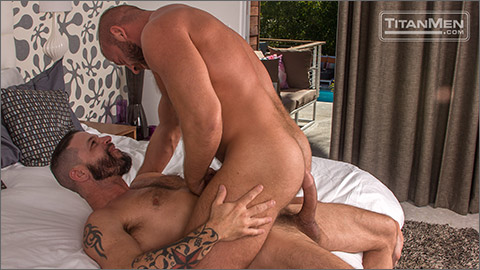 SWAP: Tex Davidson fucks Hunter Marx
"I hear you're the one with the big dick," says Hunter Marx, rubbing Tex Davidson's jean bulge. Tex frees his meat, Hunter dropping down to worship it. He gets a dick whipping before spitting on it, Tex slamming his beast against Hunter's hairy pecs. Tex eats the stud, slapping and spreading his cheeks ("You like how it tastes? It's all yours!"). Tex slaps his ass, then turns Hunter around—the big boner soon inside the alpha's mouth, his nose and beard rubbing Hunter's groin. Tex spits on it and snaps it up, enraptured with Hunter's beauty. Hunter sucks Tex back, then sits on the top. The bottom's muscular ass squeezes the shaft as his boner bounces off Tex's bod. Tex rams him from behind ("Fuckin' own my hole!"), Hunter watching in the mirror and moaning "Yeah buddy!" as his boner slams against the bedsheet with each deep thrust. Hunter gets on his back, staring at Tex as he goes all in. Hunter strokes out a wad, then moans "Gimmie your load!" as he top dumps on Hunter's shaft—the bottom licking it up off his finger.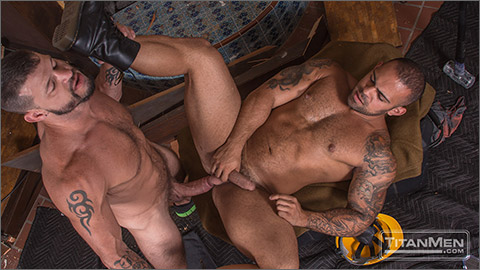 DEMOLITION: Tex Davidson fucks Lorenzo Flexx
After breaking ground on their latest site, two hard hat studs decide to celebrate—and beefy Lorenzo Flexx knows exactly what he wants, dropping to his knees to worship Tex Davidson's monster. "Fuck yeah!" moans Tex as his knob gets slobbered. Lorenzo works up steady streams of spit that cling from his mouth to the shaft, dripping down to the floor from his scruffy face and Tex's sac. "Get down on that mother fucker!" moans Tex as he whips his dick on the sucker's chest. "Yeah baby!" Tex sucks his bud back, his own dick throbbing in excitement. He then fucks Lorenzo ("Gimmie that big dick!"), whose cock twitches as he gets pounded before they squirt.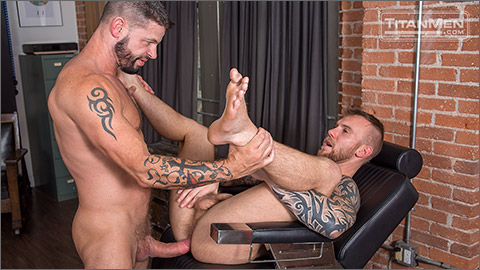 BEARDS: Tex Davidson fucks Damien Michaels
An afternoon haircut and beard trim turns into some heavy action for these two edgy, scruffy men. Damien, the tattooed, ginger barber finishes work on the ruggedly handsome Tex and decides to get to work on Tex's big, thick, hard dick.
   Getting to his knees at the foot of the barber's chair, Damien sucks Tex to the hilt. Gasping for air, choking on its thickness. Damien keeps Tex on the edge, moaning for more. Tex stands him up and pulls Damien's hard dick from his pants to suck it before turning him around, bending him over the chair and fucking him right there. Damien's hole stretches to fit Tex's girth. It's a tight fit but Damien takes it like a boss, all the way in.
   Wanting to pound it out a bit more, Tex moves Damien to a nearby window bench and, in full view of the neighbors, sits Damien down on his dick for another round of pounding.
   Back to the chair, this time with Damien with both his legs in the air, getting his hole pounded as he grunts and shouts for more. The thickness and full 9" of Tex's dick gets buried deep in Damien's hole until neither can take any more and both blow big loads all over Damien's hairy abs. All in a day's work at the Barber Shop.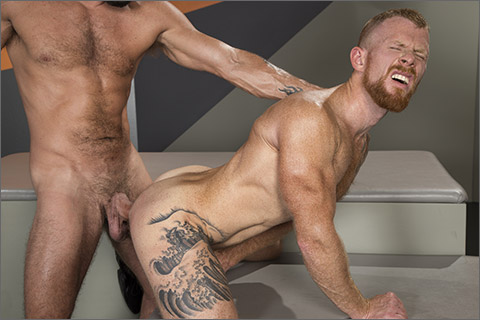 STATE OF AROUSAL: Tex Davidson fucks Jack Vidra
With their big dicks, furry bodies, and thick beards, the masculine attraction between Tex Davidson and Jack Vidra pushes their sexual connection into overdrive. Jack shows off the tattoo covering his hip as he fondles Tex's throbbing boner. Tex presses his face into Jack's thick, red beard, and their lips stay locked together as they make out. Their intense arousal is evident in their enormous, rock-hard cocks. Tex grabs the back of Jack's head and presses it into his crotch, and Jack eagerly opens his mouth to swallow Tex's immense sword. As Jack crouches on his knees to service Tex's meat, Jack's ass parts to reveal the smooth, pink hole in the center. Eager to get a taste, Tex dives in tongue-first to give Jack a wet, slippery rim job. Using his fingers, Tex drills his spit into Jack's hole, then follows with his cock. As Tex pounds Jack's backdoor, Jack braces himself doggy style and flexes every muscle in his body, heightening their 'State of Arousal.' Rolling over, Jack puts his legs high in the air and Tex drills Jack's hole with full power. They move to a sit-fuck position with Jack raising and lowering himself on Tex's fat meat. When he's not jerking his meat, Jack's hard cock slices through the air. Returning to missionary, Jack blows his load as Tex slams his cock into Jack's prostate. Tex beats his meat until his cum explodes in an arc that splashes all over Jack's inner thigh.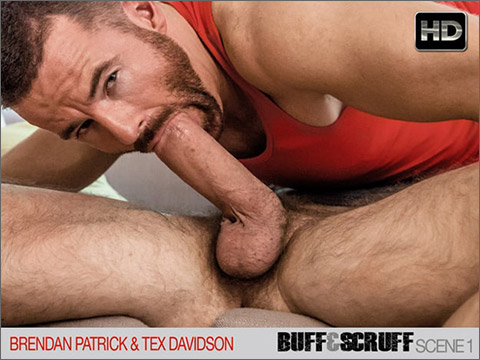 BUFF & SCRUFF: Tex Davidson fucks Brendan Patrick
Tex Davidson shows Brendan Patrick who's really in charge of things.

TAXMAN CUMETH: Eric Nero audits Tex Davidsons huge cock!
Tex Davidson whips out his huge cock for a live webcam show, then pumps it up. He's interrupted by a knock at the door—agent Eric Nero needs to conduct an inspection for a home office deduction. Tex is happy to show off how he works, sliding his meat out and putting it back in his cock pump. "You wanna try it?" asks Tex. "I don't need to," offers Eric, his monster cock soon staring Tex in the face. "Damn, Mr. Taxman! You got a big ol' dick!" Tex sucks it deep, Eric's big balls drooping over his pants. Tex looks up, his beard rubbed by Eric—who then fucks his face. Eric worships Tex's beast, the two soon kissing as their scruff touches. Tex gets eaten and fingered before ramming Eric from behind. Eric's hard cock and balls bounce as he gets fucked. He sits down on the top, riding him as his own big dick flops back and forth. He arches back for a kiss, then gets fucked on his back—reaching up to touch Tex's beard again before his toned bod gets coated. And all the while the two don't realize the live cam is still turned on and they've been broadcasting it all on the internet!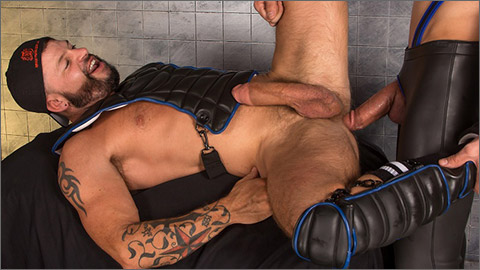 ICONS : JJ Thick fucks Tex Davidson
Tall, smooth and toned JJ Thick locks lips with hunky Tex Davidson, whose hairy chest bursts out of his baseball harness. JJ pulls Tex in closer for a kiss, the two smiling as their huge cocks grind. JJ wraps his gorgeous lips around Tex's big shaft, Tex reaching around to spread JJ's ass. Tex sucks back, opening wide as he tries to take it as deep as he can. JJ smiles down at the sucker, who spits on it as he wraps his bearded face around the shaft again. He grips JJ's sac and tugs it as he goes deep, spit strands falling down as Tex's huge boner throbs below in excitement. They kiss, their cocks sliding against each other in stiff swordplay. JJ fucks the stud from behind, Tex's big meat splayed out against the table. The bottom turns over, his beautiful dick still rock hard—and so big it reaches up under his harness—as he gets pounded some more, JJ building a great rhythm. JJ then sits on Tex's thick meat, riding him before getting on his back before they squirt.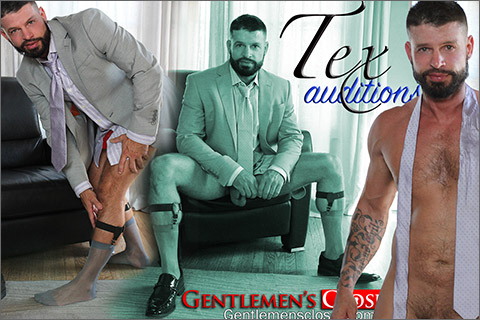 TEX AUDITIONS
Tex after a photoshoot one afternoon our superstar model Tex Davidson shows us what really turns him on. Dressed in a tight fitting suit Tex works the camera and starts an amazing solo. He is loving the way the gray reinforced sheer socks feel on his feet. He rubs and strokes his feet together and talks dirty to the camera. His hard cock almost explodes out of his tight red sheer underwear. Leaving his tailored suit on Tex starts to slowly stroke his 9 inch cock. The stroking, and gray sheer sock feeling brings him to explosion. This is amazing Just when I was about to cum from watching this, Tex says he has to pee. Omg the way the piss drips out of his red sheer underwear and eventually splashes on the floor is mind blowing.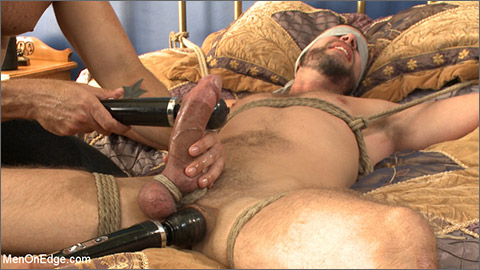 TEXAN STUD RECEIVES HIS FIRST EDGING IN BONDAGE
Jessie's got a new buddy named Tex Davidson. Tex has never been tied up before, so he takes the stud over to Van's studio. Jessie gets Tex's cock revved up as Van outfits Tex in a tight rope harness. Immobilized in ropes, Tex moans in agonized pleasure with each edge. Van cinches Tex's balls in twine while Tex tries to fuck Jessie's mouth to completion. It's no use, though, the day of edging has just begun. They bring Tex to the floor and get his cock throbbing again with nipple suckers and a deep blowjob. The intensity rises as Tex is blindfolded, gagged and bound spread-eagle on the bed. He receives the double hitachi treatment before a vibrating dildo in the ass. Van unwinds the cock rope to bring Tex even closer to the edge from Jessie's strokes. Jessie finally decides to the the stud cum, but not without a vicious tickling immediately after.
VIDEO ON-DEMAND: Tex Davidson @ AEBN SMUTJUNKIES THEATER
DVDs & ON-DEMAND: Raging Stallion Films @ TLA VIDEO
Hot or Not? Let us know.
[Total:

120

Average:

3.6

]