Hairy Sexy American Muscle Gay Porn Hunk, Tatum Parks
Known Aliases: Tatum
Years Active: 2012 – 2015
CHAOS MEN INFO:
Debuted: July 2, 2012
Start Age: 26
Height: 5′ 8″
Weight: 180 lbs
Cock: 7″ Cut
If you have been following this site for a while then you know I find sexy in all kinds of guys. Not too many bald guys on the site, but Tatum oozes sexiness. I asked him to grow his hair out, and boy did he! He is a Beast!
   His body hair comes and goes. I have seen photos of him with and without. He constantly battles his arm and back hair, but I had him promise to at least leave some of the chest hair, and of course the pubes stay. Hair or not, the guy has that certain 'something'.
   Tatum is way into fitness and diet, and he has the muscles to show for it. He actually said he has been slacking-off, and I showed him a picture of a model he may one day work with, and he looked like he was planning a new workout routine right then and there to get extra-ripped. I don't know if there is some Bi in him, but he sure got motivated. And as he is now, WOW, I love his body, his face, and that dick!
   He admits to being passive in bed, likes when the girls boss him around. He has messed around with one guy "once or twice" but it didn't sound too involved. So I know he is very open-minded, and doing an oral video is a for sure thing. I can think of a few dudes that would love to boss him around too!
   I know I pretty much ask the same questions, and many viewers kind of skip over the interview, but I enjoyed his interview as much as the solo. He has such a sweet demeanor, and then pow, he gets all sexual for us!
   His cum shot is a workout, so he works up a total sweat. I love how he slows it down right at the last second, and then a huge glop of jizz flies out!
   Stay-tuned next week for an amazing massage video, and from what I can tell, I think he wants to do more than oral in the future!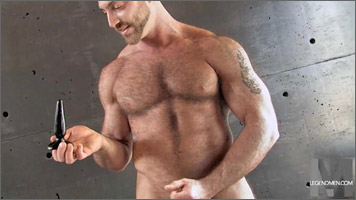 TATUM PARKS LEGENDMEN SOLO 1 (w/ BUTT PLUG)
TROI FUCKS TATUM RAW
RAW: COOPER REED & TATUM
RAW: GAVIN SEVIN & TATUM
PURE: JORDAN CLEARY & TATUM
EDGE: BRANT & TATUM
RAW: SILAS & TATUM
RAW: CONAN & TATUM
RAW: ELI & TATUM
BOSSY: SOLOMON & TATUM
SERVICED: SINCLAIR & TATUM
SERVICED: TATUM
TATUM SOLO
THE CABIN PREQUEL – THE RED MOON FESTIVAL – PART TWO
THE CABIN PREQUEL – THE BEST FRIEND'S SON – PART ONE
BEAST & HAMMER vs MACHINE & DESTROYER – LIVE TAG TEAM MATCH
HOT MUSCLED NEWBIE TATUM "THE BEAST" TAKES ON ELI "THE HAMMER" HUNTER
PISSED OFF LANDLORD GANGFUCKED INTO SUBMISSION BY HORNY PARTY GOERS
A BODYBUILDER'S WORST NIGHTMARE
   and others
   RON LLOYD'S LEGEND MEN
   CHAOS MEN
   KINK.COM / BOUND GODS
   KINK / 30 MINUTES OF TORMENT
   KINK / MEN ON EDGE