Handsome Compact American Gay Porn Star, Tag Adams / Chet Roberts
Known Aliases / aka:
Years Active: 1994 – 2007
Falcon Studios stats / info:
Birthdate: April 4, 1972
Birth location: Hanover, Pennsylvania
Penis size: 7" cut
Height: 5′ 9"
Weight: 155 pounds
Eye color: Blue
Hair color: Brown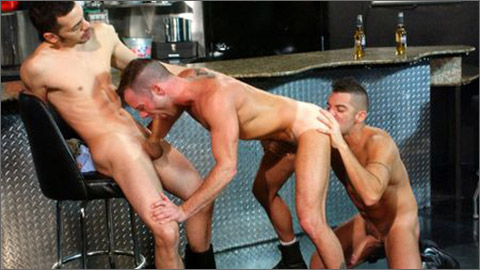 SCREW: RIGHT TO THE POINT: Mario Ortiz & Rick Gonzales fuck Tag Adams
Tag Adams has no idea what kind of trouble he's about to find when not one but two big-dicked Hispanic boys (Mario Ortiz and Rick Gonzales) approach looking for service. If you like your meat big and brown (and we mean BIG), this filthy three-way will leave you breathless. Adams is immediately put to work on his knees as the two tag team his mouth with their giant pingas. We're still trying to figure out how he fit both of their cocks in his mouth at the same time! Mario and Rick really get off on hearing the little white boy gag on their horsecocks. Unable to hold off any longer, Mario shoots a big spray of white jizz all over the black floor. Then Gonzales decides he wants Tag all to himself. He orders Mario to get the fuck away from 'his bitch,' then begins to punish-fuck Tag. The camera takes you from position to position until Tag is rolled back onto his neck with his butt straight up in the air. On a scale of 1-10, this fuck's a 15! Gonzales shoots the biggest, thickest white load onto his upturned white ass, causing Tag to dump straight into his own open mouth. Order the Two Disc Set from HotHouse.com and you'll get the filthy scene continuation where Tag's cum-covered face and butt gets hosed off in a watersport scene that's so wrong it's right to the point.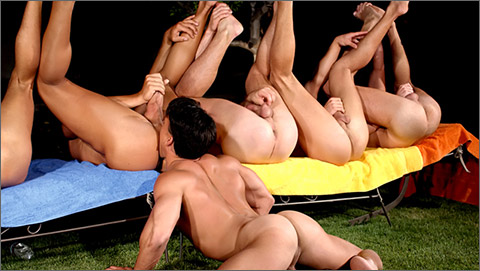 TOMMY'S TALE: Brad Patton fucks Tommy Brandt with Talvin DeMachio, Bobby Williams, Chet Roberts and Clay Foxe
Tommy Brandt joins Falcon Exclusives Brad Patton, Tyler Gunn and Bobby Williams along with Falcon men Chet Roberts, Tal DeMachio and newcomer Clay Foxe poolside as they enjoy the exhilaration of a lusty group encounter. Stiff cocks probe the depths of hungry, eager throats – fingertips find their way between ass-cheeks and over the sculpted contours of their fellows. Duos and threesomes merge and separate before these lusty studs settle into a line to be rimmed. Finally Brad Patton buries his tool in Tommy's ass and the group surrounds the lusty duo – working themselves into ecstasy and splattering Tommy with their urgent orgasms.

CHANNEL 1 / RASCAL
ALL WORLDS VIDEO