Hung Sexy Spanish Gay Porn Star, Sunny Colucci
Known Aliases:
Years Active: 2016 – 2017
TWITTER @ColucciSunny
UK HOT JOCKS INFO:
Absolutely gorgeous Sunny Colucci is as bright, enticing and heart warming as his name suggests. He's also one of these guys who we're convinced is just destined to do be in front of the camera. Handsome, cheeky, cute as a button and sexy as hell at the same time. He's also got a killer body, big muscular arms, lightly tattooed but not too much, enough to keep his youthful demeanour. Combined with what he's packing in his pants is enough to set him up to be a porn superstar, if he wants it. 9" of deadly, thick Spanish meat! All the bottoms form a line because the boy is all top and thank god for that! You won't forget the name Sunny Colucci in a hurry, soon it'll be emblazoned in porn history for all the right reasons.
Location: Bilbao Spain, Europe
Age: 25
Height: 5′ 6″
Weight: 69kg
Hair: Dark Brown, Short
Eyes: Brown
Cock: 9″ uncut
Role: Top
Orientation: Gay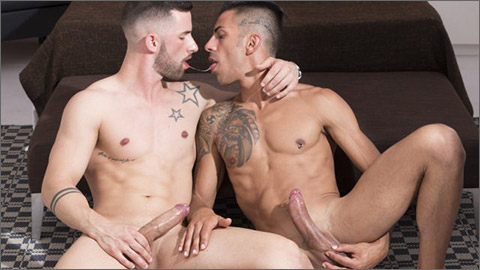 SPANISH CANDIES IN ACTION – ALEJANDRO MANGO & SUNNY COLUCCI
This week the handsome Sunny Colucci is back on Fuckermate bottoming for a sexy mate that has been missing from our screens since too long: Alejandro Mango has shot only a solo video with us, but now time has arrived to watch him together with another fuckermate. The chemistry between the two mates is awesome and Alejandro will love topping Sunny hot ass and fucking the cum out of him! They both are hot, they both have a gorgeous toned body and a big juicy dick between their legs and they are going to enjoy every single moment of this fucking!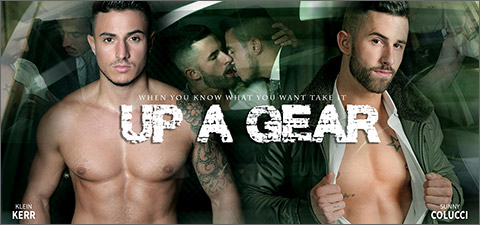 UP A GEAR
When you know what you want you got to move up through the gears quick! Klein Kerr is ready to go before he's even put the keys in the ignition, when he finds himself seated next to the hot garage manager Sunny Colucci. Picking up his car after a routine maintenance at the local garage, flash suited exec Klein insists that young Sunny takes the passenger seat to check out the performance.
   But its Sunny's performance he wants to experience and instead of reaching for the gears he grabs a hold of Sunny's thick long stick in his mouth. As you'll know we love seeing a slick suited gent getting down and dirty in a blue collar workplace. So get ready for the ride as Klein takes things up a gear and gives Sunny an exhilarating test drive without even starting the car.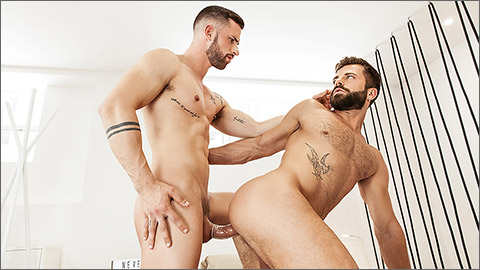 SENSE 8 A GAY XXX PARODY: Hector De Silva, Sunny Colucci
Sunny Colucci and Hector de Silva find themselves together in the same room, though they live thousands of miles apart. The guys use their Sense 8 abilities to an orgasmically satisfying climax.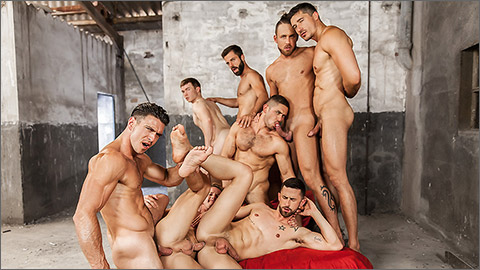 SENSE 8 A GAY XXX PARODY: Darius Ferdynand, Dato Foland, Gabriel Cross, Hector De Silva, Jay Roberts, Logan Moore, Paddy O'Brian, Sunny Colucci
It's the cum bursting conclusion of Sense 8, where all men come to their senses for an intimate globe-spanning release of sweat and semen all over their chiseled bodies.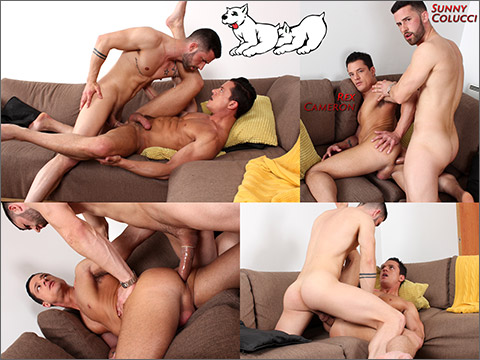 SUNNY COLUCCI FUCKS REX CAMERON
We fade in on Spanish stud, Sunny Colucci and Rex Cameron chatting on the sofa. The chatting does not last too long as these two studs start passionately kissing each other. They slowly strip off each other shirts revealing their much chiseled features. Rex climbs up onto Sunny's lap and the face kissing continues between the two of them. Sliding down to the floor, Rex reaches up and loosens Sunny's pants, pulling them down just enough to allow his thick dick, which is already standing at attention, to jump up and slap his stomach once released from the confines of his jeans. Rex wastes no time in swallowing Sunny's cock all the way to his balls, gagging most of the time due to Sunny's size. Sunny motions for Rex to join him on the sofa and Sunny helps Rex loosen his jeans freeing Rex's cock from its confines and Sunny swallows it all. As he is sucking Rex's cock, Sunny is also using his fingers to loosen up that ass he plans on filling. Rex leans over the sofa pillows offering his ass which Sunny fills with his thick cock and once inside he begins fucking Rex's ass like there is no tomorrow. These two studs find four different ways to fuck each other before Rex, who is now covered in sweat, grabs his cock and with a few strokes blows his thick creamy load of cum all over his six-pack chest. Of course this puts Sunny over the edge; he pulls out, and while jerking his cock, shoots a stream of jizz all over Rex's cock, stomach and chest.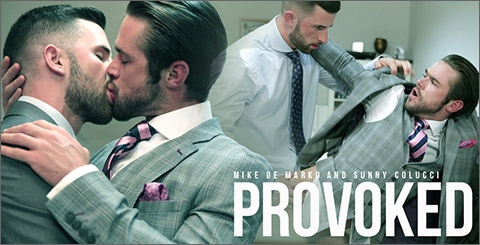 PROVOKED
Mike De Marko joins the ranks at MENATPLAY and straight away he's set eyes on fresh meat Sunny Colucci. And he is willing to do almost anything to be the first to get his hands on the 25 year old new-comer.
   At first Sunny shies away from Marko's blatant advances but when he realises Mike is not about give up anytime soon, Sunny decides it might be best to break the sexual tension and give him exactly what he wants, and thats a good dose of juicy dick.
   After sucking each other's dicks, Sunny pins his handsome superior down and gets to work on his ass – first tonguing his juicy hole and getting it nice and wet, before giving him a good fucking he's been after. Mike may have underestimated the newbie, but judging by his screams of pleasure we're guessing that he is left plenty satisfied.
   Welcome to Menatplay Gentlemen, we look forward to seeing a lot more of you both!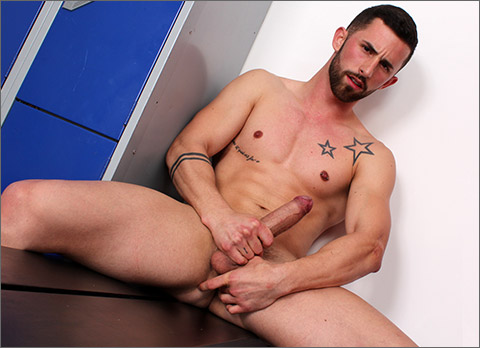 LOCKER JOCK: SUNNY COLUCCI
For what Sunny lacks in English linguistics he more than makes up for with his phenomenal sex appeal, this guy is off the chart! So we skip the interview and get straight to the good stuff. In a skin tight blue wrestling singlet with an obscenely hot bulge that only get's hotter and more obscene as the scene goes on! Straight away he's making eye contact with the camera, giving that sexy smouldering stare to whom ever might be watching on the other side. Hands wander over his body, over and under his suit, his cock gets harder and the singlet gets tighter. The straps comes down to show off his fantastic body, hot nipples and sexy tattoos, grabbing his big hard dick through the stretchy fabric. Pulling the wrestling suit off, his massive cock springs up, skyward pointing tall, thick and 9" standing… jaw dropping! Beating off slowly and smacking his cock into his other hand while looking down the camera makes you think what it would be like to have it smacked around your face, uff! Wanking faster, more intensely he really gets into himself, just imagine what dirty thoughts are going through his mind, bringing him closer to the point of no return. Faster, harder, burning intensity, light moaning turns to a deep growl and the boy is ready to burst!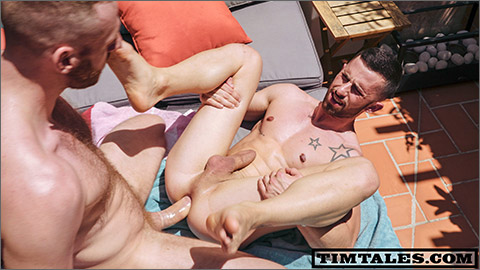 TIM KRUGER FUCKS SUNNY COLUCCI
Sunny Colucci brought with him the first day of summer here in Barcelona. And for Tim, that meant a never ending day of fucking! They started inside but soon moved to the terrace. Warm winds, hard sun and multiple climaxes. I'm sure Sunny didn't expect that endless rampage. He took Tim's bull cock like a champion, for an entire day!
FUCKERMATE
UK HOT JOCKS
MEN AT PLAY
TIM TALES
BADPUPPY
CLICK HERE TO GO TO HIS UK HOT JOCKS DETAILS