Hairy Daddy Kink Men American Gay Porn Star, Steven Roman / Steve Roman
Known Aliases / aka:
Years Active: 2017
KINK MEN INFO:
Body Type: muscular
Hair Color: other
Gender: male
Cock: 8″ cut
Ethnicity: white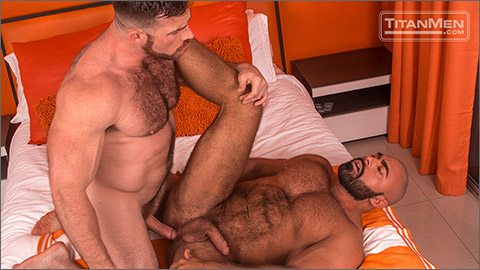 SWAP: Liam Knox fucks Steve Roman
Steve Roman hops in the shower—water cascading down every inch of his furry muscles. Beefy Liam Knox joins him for a kiss as their groins grind. He buries his face in Steve's massive pecs, bicep and pit as the two grunt. Steve pins Liam against the wall and licks down to his jock ass, spreading his cheeks and diving his tongue inside. Steve slurps the verbal moaner ("Suck those nuts!"), then offers his own cock—his fuzzy nuts caked in spit as he fucks Liam's face. In the bedroom, their boners touch as they kiss. Steve offers his hole, his deep voice moaning as he takes it. Liam fucks him fast, then lets the bottom take control—grinding his jock ass down on it. "You want more of this dick?" asks Liam, the bottom sitting his hairy ass on it. Liam plows him like a jackrabbit from below, Steve yelling "Harder!" as he grips the top's thick neck. Steve gets on his back, his pecs shaking as he gets pounded—his hairy groin soon coated in their cum.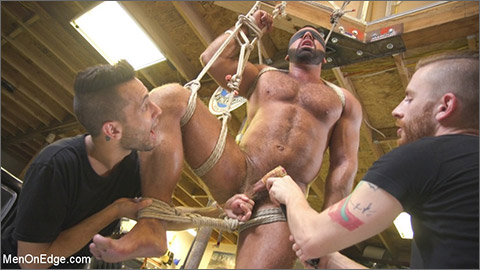 BEEFY MECHANIC TAKEN DOWN & EDGED AGAINST HIS WILL
Hairy beefcake Steven Roman finishes up his work in the auto-shop before checking on the store front. When Chance Summerlin and Sebastian arrive enquiring about an application, the two pervs can't help but swoon over the mountain of muscle that stands before them. They sneak up on Steven and quickly get him in their ropes, with a blindfold over his eyes. The muscled mechanic struggles with all his might, but the bondage holding him in place restricts him from any control as the two pervs play with his hairy cock. They bring him right to the edge of ecstasy only with the vibrating cock sheath, only to deny Steven of any pleasure. Bent back on the hood of a hot rod, Steven has his hairy ass violated with fingers and dildos before having a giant plug shoved up against his prostate. Chance's mouth is too much for Steven to bare after all the relentless edging he's endured. A massive load shoots across Chance's face before the two pervs finish off the bound hunk with a little tickle torment.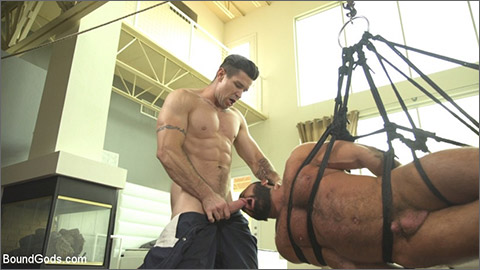 OLD HABITS DIE HARD – CREEPY HANDYMAN SERIES
Creepy Handyman Trenton Ducati has been trying to fight his sexual addictions, but some habits die hard… As he's working on Steven Roman's pipes, he hears a giant crash. To his surprise, the naked, muscled body of Steven lies on the shower floor, passed out from slipping on the wet ground. As much as he resists, Trenton's sexual demons are too much to overpower, so he drags the naked hunk off for some play. Steven awakens with a hood covering his sight and sound, as he struggles in bondage. The creepy handyman wails on the hairy stud with a riding crop and pulling on his aching bulls. Dangling from the ceiling, Steven begs for mercy, but the only thing he receives is a mouthful of Trenton's hard cock, prying deep down his throat. The creepy handyman then mashes Steven's hard cock with his feet before prying his toes in the hunks hairy hole. Ready at attention, Trenton plunges his giant cock deep inside Steven, pounding away as the bound hunk bites down on the bit gag placed in his mouth. Trenton then removes the bit gag and blasts a load of cum in Steven's face and making him suck off every drop.
TITAN MEN
KINK MEN
TREASURE ISLAND MEDIA
TREASURE ISLAND / TIM SUCK
CLICK HERE TO GO TO HIS TITAN MEN DETAILS
CLICK HERE TO GO TO HIS KINK MEN INFO PAGE