Handsome and Ripped Falcon Gay Porn Star and GoGo Dancer, Steven Lee
Known Aliases / aka:
Years Active: 2018 – 2020
NEXT DOOR STUDIOS INFO:
Cock: 8.5 cut
Body Hair: Moderately Hairy
Height: 6'2″
Hair Color: Dark Brown
Eye Color: Hazel
Position: Top
Body Type: Gymnast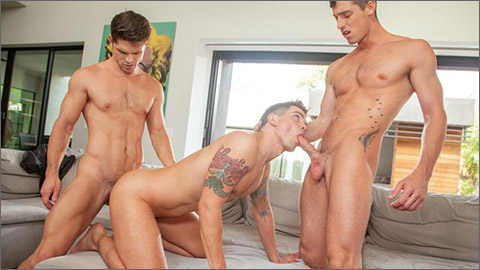 7 MINUTES IN HEAVEN: Steven Lee fucks Devin Franco & Dakota Payne; Devin Franco fucks Dakota Payne
The game '7 Minutes in Heaven' has come to an end when Dakota Payne, who's boyfriend left the game because it made him jealous, runs into Devin Franco and Steven Lee who are naked in the living room. The couple convinces him to join them for some fun, and the three get out of their clothes and ready for some action. Devin and Dakota both want a taste of Steven and get between his legs to service his giant cock together. Steven is ready to pound some tight raw ass, and Dakota is the first to volunteer to help him out. Dakota hops on and bounces on the thick dick until Devin wants his turn. Devin mounts up and rides Steven's hard cock bareback while Dakota licks Steven's cock as it goes in and out of Devin's hole. Steven can't get enough of each stud and continues mixing it up by giving each horny guy some dick time. After sucking Devin and getting pounded by Steven, Dakota is ready to do some fucking of his own. Devin lies back with his legs spread and lets both his buddies have their way. Dakota and Steven take turns fucking Devin's face and ass until both his holes are filled with jizz and his body is covered with cum.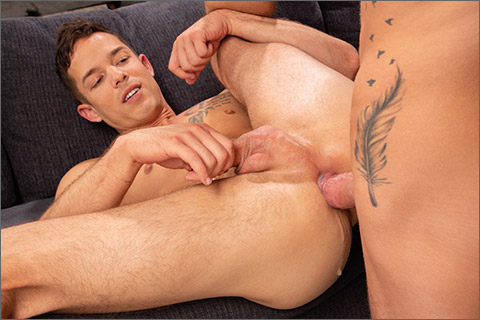 CASUAL CONNECTIONS: Steven Lee fucks Nic Sahara
Nic Sahara walks in after a long day and finds Steven Lee relaxing on the couch. After Steven asks Nic how his day was, Nic immediately gets excited and hops over the couch to lock lips with Steven. As the kissing gets more and more passionate, Steven is bulging thru his shorts. Nic quickly slides them down and immediately takes every inch of Stevens big cock in his mouth. Soon the two are naked and Steven returns the oral favor, pleasing Nic moving from dick to ass. Steven lays down on the couch for a 69 session with Nic riding his face, while Nic keeps taking Steven's inches down his throat. Nic is eager to take all of Steven's girthy cock inside him so he hops up and takes Steven's bare dick for a ride with his inviting hole. With Steven throbbing, Nic climbs on top to feel the massive pole all the way inside of him. When Nic wants to give Steven the reins, he bends over the couch to let Steven pound him from behind. Nic can't get enough and switches to his back so he can watch Steven go all the way in and out. Steven keeps drilling Nic's hole until Nic strokes a puddle of cum all over his abs, followed by Steven shooting his load all over Nic's sloppy wet hole.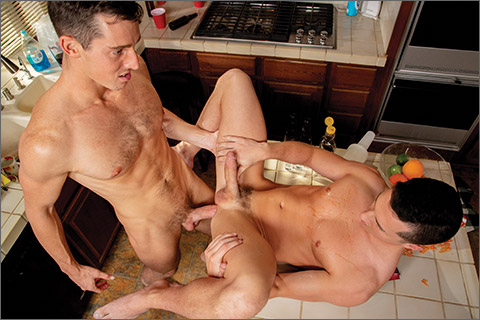 THE PLEDGE: Steven Lee fucks Tristan Hunter
Steven Lee and Tristan Hunter get their official invitations to the fraternity, and when they arrive, Trevor Miller is there to teach them what being a frat brother truly means. Trevor gets off on watching his pledges do exactly as he says. After commanding Steven to pour syrup on Tristan's ripped body and go down on Tristan's extra thick dick, Trevor reaches into his pants and grabs himself. Steven likes to please and does everything he's told to do by the frat leader. Not only is Steven pleasing himself and Tristan, he's gaining the favor of Trevor, who can get him everything he wants. Steven is craving more and bends Tristan over the kitchen counter to open his ass up with his tongue. When he can sense that Tristan is ready for his big dick, Steven slides inside his fellow pledge and pumps away with his raging raw hard-on, stretching Tristan wide. With Trevor still watching and beating off next to them, Steven picks up the pace and pounds a panting Tristan even harder. Steven hits just the right spot with his frenzied fucking and makes Tristan blow his load all over his own toned stomach. When Steven sees Tristan's thick jizz everywhere, he pulls out and adds to the mix with a massive load of his own all over Tristan's already dripping-wet body. Will their display of obedience be enough to convince Trevor to allow them into the brotherhood?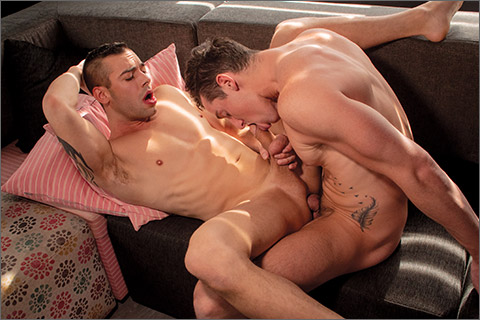 LOVE AND LUST IN MONTREAL: Steven Lee fucks Jack Kross
Jack Kross is naked on the couch rubbing one out and fingering himself when Steven Lee walks in and catches him in the act. Steven isn't even surprised and immediately hops in to join the fun. Steven pulls off his underwear and gives them a sniff as the two lock eyes and jack off together. The anticipation of having Jack's dick in his mouth is more than Steven can handle and he gets down between Jack's legs to take the stud's big cock down his throat. He works it with ease until Jack is ready to take a try at fitting Steven's massive dick in his mouth. It's a tight fit but Jack sucks it down, working it up and down with his tongue and lips as it slips in and out of his hungry throat. Neither stud can get enough of the other and after tasting each other's smooth asses, Steven is ready for more. He slides his extra-large dick deep into Jack's tight hole and opens it up as he slowly slips all the way inside. Jack loves the feel of Steven stretching him out and wants it even deeper. Jack hops on to ride Steven's thick pole, going all the way to the balls as his own giant dick swings up and down with each bounce of his hungry hole. Both studs are on the edge of cumming when Steven flips Jack onto his back. As they stare each other down, Jack is the first to blow and erupts with a thick load that covers him with cum. When Steven sees Jack's big uncut cock oozing jizz, he pulls out shoots his own pent-up load all over the French-Canadian's muscled-up body.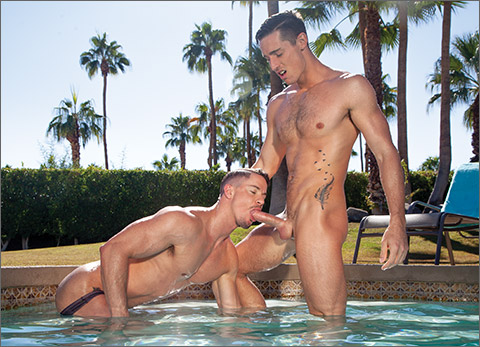 GET WET: Steven Lee fucks Skyy Knox
Steven Lee catches Skyy Knox's attention by pulling his massive dick out in the pool. Skyy likes what he sees and slowly removes his sunglasses and saunters down into the water where he takes Steven's dick in his mouth. Skyy deepthroats the hung stud as he gasps for air while savoring every inch of the dick down his throat. He eagerly works it up and down knowing that soon his reward will be to have it planted firmly in his ass. Steven is ready to open Skyy up and slips his tongue deep into the muscle stud's smooth hole. It's going to be a tight fit, but Steven is ready to dip his meat deep inside of Skyy. Steven takes it slow at first and gradually builds to a pounding as Skyy yells out to go deeper and faster. The horny studs switch up the action and Skyy climbs on top to ride Steven's throbbing hard-on for a deeper pleasure. After one last switch up, Skyy lies back to let Steven finish up exactly the way he likes it. Steven continues pumping Skyy's ass until he fucks the cum out of the panting stud. Steven loves the sight of all that jizz and pulls out to shoot his load all over Skyy's mouth and happy, begging face.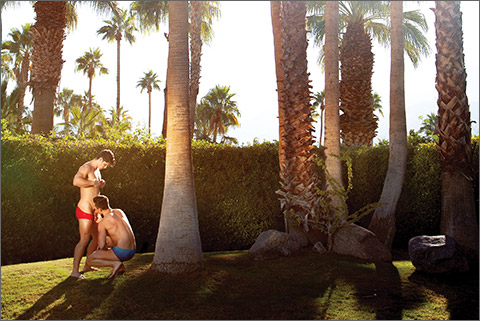 GET WET: Devin Franco & Steven Lee suck dick
Devin Franco and Steven Lee don't need a reason to get each other naked out by the pool. The two studs only take a minute to kiss before Devin drops to his knees to take Steven's big dick all the way down his throat. Devin loves having his face fucked and can't get enough as Steven leans against a palm tree and lets Devin have his way. Steven wants a taste of Devin's succulent hole and bends the stud over to tongue-fuck the horny stud. Steven's tongue feels amazing on Devin's asshole and it makes Devin even harder than before. With Devin throbbing hard, Steven opens wide to take the swollen member all in his mouth. Devin fucks Steven's face until he's ready to gag on more cock. Devin goes back down on Steven's stiff dick and gives him a sloppy, wet, stringy blowjob. Devin savors the tasty dick as glistening ropes of spit hang between his mouth and Steven's meat every time he comes up for air. Devin keeps working Steven's dick until it erupts on his face, giving the stud his reward for a job well done. With his face covered in jizz, Devin lets go and shoots his load in his hand and onto the grass as they come back together to finish off their meeting with one last kiss.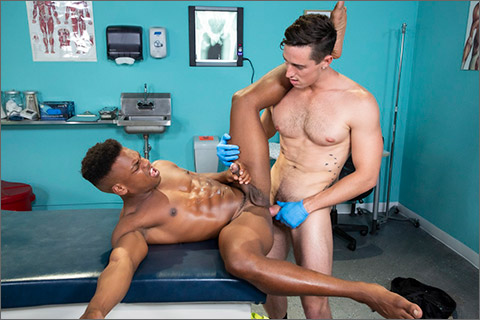 DIRTY DOCTOR: Steven Lee fucks Adrian Hart
When Adrian Hart stops in for an exam, the RN asks him to change into a gown but Adrian declines. To Adrian's surprise, Dr. Steven Lee is filling in for his usual doctor that day. Dr. Lee assures his patient he's more than qualified for the job so Adrian bends over to give the Doc a closer look at his hole. When Adrian loses his shorts, Steven starts to work a few different toys and instruments into Adrian's ass to warm him up for the deeper examination to come. With each probe that Steven presents, Adrian's hungry hole swallows them all eagerly. Sensing he wants something bigger in his crack, Steven licks Adrian's hole to prepare it for his raw cock. Before the Doctor gets deep inside his patient, Adrian turns around to feed Steven his uncut meat. Now that Steven is rock-hard, he lays Adrian back on the table and slams his big dick deep into the willing stud. After some bareback, hole-stretching pumps from the Doc's cock, Adrian wants Steven's meat down his throat one more time. Adrian slurps up the horny doctor's pole before getting bent over and fucked over the exam table. When neither can hold back any longer, Adrian switches to his back to jack out his load that erupt from his cock in thick ropes landing on his heaving abs. Seeing Adrian covered in cum sends Steven into a frenzy, and he adds his load to the mix, busting all over Adrian's abs.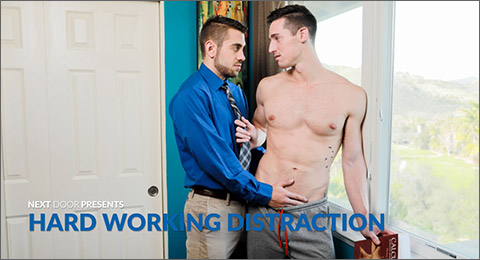 HARD WORKING DISTRACTION
With the stresses of settling a family estate looming over him, Dante Colle sure could use a mental break. Boy toy Steven Lee thinks that it's Dante's other head that could use some relief, and Dante smiles. Steven knows him better than he knows himself, so he closes the door to the outside bullshit and takes off his clothes, making his way to the bed. Steven does his best to relieve Dante's tension, but it's not the kind of stress that simple blowjob is gonna cure, so Dante takes things into his own hands and mounts Steven, riding him until he begins to relax. Steven is rock hard deep inside of Dante, who flips over onto his hands and knees and tells Steven to fuck him harder. Steven does as he's told and Dante strokes himself, telling Steven to fuck the cum out of him. He shoots his load all over himself as Steven pulls out and gives a double shot just to make sure Dante gets the attention he needs. Exhaling, Dante feels his stress melt away, as Steven gives him a 'told you so' grin.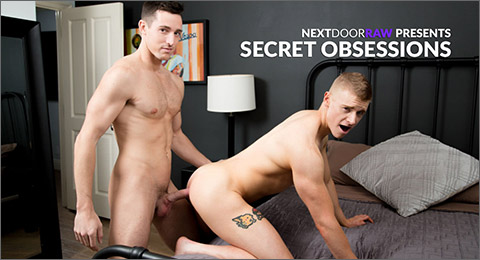 SECRET OBSESSIONS
When Alex Tanner comes home from work, the last thing he expects to find is roomie Steven Lee spread out on the couch jacking off to gay porn, but there he is, smiling wide on the sofa with his dick out. Alex spies on him, rubbing the bulge in his pants while fantasizing about all the things Steven could do to him with that hard dick of his. He imagines taking Steven upstairs, and sucking him off as he strips out of his clothes. He imagines Steven eating his ass before using that big cock to pound Alex every which way he can. He pictures kissing Steven hard on his mouth before Steven proceeds to finish the job, fucking the cum out of Alex before dousing him with his hard earned load. Alex can see all of it so clearly, the only thing left to do is turn fantasy into a reality.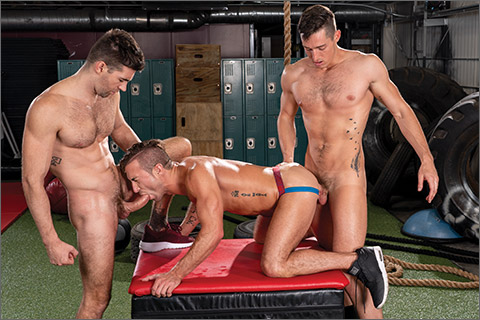 XXX-FIT: Woody Fox & Steven Lee fuck Grant Ryan
Grant Ryan, Woody Fox and Steven Lee are all working out separately at the gym. When Woody gets upside down on a rope and drops his phone, Steven helps him out and hands it back to him. Woody thanks Steven with a kiss that catches Grant's attention. Eager to join the action next to him, Grant jumps in to start sucking Steven's raging hard-on. The three studs take turns kissing and sucking cock until Grant hops on top of Woody to get his ass eaten while he sucks two dicks at the same time. Steven kicks it up a notch when he gets behind Grant and slips his thick pole deep into Grant's hole. Woody has a front row seat with his face positioned under the action so that he can eat Steven's ass while the stud continues fucking Grant. Woody wants his turn with Grant, and the studs change it up again to spit-roast Grant with Steven plugging his face with cock and Woody fucking him from behind. Woody and Steven keep pounding away on Grant's holes until they're ready to blow their loads. Woody is the first unleash when he pulls his uncut rod out of Grant's mouth and covers the stud's face with a fresh load. With his face covered in cum, and Steven still pounding his hole, Grant is the next to go and coats his own body full of more jizz. That's all it takes for Steven to give way and he finishes up the threesome with a load of his own to leave Grant sticky and covered with cum.
CLICK HERE TO GO TO HIS FALCON STUDIOS DETAILS
CLICK HERE TO GO TO HIS NEXT DOOR STUDIOS DETAILS
VIDEO ON-DEMAND: Steven Lee @ AEBN SMUTJUNKIES THEATER
DVDs & ON-DEMAND: Steven Lee @ TLA VIDEO