French Tattooed Kristen Bjorn Gay Porn Star, Stephan Raw
Years Active: 2015 – 2017
TWITTER @stephanrawxxx
KRISTEN BJORN INFO:
Nationality: France
Height: 6′
Weight: 185 lbs
Dick: 7" (17.78 cms) uncut
Position: Bottom
Gay porn actor. Sex in Live . Gogo Shower. Model . Kristen bjorn, Lucas Entertainment, uknakedmen, Crunchboy.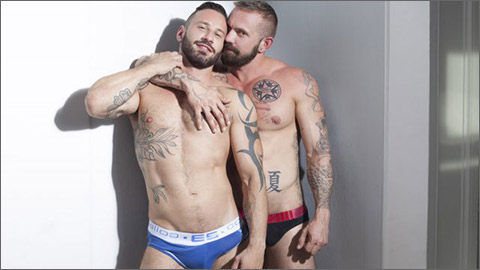 FUCKERPARTNERS SESSION – ANTONIO MIRACLE & STEPHAN RAW
Real-life boyfriends Antonio Miracle and Stephan Raw are in Barcelona for a short stay and they have just arrived at their room. Their journey from the Canarias Islands has been long and the boys are quite tired, but soon they awake from the slumber, as well as their lust and their wish for a great fucking session. The two muscled studs can't wait anymore and the hot passion between them burst like a spark. They can suck, rim and then fuck like animals, but the horny chemistry of this couple is always really impressive: both Antonio and Stephan give their best to satisfy each other!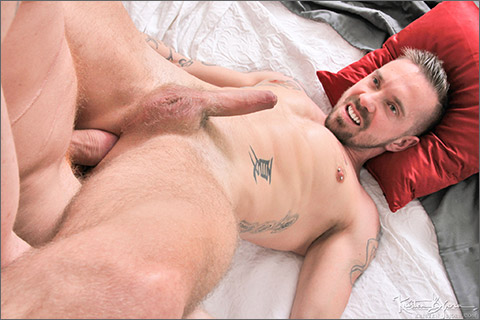 SKINS – THE TOURIST: TOM VOJAK FUCKS STEPHAN RAW
Tom is out playing tourist when he comes across a sexy man, Stephan in front of an old church. Tom asks Stephan to take his picture and then shows him a real treat for a local, a pic of Tom's huge, uncut cock. Stephan quickly invites Tom over and as soon as they arrive they begin stripping their clothes off. Tom takes Stephan's ragging hard cock into his mouth as Stephan takes Tom's rock hard cock into his throat in a hot 69 position. Stephan then moves into a better position to show Tom his true cock sucking skills and takes him balls deep. Hungry for that huge cock, Stephan spreads his legs open as Tom spits on his hole and fingers him until he is ripe for the picking. Stephan then squats down on top of Tom's bare cock and takes him whole. Tom slams Stephan so hard that his balls are banging up and against Stephan's fat ball sac. Changing up positions, Tom puts Stephan on his shoulders and drives his straining cock deep within Stephan's wet hole. The sensation of that huge cock penetrating him hard and deep in this position drives Stephan wild as he blows his load. Tom strains to hold on just a little longer, but at last he can do so no longer and covers Stephan's hot, pink hole with his thick, creamy load. Tom uses his own cum to lubricate his cock as he shoves it back inside of Stephan. Now that was a great and unexpected tourist stop.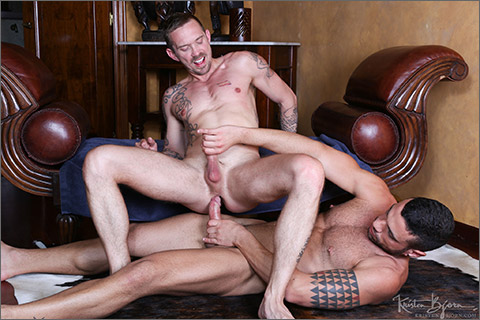 BARE TO THE BONE #7: LETTERIO AMADEO FUCKS STEPHAN RAW
Letterio made plans to meet up with Stephan and told him that if he was late he would be punished. Of course Stephan was late and Letterio started things off by showing him who was in charge. Letterio strips Stephan then forces his huge, fat cock down his throat. As much as Stephan gags on the huge cock, Letterio continues to force feed him his cock. Letterio runs his hot tongue from Stephan's hole to his taint, to balls, to cock shaft, to the uncut foreskin to tease and prepare Stephan for what is to come. Once satisfied that his hot pucker hole is ready, Letterio plunges his huge, raw cock deep inside of Stephan's ass as Stephan gasps and moans for every breath as Letterio goes deeper and deeper. Letterio builds up his rhythm and pounds away at Stephan's ass, much to the delight of Stephan. Laying down on his back and having Stephan squat down over his throbbing cock gives Letterio much better leverage to go deeper and harder in his assault on that hungry hole. Both men find their rhythm and ride like a tidal wave arriving on shore with no letting up in sight. As Letterio fucks away at that hot hole, Stephan strokes out a huge load of cum all over Letterio's muscular thighs. Letterio loves the sensation of Stephan's ass milking his cock that he has two ejaculations and Stephan wants that hot cum in his ass so he squats back down on Letterio's cum drenched cock.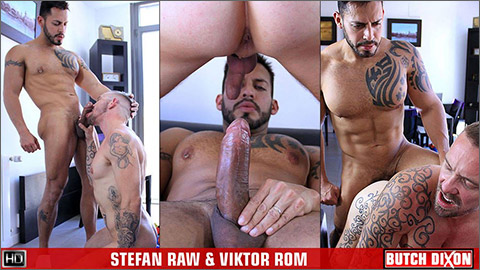 VIKTOR ROM FUCKS STEFAN RAW
You've seen sleazy Stephan Raw as a nasty Bareback top, and this stud always delivers the creamy goods, so we thought it was time to see if he could take it as well as he gave it, and as we were feeling kinda cruel we gave him a real mean, macho fucker to smash his arse in – Viktor Rom. Its a steamy, spunky scene, all bareback with lots of snogging, rimming, uncut cock sucking and juicy, close up fucking. Stephan takes that big, dark uncircumcised pole like the nasty pig he is and Viktor's obviously enjoying the ride. Stephan slides up and down the rigid tool until his arse hole is puckers and glowing pink, then as soon as as his hole is ready for a real ploughing Viktor goes to town and really ploughs it good 'n' proper!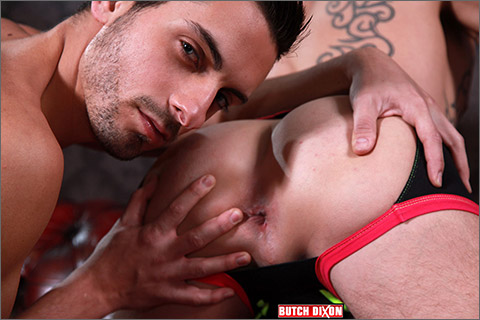 HUGO ARIAS & STEPHAN RAW
Long, lean and hung – Hugo Arias is pitted against ripped, handsome, fat-cocked Stephan raw. Its a totally raw, uninhibited, bareback fuck fest. The sexy boys are bulging in the fronts of their jeans, they quickly strip naked, exploring each others hard, muscular young bodies. Its Huge Arias' first ever shoot for us and he's revved up raring to go. Both the boys have beautiful, lickable, suckable, dicks, Huge's cut and Stephan's uncut and we don't miss any of the foreskin play. Hugo's tight, hungry hole is twitching for dick and Stephan can't wait to slide into the steaming, warmth sheath of Stephan's hole. The young bucks fuck every which way, making the most of Hugo's VERY flexible legs, he spreads them wide, clenching his hole to milk Stephan's stiff pole until he's squirting glob after glob of sticky spunk onto his own hairy chest and rock hard abs. Then Huge feeds the stud his own thick load, the hungry, piggy boy gobbles it all down, licking Hugo's thick, thick dick to make sure he gets every glistening drop.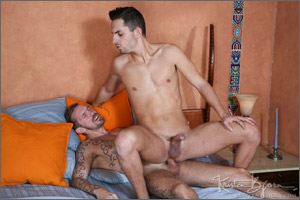 CASTING COUCH #340: STEPHAN RAW & HUGO ARIAS
FUCKERMATE
KRISTEN BJORN PRODUCTIONS
LUCAS ENTERTAINMENT
UK NAKED MEN
BUTCH DIXON
CLICK HERE TO GO TO HIS KRISTEN BJORN DETAILS