Super Cum Shooter American Gay Porn Star, Spencer Reed
Known Aliases / aka: Firefighter Spencer (All American Heroes), Spenser Reed
Years Active: 2007 – 2016
COCKY BOYS INFO:
How can you not be turned on by Spencer? At 6′ 1″, Spencer is a 24 year old power top. He's probably the greatest thing to cum out of Washington, DC is years! He has super hot tats and a great smile. Smile aside, he's a sexual machine. I swear I think this guy can fuck four or five times per day. We met in the most random way. Andrew Blue "friended" him on myspace, and told me to check out his pics. Spencer and I started chatting and Spencer sent me copies some other web work he had done. I was like, "damn, I gotta get this dude on my site." We stayed in touch and met up a couple of times when he was visiting LA. Finally I hit him up to do a scene for me. He laughed and said, "shit yeah – I thought you were never gonna let me!" What I didn't know at the time is just how sexual the guy is. If he doesn't get off three times and fuck at least one tight hole, it's a bad day for him. When's the last time you had a bad day? Check out his stuff.
Ethnicity: Caucasian
Height: 6′ 1"
Weight: 185
Hair/Eyes: Brown / Green
Position: Top
Cock Size: 8″ cut
Sign: Sagittarius
Hometown: Washington, DC
Turn-Ons: Bubble butt, bad boys, tatoos, piercings, big cocks, abs, muscles & 69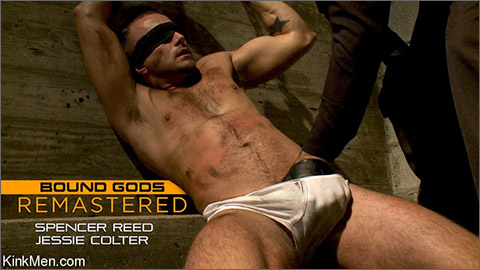 REMASTERED 2022: THE MOST VIOLENT ORGASM IN BOUND GODS HISTORY
Jessie Colter is tied up and blindfolded in a prison cell. Officer Spencer Reed comes in to tell the inmate that he will be set free tomorrow. Spencer wants to play with Jessie for the longest time and tonight is his only chance. Spencer gropes the helpless boy with massive gloved hands and makes the boy suck his fat cock. Spencer likes it rough so he beats Jessie down. Jessie endures the flogger, electricity in his cock and ass. Jessie screams like an animal and violently cums with the electric butt-plug up his ass. Spencer fucks the hell out of the exhausted boy and gives him a warning not come back to this prison.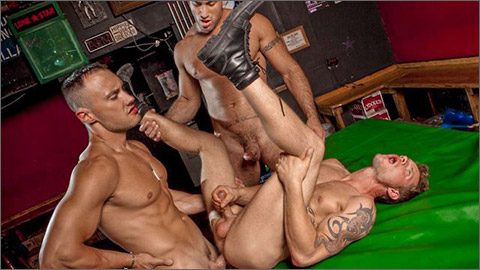 BRUTAL: Spencer Reed and Jason Adonis fuck Trent Diesel
Trent Diesel is a shit disturber with a twisted fetish. He's one hell of a fighter. Sure, he can really kick some ass but Trent also has another side— he loves to get his ass kicked. Trent will pick fights just to have aggressive sex with hot guys. Fucking and Fighting, Fighting and fucking is Trent's mantra. Late one night he follows Spencer Reed into the urinal and comments on the size of his member. "For a big guy you got a little cock". Spencer is not pleased but lets him off with a warning, so Trent does not relent. Spencer's buddy, muscle bound Jason Adonis has had enough and they exchange blows. Spencer and Jason hold Trent down on the pool table to teach Trent a lesson. "You think this cocks to small," says Spencer holding onto his large erect cock. "I'll show you what's small. Spencer shoves his fat cock into Trent's tight ass. Trent squirms is pain as Jason holds him down. Spencer rides him hard, they switch off and Jason fucks Trent hard with Trent enjoying every minute of it. Then Jason pulls out and forces his cock into Trent's mouth, he fucks his mouth with the same gusto forcing the cock in and out. Spencer then takes front position and fucks Trent's mouth as well swapping back and forth between the two big cocks. They force him back on the table and takes turns fucking him again till cum is flying from all other them. It may look like Trent lost the fight, but then again did he?
   Angelo Marconi has been training hard but its Ricky Sinz' style to push him that much harder. When Angelo makes an illegal move Ricky lays into him. Angelo gets pissed off and walks out. Draven watches this unfold from the distance reminding him of what his home life is like.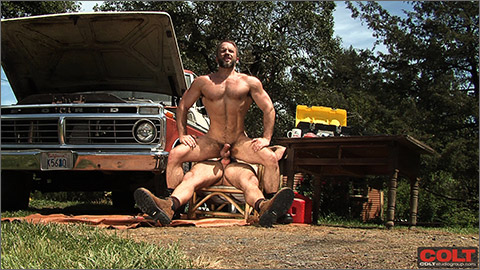 FUR MOUNTAIN: Spencer Reed fucks Dirk Caber
Sprawled out under a pick-up truck, Spencer Reed is busy with his mechanic's tools in hand. Dirk Caber watches from above, patting his bulging jeans as he watches Spencer on his back under the truck. Spencer looks up from under the truck and asks, You think that works? Dirk looks at Spencer?s hairy chest, gives his hard tool a squeeze and says, It works for me".
   Spencer rises up toward Dirks bulge and laps his tongue on that thick juicy cock. Slowly stripping each other out of their clothes, these guys enjoy sucking and slurping on their hard cocks in the hot, blazing sun.
   Dirk bends over the grill of the pick-up and offers his hairy, beefy ass – He offers it up for Spencer to do as he will. Spencer buries his face in that hot muscle butt as he strokes his meaty cock. Rock hard and ready to fuck, Spencer drills his meaty dick deep into Dirks hungry manhole, giving him a hard and deep pounding. Riding wild, Dirk gets on top and takes Spencer?s throbbing cock to the hilt. Ramming his hole on Spencer?s thick meat, Dirk unleashes a gusher, draining his balls of sweet, hot cum. Spencer rises to his feet as Dirk drops to his knees to take Spencer?s thick, drenching load.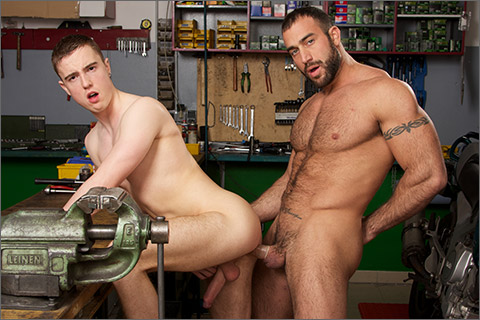 HEISSE KISTEN (LUBE JOB): Spencer Reed fucks JP Dubois
The boss of the motorcycle repair shop likes a hot butt for his hot rod. When a cute biker can't pay, he has to put his mouth and his ass on the line. Spencer takes some motor oil and shoves his thick rod into his hole and fucks him until it's steaming.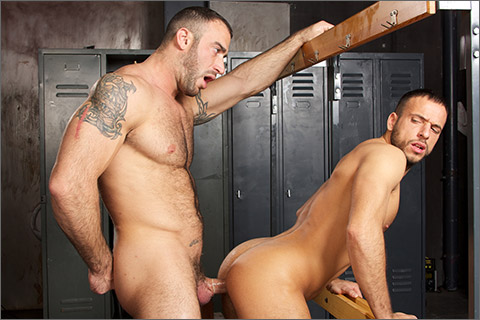 HEISSE KISTEN (LUBE JOB): Spencer Reed fucks Stany Falcone
Quitting time: handsome Stany pops a boner when the boss watches him take a shower. That doesn't bother him, because he has one himself – and what a boner! That fat piece wants to stuff itself into Stany's throat right away. After Spencer gives Stany's asshole a good rimming, it's primed. Spencer shoves his junk all the way in. Whoo…that feels good!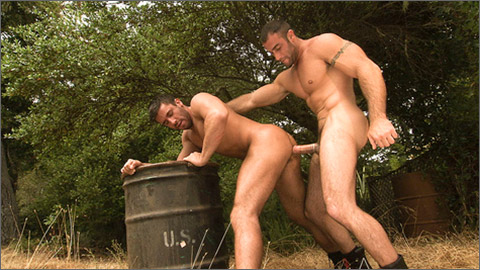 CONSENT: Spencer Reed fucks Logan Scott
Muscle man Spencer Reed is hard at work in the woods when he's approached by smooth and beefy Logan Scott. He welcomes the distraction as the two kiss, the bulges in their jeans grinding against each other. Logan feasts on Spencer's meat, prompting a stream of manly moans from the husky-voiced stud. Spencer grabs Logan's dark hair, shoving the sucker's head further down his shaft. Logan gags while deep-throating him, gasping for air as spit drips down ("Fuckin' little pig!"). Spencer pulls Logan up and takes out his cock, their two throbbers clashing as they kiss. Spencer gets some licks in on Logan's "big fucking muscle ass" before sucking him as his own dick pulses below. He feeds Logan again, his sac getting tongued before the two shoot—including a rocket from Spencer that hits Logan's shoulder and drips down his back. Soon bent over a barrel, Logan gets plowed as flesh-smacking sounds fill the air. Spencer grabs hold of the bottom's shoulders and hair, never letting up as revealing low shots capture his penetrating cock. The top turns Logan over and strokes him as he continues to fuck away, his massive chest glistening with sweat in the sun as two more wads are soon unleashed.

DUST DEVILS: Spencer Reed fucks Christopher Saint
On his desert run, naked Christopher Saint finds himself face to face with muscle man Spencer Reed—whose huge dick twitches as he fingers his pit. Christopher approaches, resting his arms against the rock to surround Spencer. They aren't even touching, but their intense stare speaks volumes. What follows is a scene for the ages, starting with an amazing oral display from Christopher—clearly intoxicated by Spencer's dick ("Your cock is fuckin' gorgeous!"). His deep throat work—with gags prompted by Spencer's controlling hands—is constantly interrupted by their passionate kissing. Christopher grips Spencer's shaft and rubs it against his face, worshipping every inch. He then sits on Spencer's tongue before bending over for a fast and deep fuck that never lets up. "Take my ass, mate!" yells Christopher, the veins bursting from his neck as his ass lips cling to the top's thick shaft. Christopher then sits on the top, whose face disappears from the shot as the bottom grinds all the way down his dick. Now on his back with Spencer's hand on his pec, Christopher pulls the top down for a kiss as they frantically fuck, their muscles quivering. Spencer spits into the bottom's mouth before both breathless hunks shoot—including a big wad from the top that hits Christopher's chest. Spencer whips his hard dick on the bottom's cock before pulling him up for another deep kiss to end the incredible pairing.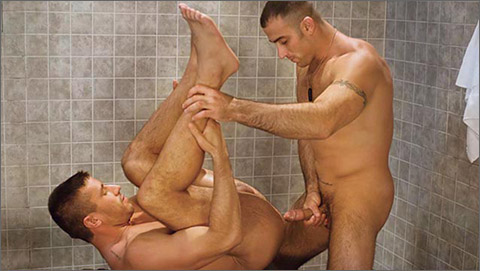 MAN UP: Spencer Reed fucks Logan Scott
After completing the day's maneuvers Spencer Reed hits the showers and finds Logan Scott whining about how brutal the training's been. Spencer cajoles his fellow soldier to "man up" and reassures him that he'll always have his back … even his dick and whatever else needed to make things easier. The two men suck face before Spencer starts sucking Logan's cock, opening wide to swallow him whole. Then they switch places so Logan can taste his buddy's big dick sliding in and out of his mouth. Spencer is soon craving more action and attacks Logan's hairy ass, poking a finger and his tongue deep inside before he licks it up. He follows the slurpy tongue action with slamming his pole up his mate's hole and fucking him hard and fast until he blows his wad with Logan cumming right after just as copiously.
CLICK HERE TO GO TO HIS FALCON STUDIOS DETAILS

WATCH IT NOW AT: Spencer Reed @ AEBN / SMUTJUNKIES THEATER
NOW STREAMING: Spencer Reed @ NAKEDSWORD