British Gay Porn Star Butt Slut, Skikes
Years Active: 2015 – 2016
TWITTER @SkikesXXX
Irish lad living in London, don't expect art, it's just mainly my cock and balls… And video game and comic book stuff… Possibly some cats.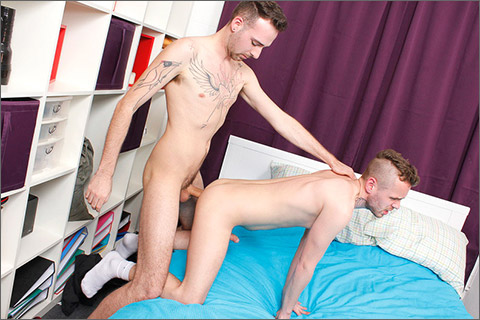 BOYFRIENDS DO IT RAW: SAMBA FUCKS SKIKES
Irish boyfriends Skikes and Samba invite us to join them on a hot raw fuck, letting us in on their personal lives in a quick interview to camera before they get underway. The Irish are known for their charm and they should add a sexual appetite to that too! Cute young Skikes is our bottom boy for today and loves nothing more than a big dick being fucked into him and it's even better when it's completely bareback, letting him feel every inch skin on skin. Lucky for him and for us that Samba sports a good thick dick for us all to enjoy and when he plunges it inside, he proves he's a hard fucker and takes no prisoners! Opening Skikes' ass wide for us, that dick is soon disappearing inside his boy, sliding in and out so we see just how much he loves bare dick inside! The ball slapping action only gets faster and faster as Samba builds to a big spurt all over the freshly opened hole, plunging again inside, getting that cum as deep inside as possible before lapping it up and feeding it to his boy, there's nothing like sharing spunk!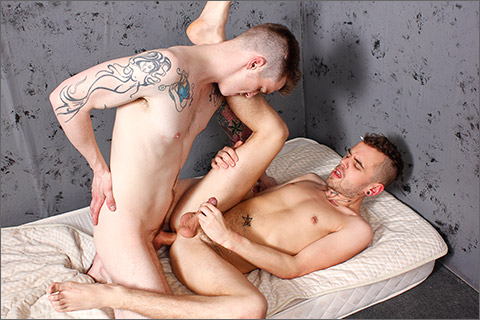 JAILHOUSE FUCK: AJ ALEXANDER FUCKS SKIKES
Out to cause trouble, young Irish tearaway Skikes is back behind bars with officer AJ on duty charged with keeping an eye on this disrespectful thug. Whilst his supervisor is there, AJ is professional and calm, but as soon as his boss clocks off, AJ turns around and lets the gobby little shite know who's really boss around here! Unlocking the cell and letting himself in, AJ is already hard at the thought of what he's going to submit his prisoner to, and it's a hard-on hard to hide! Handcuffed and treated to a mouthful of hard uncut dick, Skikes doesn't know whether it's a punishment or a pleasure, but when his ass is soon plundered deep, it's definitely the pleasure! Holding on to the bars of the cell, Skikes is slammed hard and deep, with the tattooed office giving his best to show him what he gets when he grabs his attention! The result is a mouth full of officer cum and but not even his statutory phone call!
BULLDOG PIT
RAW FUCK CLUB
DARK ALLEY XT
CLICK HERE TO GO TO HIS BULLDOG DETAILS