Rugged Portuguese Club Dick Gay Porn Star, Sir Peter
Known Aliases: Sir Peeter
Years Active: 2019 – 2023
KRISTEN BJORN INFO:
Nationality: Portugal
Height: 6'1
Weight: 185 lbs
Dick: 8" (20.32 cms) uncut
Position: Top
Zodiac: Sagittarius
Despite his name, Sir Peter is Portuguese. He has a handsome face, a fibered, hairy body, and a big, very thick cock. Sir Peter loves to ram his fat dick into tight butt holes bringing emense pleasure to his companions.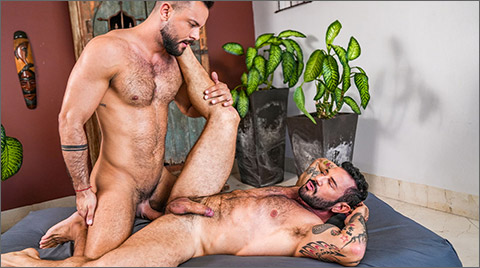 STUDS IN THE SACK: Sir Peter pounds Sexystache
Sir Peter and his incredible endowment is sought after by countless men. Sexystache is among them, and when he and Sir Peter are hanging out, he decides to take some photos for posterity's sake. Dressed in a tank top and shorts, Sir Peter exposes his enormous uncut cock for Sexystache to snap some pictures of before be gets to work sucking on the object of his desire. Sir Peter's own object of desire is the meaty and muscular ass of Sexystache, which he annihilates with an incredible and deep anal fucking!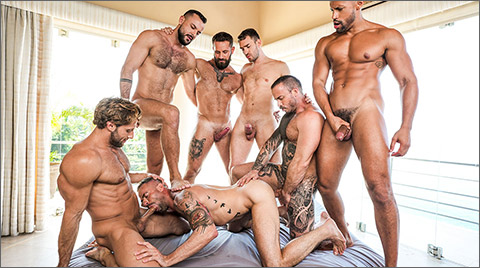 GANG BANGING LEO BACCHUS: Leo Bacchus Gang Bang | Part 01
Watch Part 01 of this two-part gay porn gang bang of Leo Bacchus, only on Lucas Entertainment! Six of the hottest, sexiest, and horniest Lucas Men are lined up and ready to fuck, slam, and sodomize Leo Bacchus in his mouth and ass — and you're invited to get right in line with them! Leo Bacchus is a handsome and muscular jock in the streets, but a submissive and cock-hungry bitch in the sheets. So, with that in mind, the Lucas Entertainment production team decided to give Leo exactly what he wanted — as much rock-hard, bareback dick as he could possibly handle! Sir Peter, Dom King, Harold Lopez, Charlie Cherry, Bruno TheBeardX, and Papixtrong all team up and go to pound town on Leo Bacchus!

GANG BANGING LEO BACCHUS: Leo Bacchus Gang Bang | Part 02
Watch Part 02 of this two-part gay porn gang bang of Leo Bacchus, only on Lucas Entertainment! Six of the hottest, sexiest, and horniest Lucas Men are lined up and ready to fuck, slam, and sodomize Leo Bacchus in his mouth and ass — and you're invited to get right in line with them! Leo Bacchus is a handsome and muscular jock in the streets, but a submissive and cock-hungry bitch in the sheets. So, with that in mind, the Lucas Entertainment production team decided to give Leo exactly what he wanted — as much rock-hard, bareback dick as he could possibly handle! Sir Peter, Dom King, Harold Lopez, Charlie Cherry, Bruno TheBeardX, and Papixtrong all team up and go to pound town on Leo Bacchus!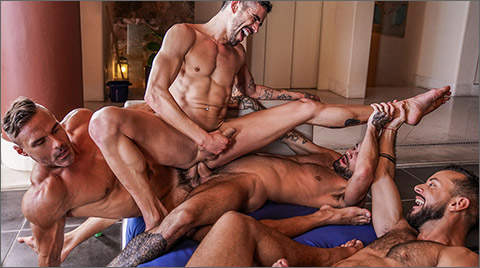 TAKE HIM TO POUND TOWN: Valentin Amour's Four-Top Gang Bang
Valentin Amour is about to find himself in the roughest part of Pound Town, and his chaperones are Manuel Skye, Jeffrey Lloyd, Rudy Gram, and Sir Peter! If there's one bottom whore who can take some of the hottest, horniest, and most hung among the Lucas Men, it is Valentin. He can't wait to work out his jaw and boy pussy as he gags and gets stretched from behind! At one point during the encounter, Manuel Skye and Jeffrey Lloyd wanted a crack at Valentin at the same time. So they double-penetrate while Sir Peter watches in awe!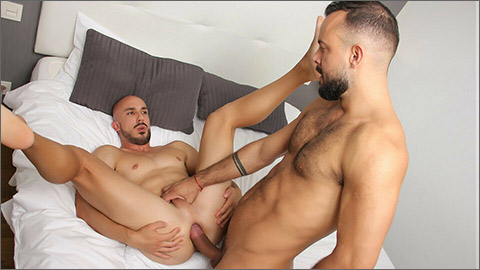 KRISTEN BJORN'S CASTING COUCH #451: MAX FENDEZ & SIR PETER
The strikingly handsome and debonair Sir Peter inducts the newest member to the Kristen Bjorn Society of Select Men; Max Fendez. Sir enters the room and joins Max already on the bed as they engage in some romantic kissing. As the kissing advances Max's hands begin wandering and exploring the firm, muscular, hairy chest of Sir as he explores the smooth, taught, open thighs of Max. Max is eager and hungry as he stands, removes his underwear and presents his full, round ass to Sir to explore. Sir takes Max's plump ass into his hands and feels the heat and pleasure radiating from within. Max drops to his knees and begins eating away at Sir's growing cock through his underwear. Sir strips them off and we see the massive piece of meat that was held within. Immediately, Sir begins testing Max's cock sucking skills, with both hands firmly placed and his smooth head, Sir gently glides his substantial cock into Max's open mouth. Max finds that he must open his mouth beyond any measure that he has done before, but this is one hungry cock sucker and eager to feel the pleasure fill his mouth and throat. With both hands wrapped around Max's throat, Sir begins face fucking him as Max works to choke every centimeter down his throat. Sir encourages and kisses Max to make sure he is still hungry and Max opens his mouth wide and the face fucking continues. The guys move into a 69 position and Sir gives Max a deep tongue fucking and thorough ass eating, while Max continues sucking on that gigantic cock. Max's ass has been primed perfectly by Sir's strong and stealthy tongue that he gets up and mounts Max from behind, gently easing his ass open. Within moments Sir is deep within and up on his feet with a firm rhythmic fucking. Max's cock is busting at the seams with excitement and pleasure as Sir fucks him deep and raw. Another swap and this time Max is lowering his ass onto Sir's massive cock, feeling the sheer girth stretch him to new limits. One more swap and this time Max is on his back and Sir is coming in full force and full depth with Max's legs spread wide open, nothing is going to obstruct the depths of this fucking. This position has massaged Max perfectly as his balls have drawn up so tight against his body as cum drools in thick globs of creamy cum. Sir continues fucking with his granite cock the size of a towering mountain then pulls out and creams Max's pink ass with his milky white load. Sir scoops up his cum with his cock head and shoves it back inside of Max. Now that is a man size meal of a cock!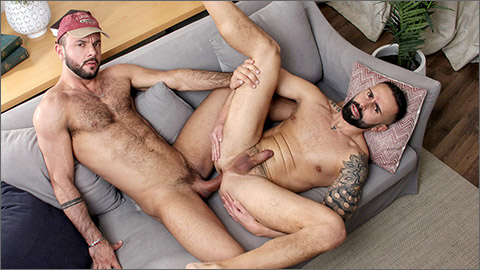 KRISTEN BJORN'S CASTING COUCH #441: JOEL WIN & SIR PETER
Joel Win is the "Beginner" to be inducted into the Kristen Bjorn Society of Select Men by the master of monster cocks, Sir Peter. As the men slowly disrobe and seductively kiss each other their testosterone levels are quickly rising. Joel drops to his knees, opens his mouth as wide as possible and attempts to go down on Sir's massive cock. Sir tweaks his nipples as Joe takes his monster cock in both of his hands and sucks on the gigantic mushroom head that more than fills his mouth. Being flipped onto all 4's, Joel has his ass cheeks spread open and Sir knows that he needs to make sure that his ass is well lubricated before his gigantic attempts penetrations. Sir gives Joel's ass a thorough rimming and fingering before slamming his hard cock deep into that hungry ass. Joel's ass receives a deep pleasure that very few men are able to deliver to their partners and Sir is not finished. The guys switch things up and this time Joel is squatting down onto Sir's monster cock and goes balls deep before Sir takes control and begins his aggressive fucking. One more flip and Joel ends up on his back, legs spread and Sir coming in for the ultimate deep massage. Sir has stroked Joel in the exact spot that will launch him over the edge and delivers the final stroke that unleashes Joel's huge load of cum to erupt from his cock. As Joel's ass spasms and pushes his hot load out of his body it is also milking Sir's throbbing cock and brings him to ecstasy. Sir's cock explodes with a hot, creamy load of cum that drenches Joel's ass, but the true treat is when Sir shoves his saturated cock back into Joel's spasming ass. If you are going to be inducted, you might as start with the biggest cock.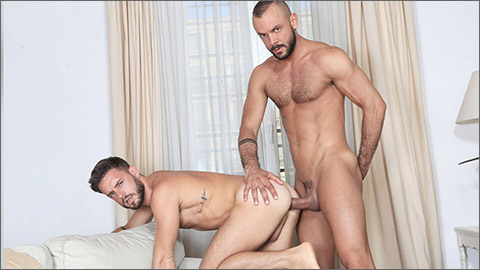 KRISTEN BJORN'S CASTING COUCH #436: MANUEL REYES & SIR PETER
Manuel Reyes is the newest member to gay porn and to the Kristen Bjorn Society of Select Men, who happens to be paired up with the amazing Sir Peter. Manuel may be a bit smaller in stature to Sir, but his strong, rigid big boy dick says he is ready for a wild adventure. With his cock fully exposed, Sir leans in and begins sucking on his cock that seems to get harder with every push past his moist lips. Manuel receives a thorough cock sucking from Sir, as his own cock is straining to be set free. Dropping to his knees, Manuel is treated to the up close and personal prospect of what is to come with this magnificent, meaty cock bouncing in front of his mouth. Manuel takes a deep breath then takes in the bulbous head that leads to the thick shaft that is gliding across his famished tongue. Realizing quickly that he is going to have to go slowly at first so that his mouth can adjust to the sheer size of Sir's cock, Manuel shows that he is no beginner cock sucker. Manuel proves to be a very eager cock sucker and quickly begins chocking down as much of that monster cock as possible. Sir bends Manuel over and slams his cock balls deep into his wet hole, proving that the only cock Manuel wants in his ass is a huge cock. Sir repeatedly pulls out and thrusts his cock back in Manuel's hungry ass, each time causing Manuel to gasp for air. Just as Manuel has become accustomed to that huge cock in his ass, Sir flips him onto his back and begins his assault all over again. Once again, Sir's cock plunges in and out of Manuel's hot, pink ass as if it were always meant to be there. As the fucking intensifies so does both men's levels of pleasure. Manuel grabs his cock and begins stroking in unison with Sir's strides that have delivered both men to the threshold of no return. Sir's fucking has reached a fevered thrusting that forces the cum to fly out of Manuel's cock. With Manuel's cock pushing every drop of cum forward, his ass is created a vice grip around Sir's cock and begins to milk it for everything he has. Sir shoots his load of cum all over Manuel's thighs and furry balls. He then scoops up his load onto his cock and deposits his load into that hot, hungry ass. Manuel may be new to us, but he has proven that he is a master of pleasing huge cocks.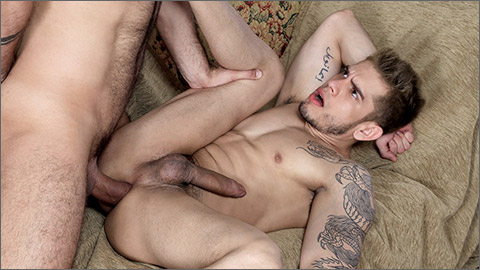 POCKET ROCKETS: DELAN BENOBE & SIR PETER
As Sir Peter and Delan Benobe enter the room we can see that their massive cocks are gearing up for a wild time. Sir and Delan feel the pull between them and succumb to the force that is already filling their cocks with lust, desire and power. Their eyes examine each man's physique followed by their hands exploring further then their lips shatter the tension as the kissing builds a passion that can only be described as a collision of two rockets exploding with ultimate man on man sex. Delan has dropped to his knees and is trying to eat his way through Sir's shorts to get at his ever-growing cock. Sir drops his shorts and his thick, meaty cock is yet to gain its full luster. Delan feels the hefty weight of Sir's cock slapping across his face as his lips part and feel the wondrousness of that fat cock head slipping past his lips and across his tongue. By the time Sir's cock hits the back of Delan's throat it is at full attention and ready to fuck. Delan opens wide and Sir gives his throat a good fucking. Sir bends Delan over a chair and pulls his cock back as he begins eating his hot ass. With Delan's throbbing cock in his hand Sir goes back and forth from his ass to cock, filling both with immense pleasure. Delan is hot and Sir is ready as he slips the full length of his fat cock inside of Delan's smooth, beautiful ass. The harder Sir fucks Delan the harder Delan's cock becomes. Sir drops back to the sofa and has Delan sit down on his cock and the view from this angle is incredible to see as that monster splits Delan open and just does not stop. The intensity of their fucking has Delan's cock rock-hard and Sir fucks him until he forces the cum out of his cock. With Delan's cock still oozing cum, Sir flips him onto his back and continues with a such vehemence that has his cock exploding cum all over Delan's ass. Sir grabs his cock as it is still spewing cum and shoves it deep inside of Delan.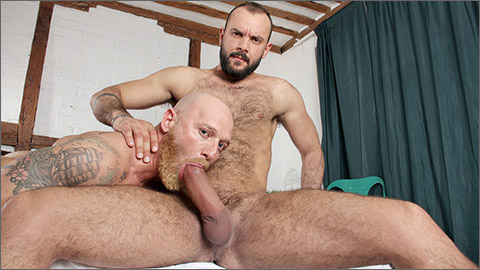 ALL INSIDE: JAY MOORE & SIR PETER
Sir Peter and Jay Moore have been dating for a short time when they decide to take a romantic trip to the countryside to get to know one another on a more intimate level. They arrive at their quaint cottage and are excited to go hiking when they decide there is something more pressing that needs attention. As the guys caress each other in bed, Jay discovers the massive dick bulge growing in Peter's underwear. Jay's hand can barley fit around Peter's monster cock as he musters up everything that he has to open his mouth wider than he ever has before and begins to devour the monster cock in front of him. Being a true champion, Jay gives Peter's a cock sucking that he has not experienced in a long time. Peter is to hungry to spend any more time on cock sucking as he bends Jay over and slips his gargantuan cock deep inside of Jay's famished ass. Not only does Jay have to contend with the length of Peter's big dick, but the sheer girth would split all the smaller guys in half, but Jay has a hunger that is being met by the "king of cocks". Peter flips Jay onto his back, beats his ass with the massive head of his cock before it disappears within his smooth ass. It is amazing to watch a masterful fucker top someone who is his equal as Peter and Jay fuck their brains out. Time for another switch up and this time Peter lays back as Jay squats down onto his anaconda. Jay and Peter go back and forth as to who is in control of the fucking and both are exquisite in their roles. Jay works hard to get Peter's imposing cock all inside of him with each downward thrust of his ass. As the passion and the fucking reach a fevered pace, Jay pops off of Peter's cock just in time to catch the cum flying out of his cock with his lips and tongue. With the taste of hot, fresh cum on his tongue, Jay lets his own load of cum erupt across his ripped abs. Always keep it all inside, whether it be your ass or your mouth!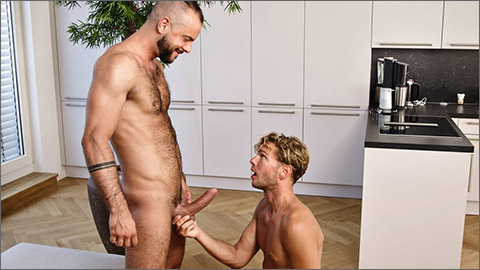 SIR PETER FUCKS VLADIMIR STARK
Sir Peter and his fat Portuguese sausage are up for the Timtales treatment. Vladimir Stark couldn't be happier to finally meet and taste that massive raw cock. It's his favourite flavour and volume. Thick like a beer bottle and rough like a bull. Sir Peter is well known for his masterful crazy rough fucking. And Vlad is only here to give him that sweet hole he's been craving. It's one hell of an aggressive sex session. All the piggy stuff you love.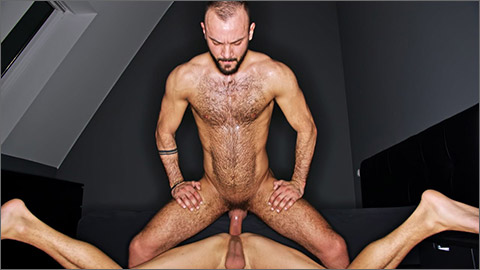 SIR PETER FUCKS FELIX HAIN
What a crazy week, right? Well, let Timtales comfort you with what you truly love; a massive cock that is! Introducing one hell of a hot Portuguese hunk today. Sir Peter is our typical Timtales Man. Tall, strong with one perfectly thick cock, Sir Peter will happily fuck all of our bottoms. Felix Hain is the blessed one taking that fat cock for the first time. Intense raw fucking ahead, he didn't expect to be bred that strongly. Just watch Sir Peter's hairy body forcing his way on Felix. What a view!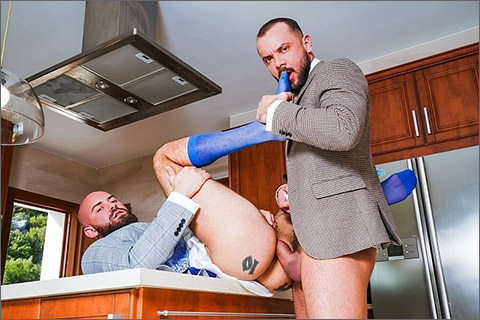 PAYBACK
Sir Peter is having an online meeting with his team when suddenly his boyfriend Bruno Max walks through the background naked, just wearing a towel wrapped around his waist.
   After the meeting, the embarrassed Sir Peter confronts Bruno and they begin to argue. Seeing as how Bruno doesn't show any remorse, Sir Peter decides to pay him back by making him late for work. And, Bruno will need to change his now cum stained suit!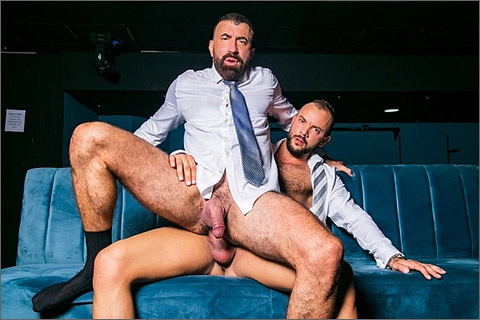 STRIP POKER
Joe Casio joins Sir Peter with a non-conventional poker match. In our version of poker, the loser strips a piece of clothing. Unbeknownst to Sir Peter, Joe has arranged for Sir Peter to lose every game and as a result, he's getting more and more naked. This isn't about winning money, it's about sucking and getting poked by Sir Peter's big dick. Playing is a new skill.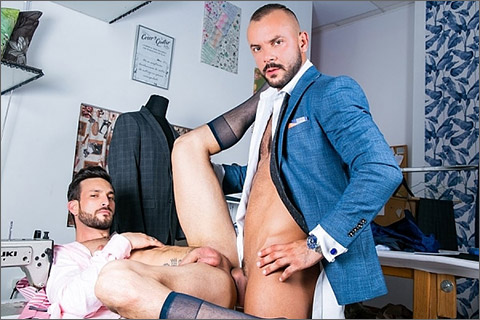 THE TAILOR AND SIR PETER
Sir Peter is picking up a new suit at Javi Gray's tailor shop that he needs for an event later this evening. But when he arrives, Javi brings out a suit that is the wrong color. It seems as if he got his notes mixed up. Not to worry. Javi has options in the back and while dressing Sir Peter, he can't ignore the big bulge emanating through the suit paint. In the end, problem solved and a big-dicked suit sex play session as a reward.
CLICK HERE TO GO TO HIS KRISTEN BJORN DETAILS
CLICK HERE TO GO TO HIS MEN AT PLAY DETAILS
VIDEO ON-DEMAND: Sir Peter @ AEBN SMUTJUNKIES THEATER
NOW STREAMING: Kristen Bjorn Productions @ NAKEDSWORD