Big Dick Butt Slut Cute American Gay Porn Star, Sherman Maus
Known Aliases / aka: Iron Maus
Years Active: 2017 – 2020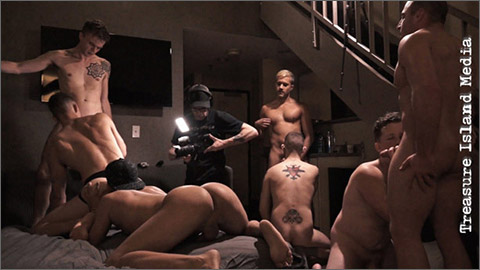 KENNY'S RAW FUCKS – Nate Grimes Group Fuck
When you meet NATE GRIMES for the first time, he seems like a helluva decent, clean-cut, All-American, ex-military, good guy. And for the most part that's pretty damned accurate. He's all of those things, sure. But NATE also just happens to be the sleaziest, filthiest manhole in all of Los Angeles County. Here's your chance to check out for the first time the guy that Paul Morris calls "the new DAWSON". After you watch this scene, write directly to Paul Morris and tell him what you'd like to see NATE do next. The lad's limits are, to put it very mildly, few.

KENNY'S RAW FUCKS – Nate Grimes & Sherman Maus
As you can tell from Scene 4, NATE GRIMES literally can't get enough. After the gangbang, fellow-whore SHERMAN MAUS takes NATE upstairs for some good ol' fashioned flip-fucking fun.After draining NATE of the rest of his sperm, SHERMAN tosses him onto his back to give NATE not one, but SEVEN more frozen loads of man-juice up his hairy, gaping hole.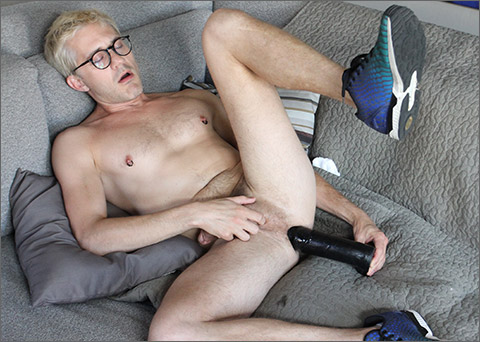 SHERMAN MAUS BLACK DILDO SOLO
27-year-old Sherman Maus wasted no time ripping off his clothes when the interview was complete. The first thing he did was bend over the sofa, spread his legs and his fingers begin probing his tight, furry hole. His huge balls were hanging and his thick piece of meat was already dripping pre-cum on the sofa. He begins finger-fucking himself with one hand as the other hand strokes his cock which is growing longer and harder with each stroke. Sherman settles back on the sofa and gets down to the business of working his tool. Every other stroke seems to bring more and more pre-cum to the tip of his dick. He reaches behind a pillow and pulls out the biggest, thickest dildo I think I've seen in a while. He lifts his leg and while he jerks his huge cock he shoves the huge dildo right up his hole. You can see the smile on his face as he buries the toy deeper and deeper. Sherman stretches and pounds his hole with the dildo until his nuts are ready to burst. He smears some more pre-cum into his lube and with the dildo shoved all the way in, Sherman's cock starts dumping a thick, creamy load of jizz all over his chest and stomach.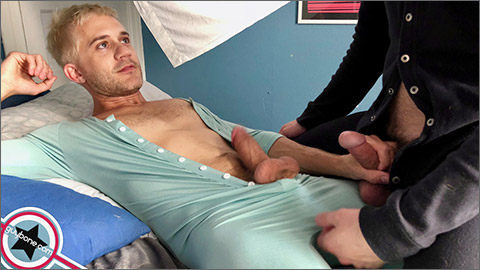 SHERMAN MAUS TOPS LANCE BENNETT RAW
Lance and Sherman are old fuck buddies. They hooked up about five or so years ago and had some of the hottest sex of their lives. Then their paths took them separate ways until GuyBone brought them back together. Cuddled up and cozy in Lance's bed, under a makeshift sheet fort, wearing nothing but thin fabric, boner inducing onesies, the guys watched a homemade video of their previous sexual encounter. Seeing their good ole times play out turned them both on. So much so, this sexy slumber party pair ended up with an extra 5 minutes of footage. That's more fuck for your buck!
   Their hands began to roam. I could see they were both pitching tents inside their onesies. Lance unsnapped the back flap of his dark thermals and climbed on top of Sherman. Sherman's fingers were instantly teasing Lance's furry asshole as the soon to be bottom wiggled on top of his top, showing off that delicious derrière.
   Sherman's cock was bulging beautifully inside his sea foam colored long underwear. Lance sniffed his dick through the cotton and then pulled it out, along with his own, to rub their hardons in the open air. Both guys were so fucking stiff. Their dicks throbbed and ached for each other's touch. Lance started licking Sherman's shaft then slurped his whole rod into his wet and ready mouth.
   Sherman's cock is so fucking big and veiny. His balls are huge and loose. Lance was in heaven sucking his bud. He breathed heavy and moaned, letting the fat cock slide from his lips and snap against Sherman's toned tummy. They rubbed their steely dicks together and then Lance rolled over to let Sherman return the oral favor.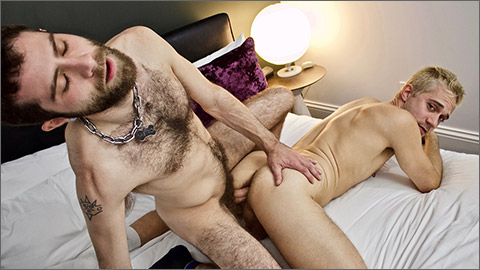 JAY DAVIS TOPS SHERMAN MAUS RAW
Fuzzy and fit and fucking hung seem to be choice descriptive words for this scene. Jay Davis, a total site favorite, is hairy from head to sexy toe. Thick chest carpet, bushy pubes, and an asshole nestled in a forest of brunette hair. He's the absolute package, sexy and shy but with a hardcore streak that shines once he gets going. A furry, cute pup, Jay is totally versatile in bed, but wasn't quite sure he could handle Sherman's monster cock, so he stuck to the top bunk. Sherman, toned and smooth and packing a wallop of a dick, was more than happy to give up his handsome hole to his studly costar. Sherman's adorable, with a smile that makes you melt, eyes that pierce your every fiber, and a personality that radiates good times. These two were a wonderful match, and they couldn't wait to get started. I'm always up for watching Jay get naked, and I was equally excited to get Sherman in front of my camera for his first GuyBone scene!
   Hatted and horned up, Jay pulled his dick out. Sherman swallowed his thick member as Jay teased his costar's hole under his shorts. Sherman's growing rod had slipped out and was throbbing with anticipation. Jay moved to the side of the bed and throat fucked his taller counterpart with his stiff, curved cock. Then he leaned over into a hot 69 and gulped down Sherman's hardon.
   While Jay worked on Sherman's hog, Sherman rimmed Jay's hairy hole. Mmm bet that tasted amazing! Then Sherman took his turn at throat fucking, using Jay's mouth like a fuck puppet. They had a hot upside down kiss that nearly made me cum.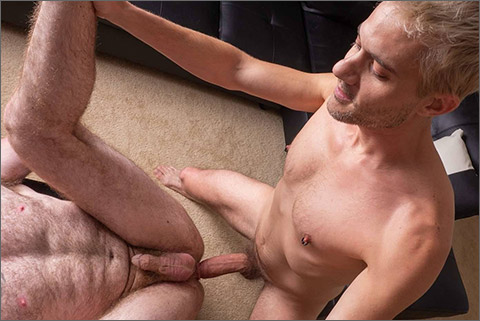 SERVING IN DISGUISE
While bearded Sean Knight takes a dip in his pool, Sherman Maus is dressed as a pool boy. His objective? To serve legal papers to, as he himself says, "the rich douche bag." Except Sherman is in for a surprise. Sean is just his type! Still, work is work and play is play. Sherman proceeds to serve Sean, but when he's done — and despite Sean's disrespect for the law — Sherman show's Sean a different part of law. It's the long arm of the law, and FYI, it's Sherman's humongous cock! After chowing down on that meaty bad boy, Sean gets on all fours and gives up his hairy ass for a good rimming and then a bareback fuck that leaves his furry belly matted in jizz.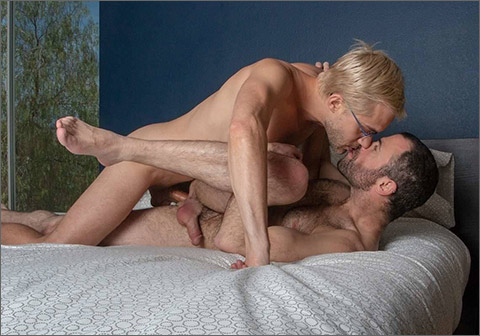 BIDDING WAR
When it comes to real estate, you want a quick sale. Better yet, a bidding war! DJ, our realtor of choice, has two strong, potential buyers. Trouble is, they both want the house. After showing Sherman Maus and Dusty Williams the space, our realtor leaves the scruffy blond and scruffy brunette alone to hash things out. Because Dusty really wants the house, he's willing to do anything to get Sherman to drop his bid. But first, Sherman has to drop his trousers and offer up his sweet ass. Sherman drops to his knees and makes out with Dusty's willing and eager hole while working his own huge cock. He proceeds to suck Dusty, getting a good face fucking while he's at it. Sherman, who knows how to play the game, then offers up that L-O-N-G slab for Dusty to devour, with both mouth and hungry ass. Sherman plunges deep, bareback fucking that hole for all he's worth. Except this isn't a wham-bam, thank you type of thing. Sherman takes his sweet time drilling the hairy otter, pumping away until he dumps his seed. Dusty, excited to collect seed, cums all over his hairy belly, happy with all that protein inside him and the knowledge that Sherman has officially pulled out of the bid. And speaking of pulling out, Sherman pulling that hose of a cock out of Dusty — all cummy and nasty and wet and coated with semen and ass juice — is a sight to behold for true fans of freshly fucked and seeded hole!
VIDEO ON-DEMAND: Sherman Maus @ AEBN SMUTJUNKIES THEATER
DVDs & ON-DEMAND: Sherman Maus @ TLA VIDEO