Lucas Entertainment Gay Porn Star, Shawn Andrews
Years Active: 2014 – 2015
TWITTER @ShawnAndrewsXXX
LUCAS ENTERTAINMENT INFO:
Height: 5′ 8″
Weight: 145 lbs
Dick Size: 7″
Position: Bottom
Gay porn model Shawn Andrews was lucky enough to be born in the sunny paradise of Honolulu, but he's since relocated his live to Austin, Texas. When not filming in gay bareback porn movies, Shawn is pursuing a medical career, but when he is performing he loves riding a cock like the needy bottom he is. He hopes that one cock in the near future will be that of gay porn model Topher DiMaggio.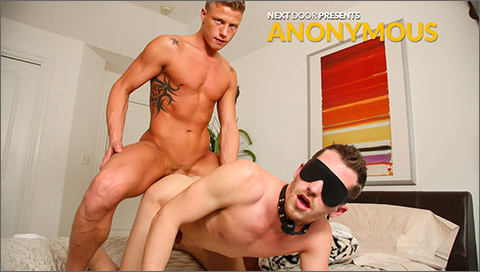 ANONYMOUS
Shawn Andrews reticently posted a personal ad online, seeking a partner in some sexual exploration. His post was relatively simple: seeking a male with a large dick, interested in fucking a blindfolded male, with some light slapping involved. Ace Stone was the first to answer.
   They never spoke, other than messages exchanged online. Ace was made to understand that he would not be seen at all during the entire encounter. Along these lines, he was not to talk to Shawn, but only to to perform explicit sexual acts. Ace had never participated in anything this unusual or kinky, but he liked the idea.
   When he arrived, everything was as had been explained. Shawn was already blindfolded and presenting his ass on the bed. Ace licked the inviting hole, enjoying the beautiful offering. The two moved to sucking each other's cocks. It wasn't long before Ace felt moved to begin fucking Shawn. He slid his rock hard erection into Shawn's ass and slowly worked up to a steady, firm pounding. Shawn ached to remove the leather that covered his eyes and see who was slamming such a substantial cock into him. But it was too late to change the rules now. Join these two and experience the tantalizing chemistry that comes with voluntary anonymity.
Amateur, Condom, Hardcore, Anal Sex, Cum swallow, Brunette, Tattoo/Piercing, Twink, Big Dick, Toys, Masturbation, Leather, Rimming, Climax, HD Movies, Gay Porn, Caucasian, Smooth, Muscular, Jerking off, Blowjob
THE FOREIGN STUD – PART 2
ANONYMOUS
RUB IT OUT
OVER THE TOP
DEEP DICK MASSAGE
RUB IT OUT
SHAWN ANDREWS GAY CASTINGS
DEEP DICK MASSAGE
POST WORKOUT RUBDOWN
SHAWN ANDREWS & CORBIN RILEY BAREBACK IN OMAHA
NEXT DOOR STUDIOS
GAY ROOM
LUCAS ENTERTAINMENT
JASON SPARKS LIVE
CLICK HERE TO GO TO HIS LUCAS ENTERTAINMENT DETAILS