Handsome Hung Hungarian Gay Porn Star & Escort, Sergio Soldi / Mateo Torres / Don Camillo
Known Aliases: Tomi Barna, Thomas, Thomas Jeno, Tamas Novak, Tomashio, Sergio Solli (U.S. Male), Thomas, Korath Ferang, Tamas, Kevin Elliott, Kevin Elliot
Years Active: 1997 – 2016
KRISTEN BJORN INFO:
Nationality: Columbian
Height: 6′ 2″
Weight : 195 lbs.
Cock : 7 1/2″ uncut
Position : Top
Mateo is a bossy sort of guy and took to ordering the other models around durring the huge 12 man scene in The Anchor Hotel. Sexually he is always ready with a nonstop, rock-hard erection.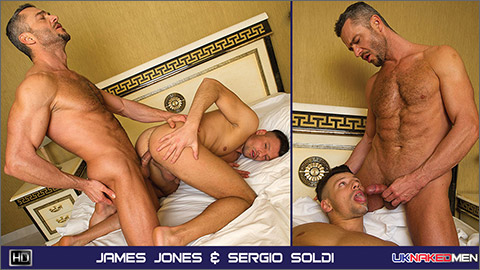 SERGIO SOLDI FUCKS JAMES JONES
Ahhh bristling, broad and sexy – Sergi has only done a solo before us before and though he's 'kinda' straight we know he has a thing for smooth, handsome boys and lets face it anyone would curl at the edges for the beautiful, toned, tanned and hung – James Jones. James is new and a sight to behold from his smooth, pale feet to his fat, lip-smackingly juicy, uncut cock to his pale eyes and invitingly, kissable lips, oh yes please (and Sergi agrees). So we just fling them on a fancy bed and let the devil do his work! The handsome guys slide into a 69, slurping on each others uncircumcised dicks, rolling their tongues under each others foreskins, before Sergi positions James and spreads his butt cheeks for a right royal rimming, pushing the spit inside with his tongue and getting him good and ready for a stiff dick, he can feel just how tight a ride this is going to be. Its a tight squeeze for unexperienced, young James but once his sphincter has relaxed around the stiff girth of Sergi, stiff pole he's ready to be ploughed and stretched. Just when his arse can take no more of the pounding Sergi slides out and positions himself over James' beautiful face ready to squirt! get ready for a cum-facial Mr Cutie is it wrong to want to cum on something so perfect?
UK NAKED MEN
KRISTEN BJORN PRODUCTIONS
MEN AT PLAY
ELITE MALE AT MALE DIGITAL
IKARUS STUDIOS / SWEET AND RAW
CSABA BORBELY / DIAMOND VIDEO
HIGH OCTANE PRODUCTIONS / HERVÉ HANDSOME
FALCON STUDIOS
LUCAS ENTERTAINMENT
TITAN MEDIA