Handsome Spanish Gay Porn Power Bottom, Sergi Rodriguez
Years Active: 2014 – 2017
TWITTER @SergiXrodriguez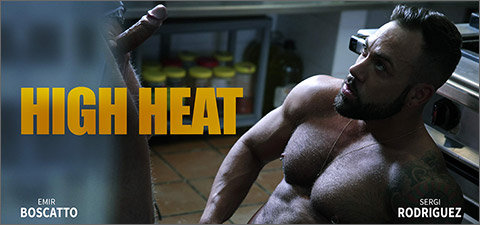 HIGH HEAT
Emir Boscatto, like most bosses in the Menatplay world, knows how to use his authority to get what he wants. So when cocky, buff chef Sergi Rodriguez threatens to leave over some dispute among the kitchen staff, Emir uses his most effective tool to win over the grouchy worker. After sucking off his boss, all that arrogant chef needs to keep him in his place is to get his hole eaten out and to feel Emir's meaty cock up there while his butt cheeks are spread over his stove. 'Too many cooks spoil the broth' they say, but if your boss throws you such a juicy bone the cooks will soon work out their differences.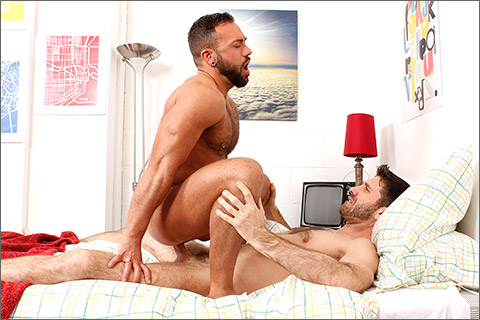 BIG BARE DICK!: CRAIG DANIEL FUCKS SERGI RODRIGUEZ
Big dicked Craig Daniel loves it raw, and especially when it's with a hot young hairy cub like Sergi Rodriguez! Chilling out on the bed, they soon get down and dirty, their hairy bodies pressed against each other perfectly, Sergi's tanned skin complementing Craig's paler skin, especially as Sergi sucks on Craig's massive meat like a boy with a lollipop! Once Sergi's got the taste for cock, there's only one thing on his mind and that's to treat his ass to it too! Lowering himself down onto the long shaft he works his ass open so he slides all the way to the balls, gaining as much raw dick as he could and Craig loves every second of it! Not one to leave all the work to the bottom, Craig raises Sergi up and slams himself upwards, his big balls slapping against his butt as they both work up a real sweat as they fuck raw, the feeling of all-natural sex turning them both on so much Craig ends up shooting all over Sergi's open and freshly fucked hole, pushing the hot spunk deep inside not wanting to waste a drop, just like a good raw fucker!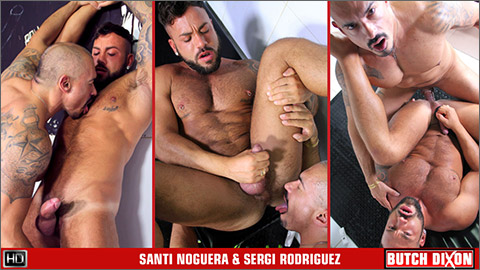 SANTI NOGUERA FUCKS SERGI RODRIGUEZ
One of our favourite furry pups is back – Sergi Rodriguez, and when we gave him his pick of the stable he couldn't wait to get his hands, tongue and sweaty hole onto Santi Noguera, a mean thug of a Spanish fucker with a gristle dick and a nasty streak (YUM!). Sergi's filling out beautifully, and still as hairy and horny as ever with a great rug of a hairy chest and those flickable, lickable, peachy white bits (oh those buns!). Santi's as horny as hades and can't wait to get to work reducing Sergi to an aching, moaning, sopping wreck. Sergio slurps on Santi's dark dick until its fully erect and lubed with spit, but just to make sure the jobs done properly Santi bends his cock-slut over and eats out his sweaty hole, pushing spit up it with his hot, probing tongue as Sergi moans and begs for that rigid length deep inside him – Santi never disappoints and pounds Sergi's butt-hole as he plays with his boys stiff, uncut dick until both our gents are ready to blow!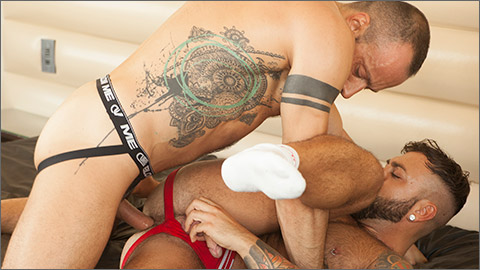 RICCARDO IMPALES SERGI RODRIGUEZ
Sergi Rodriguez & Riccardo are a match made in pig heaven. Watch as Ricardo forces his long dick inside Sergi's tight hole, so rough that Sergi can barely take it, though it's not long before Sergi is the one taking control and impaling himself on Riccardo's cock. This scene becomes unmissable however due to Riccardo's explosive cumshot as Sergi rides his face, only to have him jump straight back onto his throbbing meat.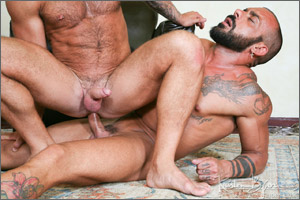 ON THE PROWL #7: JUANJO RODRIGUEZ & SERGI RODRIGUEZ
Juanjo has injured his ankle and calls his good friend Sergi to go to the pharmacy and get a wrap for him. Sergi arrives with bandage in tow and Juanjo wants to know what else he has brought him. Sergi unleashes his hard cock for Juanjo to suck on and forget his pain. Juanjo gives Sergi's cock a complete servicing before he shoves his rock hard cock into Sergi's voracious mouth. Juanjo then flips Sergi around and gives his pucker hole a hot tongue lashing before probing his ass with his tongue as well. With Sergi's ass nice and wet, Juanjo slips his raw cock deep inside of Sergi. Juanjo plays with Sergi, teasing his hole with the head of his cock before driving his entire shaft deep inside his ravenous hole. Sergi then squats down onto Juanjo's stiff cock and begins to ride him hard while his own cock is flopping up and down with heated anticipation. Sergi shoots his hot, creamy load all over Juanjo's thigh as Juanjo picks up his rhythm of fucking. It's not long before Juanjo erupts his thick load that Sergi sucks up into his ass and milks Juanjo for every drop. Do you have a good friend that is also your nurse when needed?
KRISTEN BJORN PRODUCTIONS
HARDKINKS
UK NAKED MEN
BUTCH DIXON
ALPHAMALES
UK HOT JOCKS
HARD BRIT LADS
CLICK HERE TO GO TO HIS KRISTEN BJORN DETAILS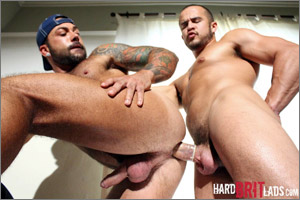 ALEX GRAHAM & SERGI RODRIGUEZ – SUPER HOT MUSCLE LADS WORK UP A SWEAT
A real scorcher here, as super hot and thick dicked big muscle lad Alex Graham, works up a sweat with beefy muscle bottom, Sergi Rodriguez. Starting off with passionate kissing, mutual groping and nipple sucking, they both get stiff bulges in their sport shorts, then strip to their white undies. Both lads are very muscular with big pecs and biceps, and both have the kind of huge legs a rugby player would be jealous of. Sergi drops to his knees to give Alex's throbbing and meaty dick a good deep sucking, and gets a strong facefucking in the process. Then they switch, and Sergi gets sucked for a bit, but he cant wait to get his mouth around that thick meat again, and sucks Alex some more. They move to the sofa, and Alex lays back to get sucked again, and gives Sergi another hard facefucking. Alex plays with Sergi's hole, rubbing it, fingering him, then giving it a real good rimming. Eager to fuck now, Sergi slides his muscle butt down Alexs fuckpole and rides it for a bit, getting his butt cheeks pulled apart as Alex thrusts in deeper. Next, Sergi leans against the sofa and Alex stands, gripping him to fuck deep and hard. They fuck again on the sofa, with Sergi on his back as Alex gives his arse a final pounding, fucking him deep till he shoots a massive spunk load of thick white jizz over his sweaty abs. Alex pulls out and lays back to jerk himself off as Sergi strokes his bulging pecs and nipples. His throbbing dick erupts moments later, squirting his hot spunk over his chest and six pack. UNMISSABLE!
ON THE PROWL #7: JUANJO RODRIGUEZ & SERGI RODRIGUEZ
SERGI RODRIGUEZ & ADAM WATSON in DUNGEON DATE
HANDSOME THICK DICKED THEO REID FUCKS HOT BEEFY MUSCLE BOTTOM SERGI RODRIGUEZ
SERGI RODRIGUEZ – MASCULINE, BIG MUSCLE, BOTTOM LAD, POSES, FLEXES & SHOOTS HIS LOAD