American Gay Porn Star, Sebastian Young
Known Aliases: Sebastian Younge, Sebastian
Years Active: 2006 – 2016
TWITTER @sebastianyoungx
MEN.COM INFO:
Hair Color: Brown
Sign: Virgo
Eye Color: Green
Dick Size: 8″ cut
Height: 6'2″
Weight: 200
Sexual Positions: Top
About
Favorite Foods: Steak, lobster, sushi, breakfast.
Favorite Movie: Blow, Natural born killers.
Favorite City: Los Angeles, CA.
Hobbies: Fitness, training, hiking, kayaking, jogging, biking.
What I like The Most: The way life is, meaning the crazy but soothing relation I have with the lord.
What I Don't Like: The fact that everyone asks as if they give a shit but only care about the way they look like by the rest of the world.
Best Thing About Me: My heart
Worst Thing About Me: The fact that I have the potential to make a lot of money but have a glitch in myself that fucks it up every few months.
How To Make Me Happy: Let me get what I want
Favorite Quote: "When life doesn't go your way, don't get all butt hurt."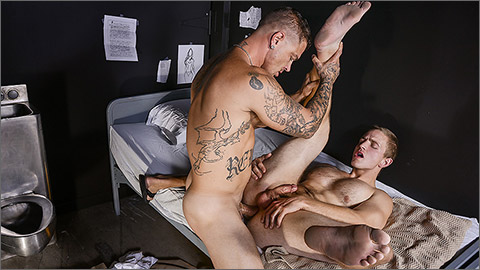 A GUIDE TO SEX IN PRISON – PART 1
Entering prison is an intimidating experience so this series serves as a guide. Landon Mycles describes the time that he was the fresh meat in prison and shared a cell with tough guy, Sebastian Young. Sebastian shows Landon who is in charge and Landon gives in by dropping right down to suck on his cock, and then take it hard up his ass. Turns out Sebastian is really feeling this newbie and wants his dick deep in his hole, and Landon is in no place to put up a fight.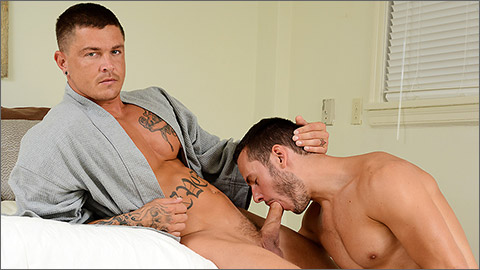 BEFORE MY WIFE GETS HOME
with Brenner Bolton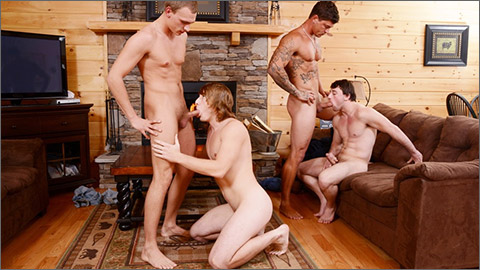 BACKWOODS BAREBACK – PART 3
Bryce Rude, Sebastian Young, Scott Harbor are outside in the cold enjoying the scenery when Tom Faulk's name is brought up. The guys feel as if there just isn't something right with the whole situation of him being there so they decide to go inside and confront him once and for all. Things quickly heat up when Sebastian throws Tom to the floor and has him suck everyone's cock. These boys are going to show him what it's like to be bred by three hot, horny, and throbbing cocks! They each take turns cumming on Tom's gaping hole, and pushing their hot loads deep in his ass. Once they've all had their fun, it's time for Tom Faulk to hit the road with cum oozing from his juicy hole.