Big Dick Ex Navy Gay Porn Star, Sebastian Kross
Years Active: 2014 – 2016
TWITTER @sebastiankross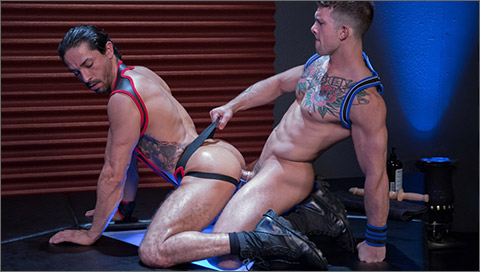 SKUFF: ROUGH TRADE 2: Sebastian Kross fucks Mikoah Kan
Mikoah Kan is down on hands and knees and untying Sebastian Kross' jock to reveal what hot, huge surprise lies underneath. After Mikoah unleashes the beast, Sebastian shoves his long cock down Mikoah's windpipe without hesitation. The throat fucking commences and Mikoah takes Sebastian's massive member fully and energetically. Sebastian returns the favor and gives Mikoah an intense and soaking wet rim job to loosen up his hole. Getting him ready for the power pounding to come, Sebastian breaks out a huge toy, working over Mikoah's hole with a massive Manrammer, stirring it around in Mikoah's gut. With Mikoah's hole prepped for genuine cock, Sebastian fits his hefty meat into Mikoah's eager hole. Mikoah stays down while Sebastian pile-drives his ass from behind. Switching positions, Mikoah hops on top and lets Sebastian fuck up into him until he lies on his back and takes Sebastian's thick load in his mouth. With both of them drained, they share a cummy kiss.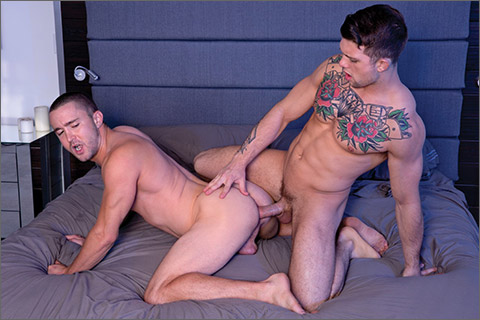 ABOUT LAST NIGHT: Sebastian Kross & Colt Rivers
Sebastian Kross, searching for the bathroom in the packed club, accidentally stumbles into the alley. Click: the door locks behind him. "Fuck!" he exclaims—no chance of getting back in now. He pulls his dick out to piss in the alley when Colt Rivers leaves the club, heading for his car. Seeing Sebastian's thick cock, Colt seizes the opportunity and extends an invite to hang out at his place. Sebastian accepts, and once inside, they waste no time getting down to business. Sebastian strips off his clothes, revealing ripped abs, his colorful chest tattoo, and his rock hard cock. Awed by the display of raw masculinity, Colt eagerly wraps his lips around Sebastian's throbbing tool. But Sebastian wants more than fucking Colt's face. As Colt rolls over on the bed, Sebastian pushes his face deep into the crack of Colt's ass, using his tongue to spread slick saliva. When Colt is lubed and ready, Sebastian slides his dick into Colt's tight hole and commences a fervent pounding. They move to a sit fuck, with Colt using his beefy legs to ride Sebastian's rod. The rim of Colt's ass stretches with each thrust as Sebastian keeps up his anal assault in missionary position. Colt grasps his cock and blows his wad across his chest with Sebastian still inside him. Then, Sebastian unleashes his own massive cumshot, which forms deep puddles on Colt's abs. They rub their slick cocks together and then collapse side by side, reveling in the afterglow.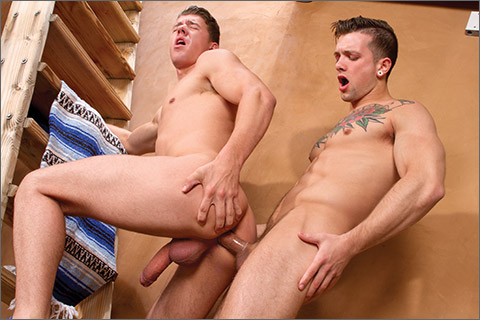 DESERT GETAWAY: Sebastian Kross fucks JJ Knight
After a hike through scenic Joshua Trees, Sebastian Kross and JJ Knight return to the vacation house and head to the secluded back patio. JJ rubs his hands on Sebastian's tattooed chest and undoes Sebastian's belt. Out pops Sebastian's giant boner, and JJ showers it with oral worship. Letting his own shorts fall to the ground, JJ unveils his unbelievable giant cock. With giant gulps and lots of spit, Sebastian gets to work on JJ's monster meat. But it's Sebastian's ass that really gets JJ going: he parts Sebastian's cheeks and works his tongue deep into Sebastian's crack. Standing up, JJ lubes up his dick and tries to be smooth about sticking it to Sebastian. Turning around, Sebastian says, "Maybe next time, but I came out here to fuck you." That works just fine for JJ: he bends over and offers his ass up to Sebastian's tongue. When his ass is wet and ready, JJ throws his legs over Sebastian's shoulders, and Sebastian slams his cock into JJ's hole. When they switch to doggy style, JJ's massive cock flaps back and forth with the motion of Sebastian's thrusting. JJ's tight ass brings Sebastian to climax: he pulls out and unleashes a massive stream of cum that drenches JJ. Sebastian slaps his dick on the puddle, splashing white semen everywhere. Turning around, JJ jerks out a massive load into Sebastian's open mouth.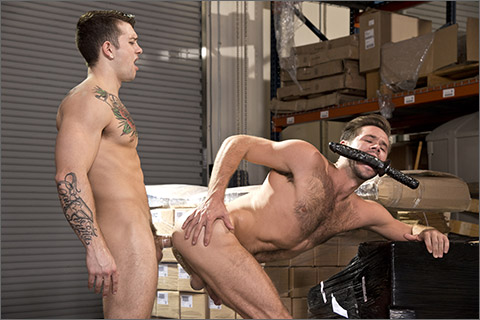 DICK MOVES: Sebastian Kross fucks Mike De Marko
Supervisor Sebastian Kross finds it amusing making hunky employee Mike De Marko spill an entire box of rubber dildo's all over the floor. As Mike is on his knees picking up the mess, Sebastian suggests that Mike should suck on the real thing instead. After deep-throating Sebastian's fat cock, Mike is on his back, spread eagle for Sebastian to drive a huge dildo into his tight hole. Alternating between smooth strokes of the dong and sucking Sebastian's cock, Mike yelps out "give it to me." When Sebastian feels Mike's hole is prepared, he bends him over a palette in the warehouse and stuffs his ass with 8" of his hard cock. Railing and pumping his hole in multiple positions, they both exclaim moans of complete pleasure. When it comes time to climax, Mike is on his back once more stroking his load out onto his furry abs as Sebastian continues to drill his hole. Sebastian pulls out and adds his hot load to Mike's.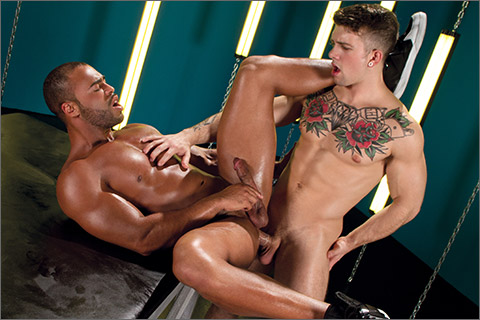 SURGE: Sebastian Kross fucks Micah Brandt
Micah Brandt is ripped with beefed muscle. He's making out with inked and super-defined Sebastian Kross, and the bulges in their Cellblock 13 briefs say they clearly like the taste of each other. Micah alternately sucks Sebastian's lips and nipples, while he strokes both of their rock-hard cocks. When Sebastian's cock is at max hardness, Micah sucks him with deep suction and a hand assist. Micah rolls Sebastian into a ball and drives his tongue into his hot hole. Sebastian unbends and does the same to Micah, who puts his hip flexor muscles into overdrive opening up for Sebastian's tongue. Micah soon begs for Sebastian to fuck his flawless ass. Sebastian's ripped torso rocks and pounds away as he delivers Micah's wish of a hard, deep fuck. The room is filled with the sounds and smells of rough, hard, man-on-man sex as they change positions again and again. Micah cums while riding Sebastian's cock, brushing his fingers through his spooge and sucking it off, then sucking Sebastian to an explosive orgasm.

HEATED – PART ONE: Sebastian Kross fucks Bruno Bernal
Emerging from the swimming pool, Bruno Bernal finds himself nose-to-crotch with inked and ripped Sebastian Kross. The bulge in Sebastian's trunks suggests sexual intentions. They make out at the edge of the pool, with the sunlight glinting off their bright tatts. Bruno whets his appetite by licking the perspiration off of Sebastian's hard body, then he takes charge of Sebastian's thick cock like he owns it. Lots of spit helps him swallow the entire huge shaft and Bruno uses his tongue to make Sebastian's balls jump in their sac. Kneeling on the pool deck, Bruno offers his smooth, delicious ass. Sebastian adds his saliva to the droplets of sweat and pool water dripping down the crack, then he gets leverage to spear Bruno's hole. They switch to a sit-fuck, which puts Bruno in charge. He runs the palm of his hand across Sebastian's hard pecs and ridged abs as he bounces. Sebastian picks up the pace, resulting in a shower of cum that douses Bruno's face and neck. He rubs it in like suntan lotion, jacking out his load onto Sebastian's spent body.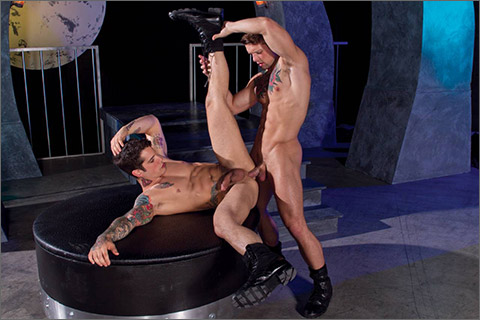 MAGNITUDE: Sebastian Kross fucks Pierre Fitch
Pierre Fitch and Sebastian Kross are covered in hot tatts. They aim to tease each other, fondling their cocks and caressing their muscles, showing off their junk and hot muscle buns. It's a mutual jack-off at ten paces until Pierre crosses over to suck Sebastian. These guys are smooth and sleek, with rippling muscles and skin that glows. Sebastian pulls Pierre in for a kiss, licking the taste of his cock off Pierre's lips. Pierre gets a slurpy blow job in return. Pierre's bubble butt provides dessert, offering temptations for Sebastian's tongue and a warm sheath for his cock. Sebastian slaps Pierre's flanks while he fucks him doggy style, getting vocal encouragement from Pierre to pound him harder. A vertical flip, and Pierre is on his back, his legs spread so wide that Sebastian's insistent cock leaves no millimeter behind. Pierre still screams to be fucked harder, Sebastian grabs him by the throat, and the sudden loss of oxygen triggers Pierre's nuts to shoot their load. Sebastian palms Pierre's balls and coats them in sperm.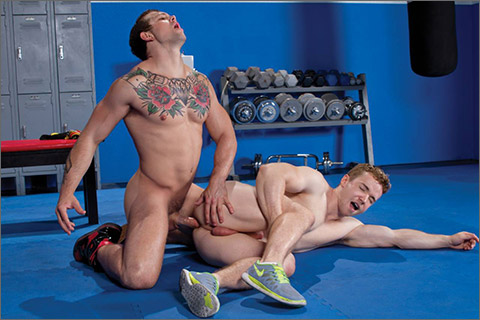 RIPPED: Sebastian Kross fucks Gabriel Cross
Sebastian Kross is showing off his hard earned physique to gym-buffed Gabriel Cross. Hands roam as they kiss, and cocks leap to erection in the confines of their jock straps. Gabriel zeroes in on Sebastian's pits with broad, sweeping strokes of his tongue. Then he kneels, peels off Sebastian's jock strap and inhales his cock to the base. Gabriel wraps his hunky limbs around a massive exercise ball, presenting his scrumptious bubble-butt. Wasting no time burying his face, Sebastian devours the hole and Gabriel assists by reaching back to spread his glutes. Abandoning the ball for the stability of the floor, Gabriel lies spread-eagled and Sebastian drives his cock into him in long, slippery strokes. Gabriel rolls onto his side, then stand and grabs a punching bag for support while Sebastian pummels him with abandon. Sebastian delivers his built-up load directly to Gabriel's throat and Gabriel massages his own cum into Sebastian's rippled torso.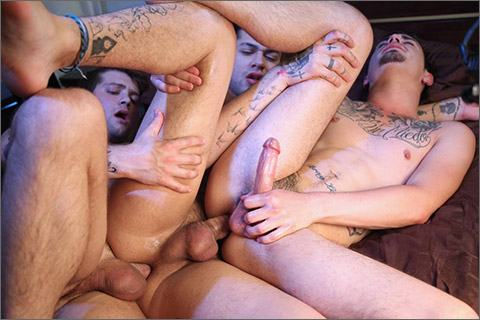 HOOKER STORIES 3 – MONEY WELL SPENT!: Bray Love & Sebastian Kross DP Mickey Taylor
San Francisco techies are hot, rich and sometimes like to hire a hooker to fulfill their fantasies like (Falcon Exclusive) Sebastian Kross. Kross hires Bray Love to come over, confessing he's always wanted two guys to suck his dick at the same time. Bray calls in his reliable buddy Mickey Taylor and they arrive ready to make dreams come true. The gorgeous threesome gets right down to business pulling a cock sucking train before Bray and Mickey both worship's Sebastian's huge cock. The muscular stud gets off on it and goes down with Bray to suck Mickey's giant tattooed dick. The cock sucking and ass eating continues until Sebastian can't stand it any longer. He plows into Mickey's asshole while Bray swings his dick around allowing both guys to suck him off. Next it's Bray's turn and another fantasy comes to life… Mickey's first double penetration! Bray shoves his massive meat into Mickey's hungry hole, followed by Sebastian who slides his hefty monster right alongside. The freeway train continues until all of them shoot their loads in each other's mouths — now that's money well spent!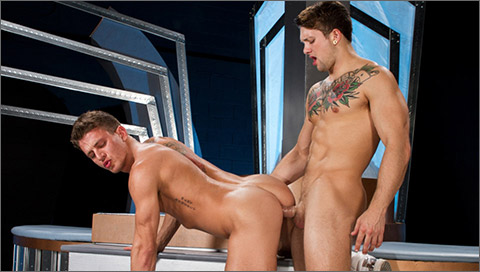 MONUMENTAL ASS: Sebastian Kross fucks Alexander Gustavo
Ripped and tatted Sebastian Kross kisses athletic, inked Alexander Gustavo as he strokes his body and rubs his cock, hidden away in a thin white jock. Alexander wants a taste of Sebastian's mouth-watering cock and falls to his knees to give him a sloppy spit-filled hummer. Continuing to please Sebastian, Alexander pushes his legs back and buries his chiseled face into Sebastian's hairless, muscle ass. Alexander slurps and sucks Sebastian's hole, cock and balls. Returning the favor, Sebastian bends his fuck buddy over and tongues his ass good. Turning things up a notch, Sebastian slides his fat cock into Alexander's tight hole. Pumping hard and fast, they switch positions and Alexander is left riding Sebastian's cock reverse cowboy. Sebastian's cock reaches new depths as Alexander moans with pleasure asking him to go deeper and faster. Dripping in sweat, Alexander unloads his balls as Sebastian bends him over once more to cover his ass in his hot, creamy spunk.
RAGING STALLION
FALCON STUDIOS
HOT HOUSE