Lucas Entertainment Gay Porn Star, Sean Xavier
Known Aliases: Sean Lawrence, Sean XL
Years Active: 2011 – 2017
TWITTER @SeanXavierXXX
LUCAS ENTERTAINMENT INFO:
Height: 6′
Weight: 160 lbs
Dick Size: 9″
Position: Top
Hailing from California, Sean Xavier is tall, lean, and has an incredible 9 inches of black cock ready to get sucked and fuck some ass! This mocha bombshell claims to be able to self-suck his own cock — and when seeing the thing in action, it's easy to believe. Sean was daring enough to have sex at Disney World's Boardwalk Lighthouse, and when he's fucking, he has a particular appetite for tall, white, and athletic guys.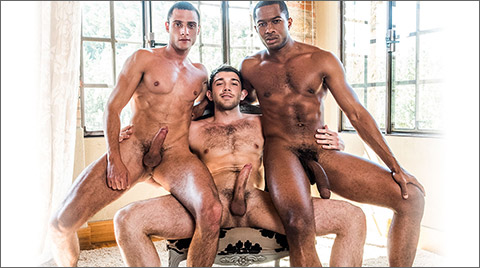 CUM HUNGRY BUTT SLUTS: Sean Xavier And Javi Velaro Double Penetrate Ben Batemen
Lucas Entertainment's next exclusive model, Ben Batemen, makes his debut with two seasoned gay bareback sex stars: Sean Xavier and Javi Velaro. Ben loves taking raw dick up his butt, and he prove himself more than capable since Sean is first in line to penetrate his cheeks deep and hard. While Sean is balls deep inside Ben, Javi Velaro makes use of Ben's mouth. The three guys make a daisy chain after awhile: Sean fucks Ben while Javi fucks Sean. When Ben is ready, he opens his ass for double the dick as Sean Xavier and Javi Velaro double penetrate him.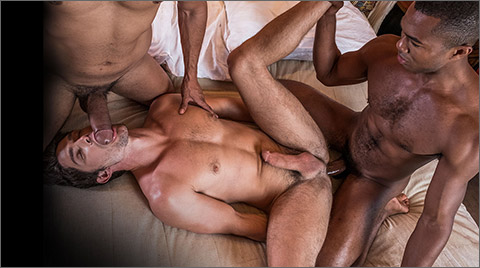 BARE TENDERS: Sean Xavier And Alejandro Castillo Double-Team Devin Franco
Sean Xavier's bill is ready at the poolside bar, and Alejandro Castillo is looking to collect. But Sean's money is upstairs in his room. Alejandro can't just let Sean dine and dash, so he follows him to his room to pay up. Sean's sleeping boyfriend, Devin Franco, is on their bed. When Sean vanishes to retrieve his wallet, Alejandro's libido takes over and he crawls up onto Sean and sucks his dick. Sean catches them, but he's not upset: he starts jerking his dick before joining in. Before Devin Franco knows it, he has one cock in the ass and the other in the mouth. But he's not complaining!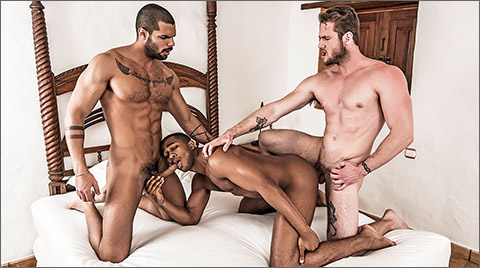 RAW DOUBLE PENETRATIONS 5: Ace Era Tops Sean Xavier and Lucas Fox
Ace Era may be known as a power bottom (just read the "Fuck Me" tattoo on his ass cheeks). But when he sees a nice hole presented to him, of course he's going to want to stick his dick in it. And when he sees two, he's going to flex those muscles of his and take control of the situation. Enter Lucas Fox and Sean Xavier, who both give up their asses to Ace Era.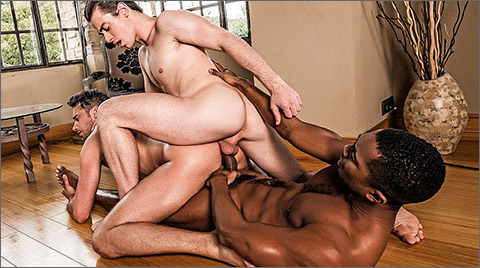 RAW DOUBLE PENETRATIONS 04 – STUFFED: Damon Heart Gets Double-Dicked By Sean Xavier And Jon Bae
Jon Bae shows off his dance moves to Sean Xavier and Damon Heart, prompting Sean to step up and show Jon his own brand of dancing — it's a lot of fun watching their big dicks flop around with every move the two guys make. The performance turns sexual when Sean and Jon start making out while Damon plays the voyeur by watching them and smoking a cigarette. Sean and Jon invite Damon to join them, and he drops to his knees to suck them both off back and forth. Damon gives up his ass completely, getting fucked back and forth by Jon Bae and Sean Xavier before they go all out and double-penetrate him bareback.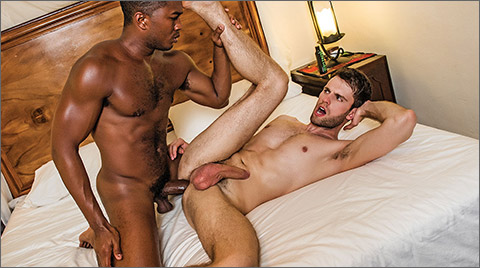 GREEDY HOLES: Sean Xavier Fucks Mark Edwin Bareback
Sean Xavier returns to Lucas Entertainment as an exclusive model to make his bareback debut. I'm sure you remember Sean Xavier. He's the adorable black gay porn model with the killer body and the insane 11-inch cock hanging between his legs. That not an exaggeration — it literally hangs there, swaying back and forth. The bottom bravely offering his ass to Sean is Mark Edwin. The return of Sean Xavier is an exciting event — this is a Lucas Entertainment scene you cannot miss!
LUCAS ENTERTAINMENT
RAGING STALLION
HOT HOUSE
ALL WORLDS VIDEO
NEXT DOOR EBONY
PRIDE STUDIOS
BANG BROTHERS / BAIT BUS
CLICK HERE TO GO TO HIS LUCAS ENTERTAINMENT DETAILS