Nerdy American Gay Porn Star, Scotty Blake
Years Active: 2014 – 2015
FAB SCOUT INFO:
Age: 23
Height: 6'
Dick: 7" Cut
Orientation: Gay
Position: Versatile/Bottom
Location: Westminster, CO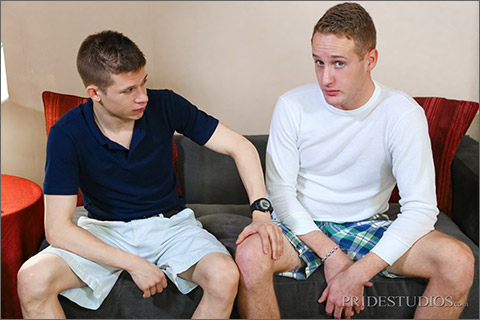 DON'T TELL MY BROTHER
Scotty has something very important he wants to share with his good friend Dillon so he invites him over via text message. Dillon shows up worried and curious as to what Scotty wants to talk about. They sit down and Scotty opens up to him and comes out of the closet. Dillon, surprised, wonders how he knows that he is gay and before you know it Dillon is taking Scotty step by step through the process of man fun. He starts him off slow with some hot kissing and eventually some sexy BJs. It's all new to Scotty but he loves every minute of it and now he wants to feel a cock deep inside of him. Dillon takes it easy on his ass and goes balls deep which begin the hot intimate sex. There is a fist time for everything and Scotty knocks it all out in one evening.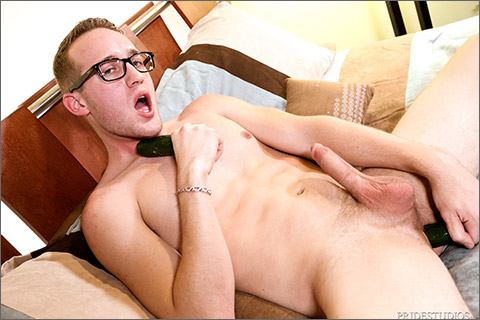 GETTING MY VEGGIES
Scotty is by himself again and when he is alone he tends to be more adventurous and this time he is off to the grocery store to pick up his favorite veggie which is a juicy long thick cucumber. He picks a ripe hard one and heads home for some afternoon play time. He's always wondered how a cucumber would feel buried deep in his ass while he stroked his thick cock and today is the today he finds out. He takes his time enjoying the veggie by stroking it and deep throating it making it all nice and wet. He rubs the veggie all over his cock while he slides it up and down his chest stroking his dick during the process. He get it nice and wet and slides it into his eager ass as he grabs on to his hard dick stroking the precum out of it as he pushes the cucumber deeper into his tight hole. He begins to fuck himself hard with it while stroking up to his climax and he can feel his muscles tightening around the cucumber as he edges himself closer until he explodes his cum on his chest and slowly eases the cucumber out of his ass.
DON'T TELL MY BROTHER
GETTING MY VEGGIES
BOY'S TOYS
SCOTTY BLAKE GAY CASTINGS
GET OFF
PRIDE STUDIOS
GAY ROOM
GAY ROOM / GAY CASTINGS
CLICK HERE TO GO TO HIS PRIDE STUDIOS DETAILS
CLICK HERE TO GO TO HIS GAYROOM DETAILS