CockyBoys Canadian Gay Porn Star, San Baptiste
Years Active: 2015
COCKYBOYS INFO:
Inked up studs have become somewhat of a staple here at cockyboys, and San Baptista really shows us why. His tattooed sleeves on both arms make him out to be a very confident, free spirit with a good grasp on life. He's got that bad boy appeal and he's up for anything, usually preferring fuck buddies over boyfriends. He loves to both fuck and get fucked, but one constant is that he likes it rough. No surprise there, that's for sure! San's already got the cockyboys aesthetic down pat, and fortunately for us, he's already horny and hungry for more.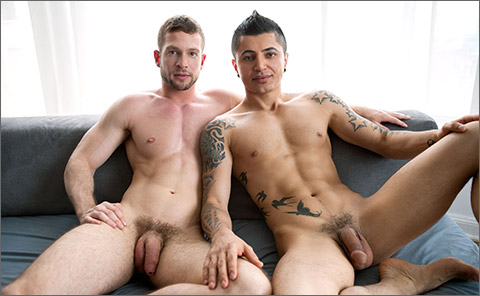 MATTHEW PARKER & SAN BAPTISTE FLIP-FUCK
Meet Matthew Parker and San Baptista, two real-life fuck buddies from Montreal. We've often shown you real-life couples here at CockyBoys, but real-life fuck buddies are a different thing entirely — there's more urgency, more aggression, more hunger to figure out exactly what turns the other on. And with Matthew and San — two completely different types of guys — their flip-fuck was truly a sight to behold.
   Physically, the guys are complete opposites — Matthew with his stunningly muscular body bare of tattoos, and San with his inked up bad boy appeal. The combination really made for some hot chemistry. The guys started making out at first, but as is usually the case with fuck buddies, they wanted to get to the main event as quickly as possible. After they stripped down to their underwear, San fingered and rimmed Matthew's eager bubble butt and then Matthew worked on San's cock with his lips. Then, we finally get to see the perfection of Matthew's body as he stood up and made San blow him on his knees. This almost immediately led to a hot 69, and by this time, the guys were more than ready to be pounding each other's brains out.
   Matthew laid back on the couch and stretched his knees to his shoulders, looking San straight in the eyes as San prepared to fuck him. You could tell that fucking is really what these guys love the most, because they suddenly became much more verbal. And they both have very distinct styles of fucking. San loves giving slow but extremely deep thrusts, both in missionary and doggy-style. Matthew, on the other hand, took hold of San's ass and just drilled him like a horny jack-rabbit, his cock moving in and out of San so fast that his balls and San's hole often looked like a sweaty, sexual blur. Matthew definitely proved to be the more aggressive of the two, even after he let San get on top and shoot his load. Matthew pushed San to the carpet for his grand finale, cumming all over his eager but spent bubble butt.
CLICK HERE TO GO TO HIS COCKYBOYS DETAILS