Clean-Cut Hung American Gay Porn Star, Sam Crockett
Known Aliases / aka: Jeff Blythe
Years Active: 1995
FROM SAM CROCKETT:
Was surprised to hear from you. Thanks so much. I LOVE print material. Anything "old school", especially with regard to erotica, is always the best. You can certainly use "Jeff Blythe" as well as "Sam Crockett". Most people know both names anyway. And feel free to show jeffblythe@hotmail as my web address too. Your site is sharp and very well done. I didn't mean to come off sounding like a jerk, it's just that I've been feeling nostalgic lately (I turned 43 on Nov. 13th) and I miss my friends, the fun and the attention. Maybe I fear being forgotten. My personal experience in the porn industry was extremely positive. I got to travel all over the US and the world and met some of the best men I've ever known. I have always worked (even in LA) in physical rehabilitation as an RN. I now live in SC. I'm from Charlotte, NC. I'm certainly a country boy at heart, but I do miss the excitement. I still work in the medical field and am considering going back to college next fall to continue my nursing education. As far as additional information I could provide, I could find a list of my videos and production companies. It seems that the distributors should be providing you with digital pics and video lists since your site refers fans to the info they need to buy these products. That's the way it usually works. I'm not that computer literate, so I've had a hard time knowing how to find websites that give information about "Sam". When I left California 2 years ago, I had EVERY opportunity to create a Sam Crockett website and make a little money like all the other guys did, but after 8 years of it, I was just ready to get away. I know it sounds a bit pitiful, but I'd be tickled to hear from a fan every now and then. I did work very hard, and honestly tried to do a good job. I even won an AVN award in 2000, but now it all seems like a dream. I had a thing for Drew Andrews and wish I could have met Leo Ford. Wash West is my favorite director, but I'd give anything to have worked with William Higgins back in the day. If there's anything else I can do, just let me know.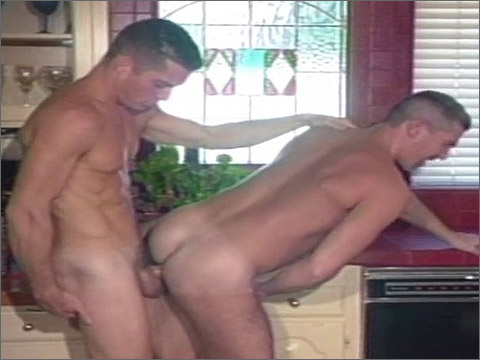 FAST ACTION: Sam Crockett fucks Perry James
Sam catches Jeremy and the TV repair guy, and kicks Jeremy out. Sam Crockett fucks Perry James have the house to themselves and get kinky.
ALL WORLDS VIDEO
CATALINA VIDEO
FALCON STUDIOS
HOT HOUSE ENTERTAINMENT