British Gay Porn Star, Sam Barclay
Known Aliases: Sam Barkley, Sam Berkley
Years Active: 2006 – 2016
2015 PROWLER PORN AWARDS NOMINATIONS
BEST BRITISH STUD 2014
UK HOT JOCKS INFO:
Sam is tall, tanned and buff with a sexy attitude and even filthier mind. A self confessed power bottom, he still has a big, thick and always-hard fuck stick. It so hot to see a bottom guy getting fucked and staying rock hard the whole time and Sam doesn't disappoint! There is a certain innocence about him but don't be fooled, this guy is as dirty as they come. He likes a challenge, so hung boys out there, step to the front to the queue.
Co-Creator & Director of UKHotJocks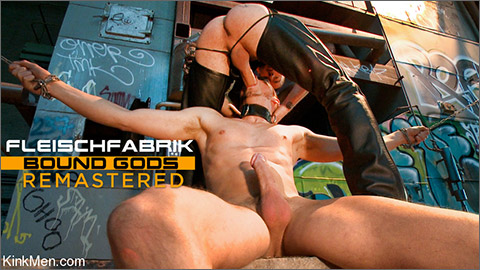 REMASTERED 2022: FLEISCHFABRIK BERLIN – PART TWO WITH LOGAN MCCREE
Sam Barclay waits in the boiler building, chained up, and covered in the cum of his previous Dom. Logan McCree strides in, horny and hungry. Seeing the boy in chains he decides to put him through the paces. Without introduction he owns the boy's body and uses him for his pleasure. With steam rising off his cock in the cold Berlin factory, Logan makes Sam lick his cock from base to head. Taking Sam to another building Logan covers they boy's cock with hot wax then flogs his body to hear his screams. In the abandoned stairwell Logan fucks Sam's ass and adorns the boy's face with his hot steamy cum.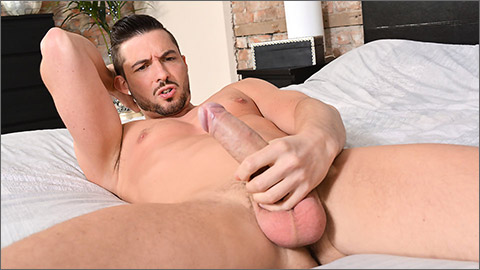 SAM BARCLAY BLAKE MASON SOLO
It's hard to believe just how much Sam has changed in the ten years it's been since he first arrived. The site wasn't even live when he performed his first wanking video, and when we had the chance to catch up with him again of course we had to. He's an amazing man with a great body, and now you get to catch up with him again as he works that big uncut dick for us once again, only now with more experience!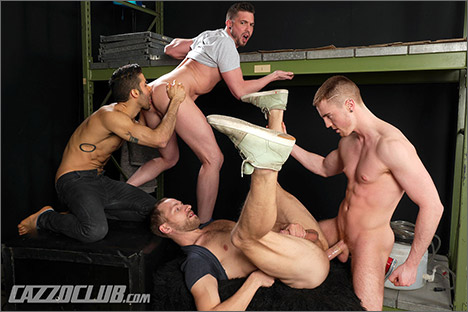 MISHA DANTE, JP DUBOIS, SAM BARCLAY & TONY MILANO
It's been a long time since Misha Dante has worked for Cazzo. He was here in Berlin and visited the old studios. In the place of his past sexual exploits, he gives in to his fantasies and masturbates his cock. Out of nowhere suddenly appears the blonde JP Dubois and his friend Sam Barclay licking Dante's cock until the first juice runs. Dante is now on his knees and sucks the two young cocks until drool runs from the corners of his mouth. Unnoticed Italian stud Tony arrives watching the horny scene.
Under the greedy eye of Tony, JP licks plump ass until his friend is fuck-willing … Tony wants to not only watch but have Dante's ass on his face. The pussy must be licked soft! Sam now has enough of the foreplay and will guide JP circumcised Dick into his steaming hole. Dante also brings his hairy ass in the game. JP pulls his cock out of his friend's ass and takes the ass cheeks of Dante and pounding him deep in the wide-open ass. After an animalistic fuck, the trio squirts on Dante until his entire upper body is covered with sperm. And then they disappear and Dante is all alone in the Studio. Was it all just a dream?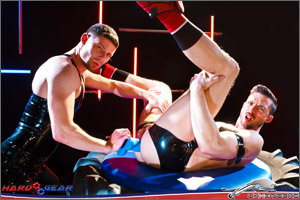 HARD GEAR
Sam and Jace Square up to each other on top of the play tyres. They size each other up, explore their muscular bodies and grab hold of the gear. Looking like pristine jock boys they can't wait to messy up their kit and get piss dirty with each other! They release their hard dicks and have a meaty sword fight before Sam decides he wants it in his mouth. Licking around his low hanging balls and enjoying the lot. Jace reciprocates, sucking sam off like he wants what's inside… And I don't just mean cum! Sam opens the flood gates and pisses all over Jace and his gear, his tight body glistening with dewy yellow beads, the gear getting soaked through. Tables turn and Jace gets up high over Sam and unleashes a torrent of piss over him. Wet and wanking Sam is fucking loving it! Flipping him onto his back Jace soaks Sams arse, peels off the wet shorts and soaks his hole before he fucks him. Slapping the pooled piss on Sams abs making it splash everywhere while they fuck. Sam has more to give, while taking a hard shagging he continues to empty the tank and pees all over them both. What a wet, wild ride!!
CLICK HERE TO GO TO HIS CAZZO FILM BERLIN DETAILS
VIDEO ON-DEMAND: Sam Barclay @ AEBN SMUTJUNKIES THEATER
NOW STREAMING: Sam Barclay @ NAKEDSWORD