Big Dicked Sexy Sean Cody Gay Porn Star, Rylan Shaw
Known Aliases / aka: Ryan Shaw
Years Active: 2008 – 2012
Sean Cody info:
Rylan is a 23-year-old cutie with a really big penis!
   I just knew that he was packing from the moment I met him. I don't know if it's that twinkle in their eyes or what, but there's just a certain confidence with guys who have big dicks.
   He's 5'10" tall, with a lean, muscular build, an adorable face, piercing blue eyes, and a smile that never quits.
   When asked about his sexual orientation, he blushed and said he was, "Ummmmmm… Probably more gay than anything." Awesome!
   And he has a really big penis!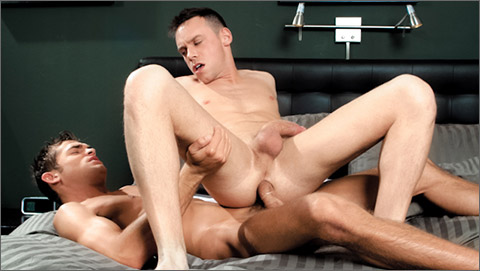 COME AND GET IT: Luke Milan fucks Rylan Shaw
Here's to enormous cocks and long afternoons of lazy summer lust. The ferocious kisses of Luke Milan and Rylan Shaw shoot lazy out the door, and get these studs in white hot action that makes the bright living room as hot as the outdoors. Rylan's jerkin' at Luke's bone, and the thing never seems to stop getting longer and wider. And, the even bigger surprise is that Luke matches Rylan's cock inch for inch — both boys hang super fat and heavy. They swap messy, spit filled blow jobs, swallowing each other's massive cocks to the hilt. But a gut-wrenching fuck is stirring in their gonads, and after some saliva-slobbered ass eating, Rylan's suddenly bouncing on Luke's super-rigid big bone. With Rylan's legs splayed wide, Luke plugs from below. His giant cock spikes into Rylan's tightly clenching hole. It's a pounding that makes Rylan's cum churn up and out of his engorged tool. Luke's body quivers with tension as he chokes his own sweat-slick cock, and blows his load sky high.
VIDEO ON-DEMAND: Rylan Shaw @ AEBN SMUTJUNKIES THEATER
DVDs & ON-DEMAND: Rylan Shaw @ TLA VIDEO