American Military Active Duty Gay Porn Star, Ryan Jordan
Known Aliases / aka:
Years Active: 2018 – 2021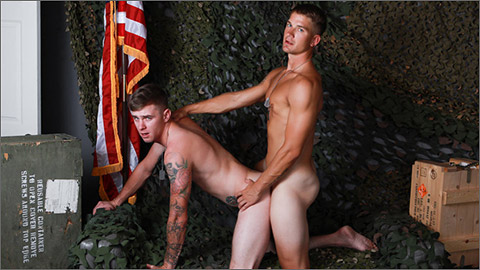 RYAN JORDAN & BRANDON ANDERSON FLIP-FUCK 2
Kinky soldiers with hard dicks Brandon Anderson & Ryan Jordan suck each other's cocks off before butt fucking one another till they cum hard.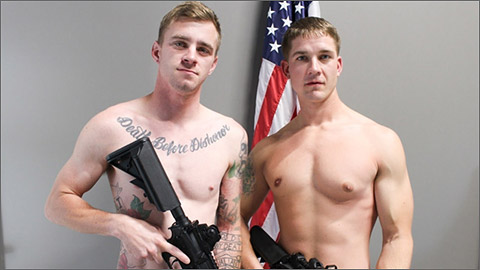 BRANDON ANDERSON & RYAN JORDAN FLIP-FUCK
Brandon Anderson and Ryan Jordan are relaxing together and decide to jerk off. It does not take long before Ryan starts sucking Brandon off and then gets his ass stretched in bareback action!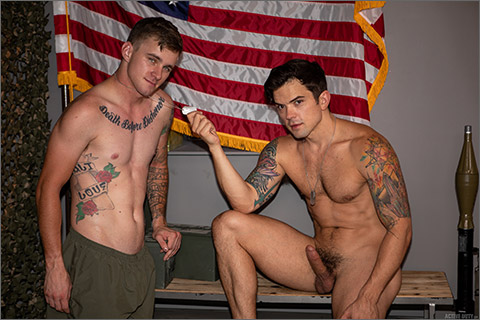 RYAN JORDAN TAKES DAKOTA PAYNE
New recruit Dakota Payne is on his first day off duty in a long time and Ryan Jordan is there to show him the ropes of how we do it in the camps. An intense sex since ensues with amazing sixty-nining and steamy hot anal sex.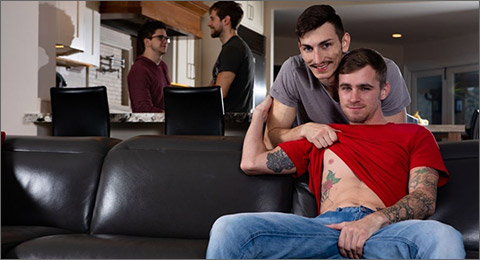 BOYFRIEND SWAP: PART 1
Movies, Gay Porn, Caucasian, Smooth, Jerking off, Blowjob, Kissing
Lustful Michael Jackman arrives at stud Ryan Jordan's house primed with anticipation for a night of tasty experimentation. This bottom is yearning for a bite of another man's top and the night doesn't disappoint. A stimulating boyfriend swap, this fantasy tweaks all of Michael's buttons and is sure to ignite the imagination. Enjoy!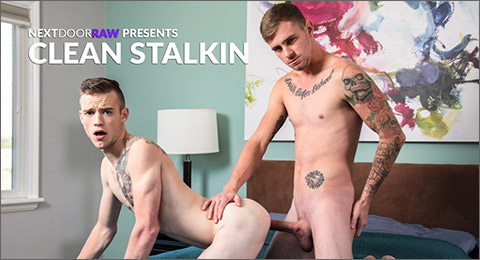 CLEAN STALKIN
When Ryan Jordan comes home and finds a stranger in his home hallway cleaning, he has two competing reactions. The first is 'What the fuck is a stranger doing in my house?' The second is 'Why does this stranger have such a nice ass?'. Luckily for Ryan, Scott Finn notices Ryan checking him out, so after clarifying that Ryan's parents hired him to clean the house, Scott asks Ryan if he'd like a piece of what he was just staring at. Ryan tries to act coy, but Scott has his number, and Ryan is pegged. Moments later, he's carrying Scott into his bedroom to get a first hand taste of Scott's delicious ass. But when Ryan whips out his dick, Scott realizes he may have bitten off more than he can swallow. Ryan smiles as he gags Scott with his giant cock, and when he bends Scott over and inches it deep inside Scott's tight little hole, he hears Scott whimper and moan. Ryan fucks him hard from behind before flipping him over and spreading his legs wide. His cock stretches Scott's hole open as Scott strokes himself with every thrust. Having had his fill, Ryan tells Scott to fuck the cum out of him, and climbs on top of Scott's dick, sliding it inside as he leans back and gives it a ride. Ryan's dick his huge in Scott's hands as Scott gives him everything he's got. Ryan spits his load as Scott pulls out and flips him over, emptying himself all over Ryan's ass. Looks like there's a whole new mess for Scott to clean now.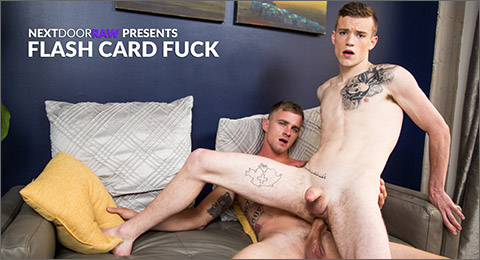 FLASH CARD FUCK
Finding a sleeping Ryan Jordan on the sofa, Scott Finn tries to wake up his roomie so he can help him study. Scott flips his cards at Ryan's face and when he doesn't wake up, Scott decides to can the idea and just pick up his cards. But when he does, he gets a handful of Ryan's hard dick and quickly forgets about his cards. Ryan wakes up to find Scott massaging his cock but doesn't stop him, so Scott unzips his pants and pulls it out. Ryan's cock is massive and already hard thanks to Scott's coercive fondling. Scott takes Ryan's dick into his mouth and can barely fit half of it down his throat, so Ryan helps him out, choking him with his python before standing Scott up and returning the favor. Ryan's rock hard and ready to get a piece of Scott's perfect little ass, so he has Scott mount him reverse, his cock standing straight up in anticipation of Scott's hole. Scott lowers himself down slowly, and the size of Ryan's cock takes his breath away. He cautiously works his way up and down Ryan's pole, wary of how big it is. Ryan isn't having any of it, though, and he bends Scott over and begins to pound him. Scott moans with every thrust as Ryan gives it to him relentlessly, flipping him over as Scott begins to stroke himself off, and fucking the cum out of Scott as he pulls out and blasts him with jizz, coating Scott in cum as he rolls around sticking to the flash cards all over the sofa. That's some study sesh!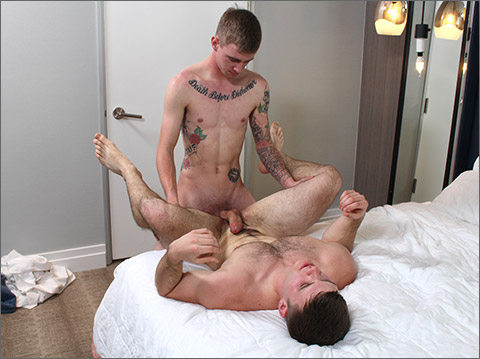 RYAN JORDAN FUCKS IVAN JAMES
Now I hope you all get to see this one. We know how fantastic and talented each of these boys is, and this is one helluva match up. Ivan James has become a huge favorite and it's no wonder when you consider the way he performs.
   Ivan is a well-known cock fiend which made it easy to predict that he would be the first to stuff his face with firm dick meat, especially considering Ryan Jordan's magnificent erection. That thing got swollen and ready instantly. Ivan went in for the kill immediately, swallowing Ryan's man pole all the way down.
   Then Ryan gets a turn to enjoy some knob slobbing and although Ryan's cock is a work of art, Ivan's ain't nothin' to spit at! Ivan's dick is luxuriously girthy and always excited, especially when Ivan's hole is filled. So after some good sucking, the guys get even deeper by switching into some hot 69 action. This is wonderful to see. Two guys having a good ol' time, jacking and bobbing on each other.
   And then it's time for Ivan to get what he's been looking most forward to. He climbs atop Ryan's hulking, pulsating dong and eases it into his sweet ass. Ivan is one of the best dick cowboys on the AD squad and this is a great example of how talented he is.
   Then we have Ivan bent over the bed, taking it nice a deep from his pal. Ryan's dick is so large and in charge that Ivan has to ease into this position. After some slow going, Ryan works into a good pace, banging that tender hole like a strong soldier.
   And then we end up getting to see Ivan spray a healthy load while on his back, getting railed even more. It's an awesome climax after an incredibly hot build up. Get comfortable for this one, cause you're gonna wanna take it all in!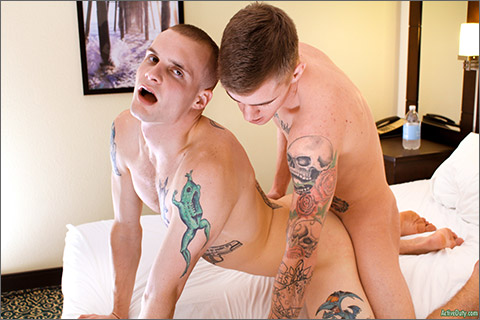 RYAN JORDAN FUCKS COLTON PHOBOS
Colton has been waiting to suck cock and fuck since he did his solo with us. He has a smooth white ass with a beautiful opening that Ryan can't ignore. Ryan is a smaller man with a long dick that with some effort goes deep into Colton.
   Colton can't stop staring into the camera and constantly makes eye contact with it as he is sucking cock or as he is being fucked deep and hard by Ryan. Ryan slowly inserts his big dick for the first time into Colton and its breath taking as you can hear the moans from Colton as Ryan is pushing ever so slowly for the first time into Colton's virgin ass.
   Finally after all the deep pounding that Ryan gives Colton they take a break and lay back stroking their cocks and wait for it because this is a rarity. They both blast their nuts at the same exact time; luckily for us Claude has the skills to capture it all in one glorious shot.
CLICK HERE TO GO TO HIS NEXT DOOR STUDIOS DETAILS
VIDEO ON-DEMAND: Ryan Jordan @ AEBN SMUTJUNKIES THEATER
DVDs & ON-DEMAND: Ryan Jordan @ TLA VIDEO