Club Amateur USA Gay Curious Guy, Ryan
Known Aliases / aka:
Years Active: 2004
CLUB AMATEUR USA INFO:
Age: 23
Height: 6'1″
Weight: 150#
Cock: 8.0″
Black Hair
Brown Eyes
Gay & Sexploring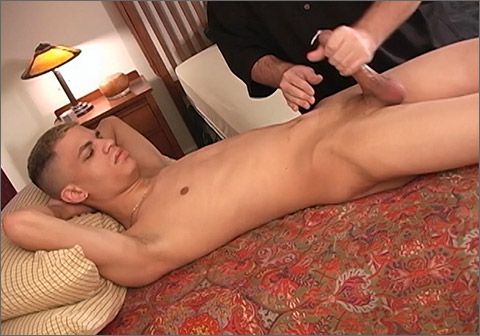 CLASSIC 039 RYAN
Ryan is a recent transplant from one of those cold, Northern states, and upon his arrival into the Arizona desert, he happened to see our ad in the local, alternative weekly. When he contacted us, we had already wrapped up our shooting content for launch and were getting ready for our launch events.
Ryan being the genuinely nice person that he is, volunteered to meet us at the Scottsdale bar where we held our first launch party. Wow! He had never met us, but willing to come hand out business cards and recruit the other patrons to go take a look at a local copy of the site on the laptop. We were impressed.
Having seen a Ryan via a pic that he forwarded, I was impressed with his body and his cawk. I became enraptured by his eyes and his smile when we first met him. Beautiful!
   So, after launch we met back up with Ryan toward the middle of November and shot a massage video with him. DAYUM! The boy is hung like an old army mule! And it's a perfect penis — as you'll hear me comment at the end of the video.
Luckily, Ryan called right around Christmas to give us his new phone number, and he is looking forward to a male~male shoot with us. And we, of course, are looking forward to that, as well.