Spanish Staxus Twink Gay Porn Star, Ruben Bart
Years Active: 2015 – 2018
TWITTER @rubenbartxxx
BOY FUN INFO:
Nationality: Spain
Date of Birth: 1997
Height: 170 cm / 5'6
Weight: 60 kg / 132 lbs
Dick Size: 9″ uncut
Role: Versatile
Orientation: Gay
STAXUS INFO:
Ruben's been wanting to get in front of the cameras to do porn for quite a while – but he's had to wait until he was 18, for obvious reasons! Sometimes, however, patience gains its own reward, and now he's finally able to show off his exhibitionist side for all it's worth. Whether he's sucking, fucking or being fucked, this young Spaniard is never happier than when he's showing off to the world. And given his performances so far, it looks as if he's gonna be one VERY popular guy for a long time to come …
Date of birth: 8th January, 1997
Height: 5'11" (180 cms)
Cock size: 7″ (18cms)
Ethnicity: Spanish
Role: Versatile
Interesting Fact:
His father manages a vineyward in Murcia, southern Spain – a business young Ruben intends to join once he's fucked his way across Europe!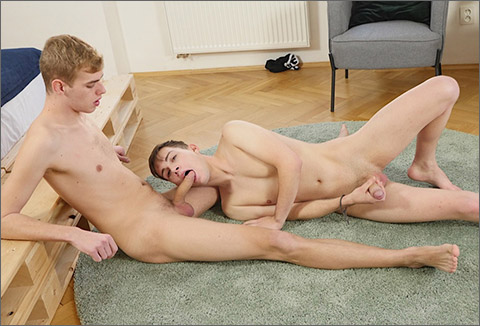 WARMING UP INSIDE
Europe is so romantic at any time of year, but when the temperatures plummet in the winter months the opportunity to snuggle up with a friend and enjoy some BoyFun to keep warm only makes it more enjoyable. Tall and hung Bjorn Nykvist and his cute friend Ruben Bart have exactly that plan as they escape the chilly streets for the comfort of his Bjorn's apartment, kissing and groping from the moment they arrive. Within a minute greedy boy Ruben is demanding a taste of his friend's incredible cock, both stripping down to their underwear and exploring those bulges. Bjorn's immense length is soon revealed, and quickly slipping into cute Ruben's mouth for some slurping. He's an experienced young man, he knows how to handle a delicious length of hard uncut cock, even one as big as Bjorn's! Perhaps his skill comes from the pleasure his own incredible shaft gives him; the boy has his own thick and long cock to share with Bjorn when the tables are turned. With both awesome young boners straining and wet with precum and spit Ruben offers his tight little butt hole for his pal to fill, a challenge Bjorn is perfectly suited to. Rubens immense cock swings and sways with every bounce while he rides his pal's bare length, sliding up and down Bjorn's awesome shaft. Fucked face down on the floor the boys finally take their pleasure to the comfort of the bed, spooning and thrusting deep, making young Ruben spurt his thick cream from his huge dick as the pleasure rushes through his slim body. With the boy's cock spent and his own on the edge of unloading Bjorn slips his naked tool free to pump a generous mess of hot ball batter all over his friends nuts and taint, bringing their afternoon tryst to a sticky end. If there's a better way for a couple of boys to warm up on a winters day, we have yet to discover it.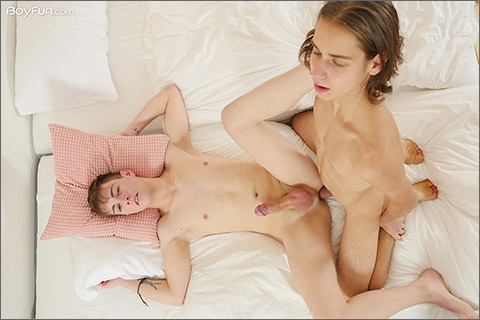 WAKING UP TO SAUSAGE
We all have our own ideas about the best way to start the day, but could anything beat being woken up by a gorgeous friend wanting to slurp on your morning boner? Long-haired teen cutie Jake Olsen gets that and a whole lot more when his handsome buddy Ruben Bart arrives in his room to wake him up with some BoyFun, checking out his bare ass, kissing the tempting exposed rump and rousing him for a delicious dick servicing that has Jake's cock drooling pre and his balls churning up a good load within moments. With the boy's dick throbbing and craving more his smooth and sexy friend gets his own engorged length out of his underwear to give Jake something to play with while he works his shaft, but it soon slips into the boy's equally hungry mouth. Ruben has such an incredible cock, it's so delicious, and as the boys swap their morning erections with each other we know it's inevitable that one of them is going to give up his hole for some breakfast bareback. After working his friend's tasty tool and sharing his own impressive manhood smooth boy Ruben offers his perfect buns, ready to be filled by his buddy's turgid inches. Jake slides into his friend, humping his tight little hole while Ruben lays back and enjoys the pleasure of his pal inside him, his own cock still throbbing and leaking clear juice with every pump his roommate delivers. A little spooning and some dick-riding reverse-cowboy bouncing hits the right spot, with Ruben wanking his incredible dick and crying out with bliss as a generous thick white cum load erupts from his swollen tip, making a mess all over the sheets. With his morning load spent he lays back to get a protein blast to the face, lapping at adorable Jake's gooey delivery as the semen floods from his cock head. All growing boys need a good protein fix to start the day the right way!

KNOCK KNOCK: A GAY PORN PARODY
Two young guys arrive unannounced at the home of a married man, ready to seduce and complicate his perfect life. What starts out as a kind gesture results in a deadly game of cat and mouse.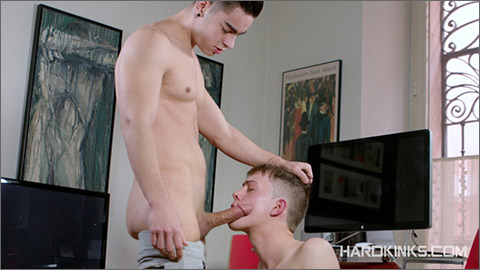 DIRTY BEST FRIEND 2
Every night, when his best friend goes to bed Ruben satisfy his most dirty fetishes licking his shoes and socks. But this time his likes are going to be discovered and he can expect a big punishment.

SUN, SANGRIA AND SEX: RAY MANNIX ENJOYS AN ALFRESCO SPANISH INVASION OF HARD COCK!
An inflatable crocodile would be a great toy for Ray Mannix and Ruben Bart to play with if they were by the pool, but unfortunately they're nowhere near any water. As a result, they have to find other things to amuse them; which in this particular instance means slipping out of their swimming trunks and playing with each other's cocks.
   Not that that's something that seems to particularly bother either of these horned-up buddies given what promptly ensues between them – but then seeing who we're dealing with here that surely won't come as any surprise! After all, they may hail from different sides of Europe but neither Mannix nor Bart appear to show the slightest bit of reserve when it comes to all things carnal. A point that's promptly underlined when the Czech visitor goes down on his Spanish host's deliciously curved shaft and starts giving head like his whole holiday experience depended on it. Then again, of course, we are talking here about a boy who quite literally lives for cock and who doesn't seem entirely himself unless he's getting his ass-hole stretched to the max by some uncompromising phallus!
   Fortunately for all concerned, it's not long before Bart is ready to oblige in that respect. Having engaged in a brief, but very energetic session of 69-ing, the home-boy promptly positions his dick to the sky so that Mannix can ride it to heaven and back – an offer that's accepted with typical relish! Suffice it to say that both buddies are soon peeking as a result, with very generous sprays of pent-up spooge being splattered over each other's faces!
CLICK HERE TO GO TO HIS STAXUS DETAILS
RUBEN BART BOY FUN PROFILE