FuckerMate Cute Gay Porno Latino, Ronny
Years Active: 2015 – 2017
FUCKERMATE INFO:
Ronny is our latest discovery, this young latino guy has a tight ass and the most sensual body movements. He fucks with Latin rhythm. Ronny does not disappoint. Watch this space.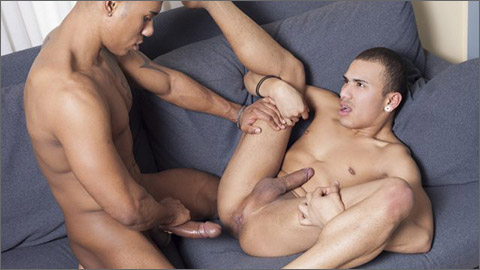 RAW AFTERNOON – CARLOS LEÃO & RONNY
Our Brazilian hung mate Carlos Leão and our sweet Latin bottom Ronny have given up. They sitting on their sofa, on their mobiles, looking for some hot guy to invite home, but have no luck at all. Do you think they will go without their daily dose of hard sex? Obviously not: Ronny's hand starts exploring Carlos' muscled body until he finds the huge piece of meat between his legs, already hard and ready to pound the eager mouth and willing ass of the young slut. Ronny can easily take all that massive cock deep inside his throat, he licks every centimeter with his expert tongue while Carlos licks and rims his asshole. When finally both cock and ass are completely lubricated the two mates begin a memorable bareback riding. The latin's ass moves so nice that Carlos is always close to exploding, but our power bottom knows how to retard his climax and changes position to get that juicy XXL cock in deeper. When at the end Carlos is ready to shoot, Ronny open his ass wide and lets him fill it with thick cum.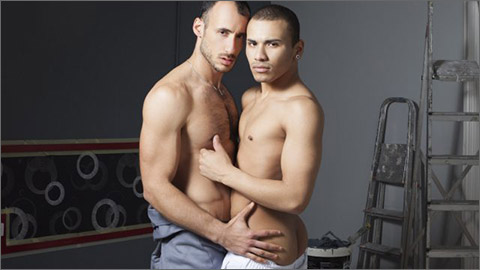 PAINTING LESSON – ELY CHAIM & RONNY
This last week before the end of the year, we introduce you a new mate from Lebanon, his name is Ely Chaim. We invite him to paint the room of a very capricious twink boy, our latin power bottom Ronny. Ronny however didn't like the color Ely used, but we know he will love the big brush of that sexy painter! The only thing Ely could do is to give a hard bareback lesson to little Ronny and to fuck him like he deserves!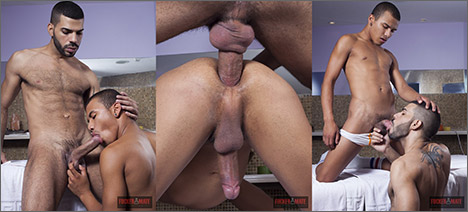 PORNO DEBUT: HUGO ARENAS & RONNY
We made it our mission to find new horny and beautiful guys for Fuckermate.com. this week we bring you the perfect Latino mate, he's only 19 years old and ready to play his name is Ronny. Imagine that this young guy is your masseuse. Hugo decided to call to Casanova Sauna and he was lucky to find Ronny ready and waiting. He was not expecting such a hot and intense encounter. Ronny may be young but he took every inch of Hugo's huge cock. This raw session is full of hard fucking, deep rimming, deepthroat suckling and of course plenty of cum. This is one trip to the sauna you do not want to miss.