Staxus Gay Porn Star Euro Twink, Rokas Zilina
Years Active: 2015
STAXUS INFO:
When he isn't studying or shooting porn, Rokas loves to climb mountains. He's already enjoyed several holidays in the Alps, and says it's his ambition one day to climb the Matterhorn! Now if that isn't an euphamism for his antics in front of camera, we don't know what is!
Date of birth: 13th April 1993
Height: 5′ 11″ / 180 cms
Cock size: 7″ / 18 cm
Ethnicity: Slovak
Role: Bottom
Interesting Fact:
Rokas has a bit of Romany blood in him through his mother's family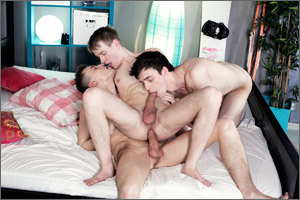 JACE REED JOINS HIS SKIING BUDDIES FOR A BIG-DICKED THREESOME!
Milan Sharp and Rokas Zilina have made arrangements to meet up with Jace Reed for a morning's skiing session, but either they've forgotten or they just can't be arsed! Instead, they just want to enjoy a bit of time in bed together; and Reed would remain very much an afterthought were it not for the fact that the fellow turns up to find out where they are. At which point what would be a fantastic duo quickly transcends into a truly ball-busting threeway – much of the action centred (understandably) on Reed's unbelievably proportioned cock!
   Then again, what else would you expect? The boy is blessed with one of nature's wonders, and Sharp and Zilina jostle for position in a bid to slobber and feast on the monster! All things considered it's Sharp who gets the bigger share of the inches in his mouth – which is arguably a sign of things to come given that it's his raw ass that serves as the focal-point for action once matters have turned decidedly anal!
   Initially the guy takes a ride on Zilina's ramrod, as if to get him the mood; but it's painfully obvious that what Sharp really wants inside him is that humungous ass-stretcher of Reed's; and, having been banged on his back and then taken a momentary "rest" in the form of another bout of oral, he's soon riding the beast cowboy-style in a flagrant attempt to secure the most pleasure possible! Given the predicament, it's no small wonder that he's soon creaming himself silly; whilst Zilina spurts all over his face as he does so. That leaves Reed chance to knock out his load as his pals work his spurting crown!
JACE REED JOINS HIS SKIING BUDDIES FOR A BIG-DICKED THREESOME!
TWINK TAKES A CREAMY POV RIDE ON A MONSTER-SIZED UNCUT COCK!
CLICK HERE TO GO TO HIS STAXUS BIO PAGE