Handsome and always Rock Hard American Gay porn star, Danny Rhymes
Known Aliases: Brady Powers, Chuck, Danny, Danny Rymes, Kyle, Mat Bixel
Years Active: 2002 – 2007
CHAOS MEN / BRIAN OCKERT comments:
Matt Bixel is a professional adult performer.
He was a referral from another photographer, and when I got some sample pictures, I kept thinking, "Where have I seen this guy before?"
Then I remembered seeing him on a site where straight guys do the gay thing. I looked it up and sure enough there he was. I did a search on his name and found a number of appearances in both gay and straight porn.
I talked with Matt, who told me he has stopped performing in gay porn. He said that it wasn't the work he minded, its just that the porn girls wouldn't work with him once they knew he was doing gay porn. Apparently the porn girls think that he would be tainted or infected in some way. ~grrrrrrrrrr~
So I was a little disappointed I wouldn't be able to convince him to come down and do a gay-oriented vid. During the time we were discussing projects, I wasn't sure I was going to be able to launch the Theatre section. Matt promised me he would do a solo later, but for now, we just did some photos. I hope to get him down for a vid in August. Sure, it's only a solo, but he's got an amazing body, his unit would gag a pro, and I am hoping Matt's fans will be pleased to see him again.
Matt is very professional and is looking to his future. I believe he is now managing models, and has been sending me potential models. It's good to see someone else staying in the business but easing themselves out of the limelight. But I am guessing Matt will be hot for decades to come.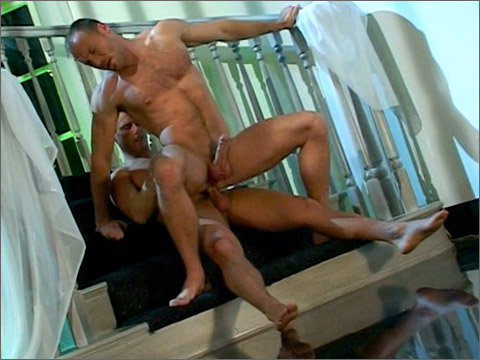 THE HAUNTED HOUSE ON SEX HILL: Paul Johnson rides Danny Rhymes (Great Scene!)
Beautiful men, hot sex and an intriguing story add up to an arousing if sometimes goofy hour-and-a-half. Wolf's eccentric late aunt willed him her grand mansion on the condition that he spend 24 hours there to keep her old "friends" company. The occupants turn out to be ghosts and also haunt an adjacent cemetery. Out of work and strapped for cash, Wolf and boyfriend Casey take the risk of being spooked out of their skins. To thicken the plot the property's agent, Williams, conspires with the dead woman's lawyer, March, to frighten the nervous boys out of the house with phony ghosts. The will awards the house to Williams if the boys fail to stay the full 24 hours. What the villains don't realize is that the nutty broad really did have some spooks living with her, and to the delight of the visitors, they turn out to be remnants of pre-aunt days when the house was a male brothel. The sex scenes range from a sizzling cemetery three-way to a regrettably truncated shower pairing between Wolf and the delectable Casey. After getting his big dick sucked, Casey drops to his knees and feasts on Wolf's cock and balls until Wolf makes him stop so they can get to a job interview. The two are paired again at the end, but again it's disappointing that it stops with Wolf sucking Casey and finger fucking him to climax. The show biz adage "leave them wanting more" applies. I sure would have liked to see Casey fuck or get fucked. He's the most gorgeous of a good looking lot, followed closely by Fox. Fox plays a friendly ghost with an ultra stiff magic wand who finds Wolf naked in bed. He fucks the heir's muscular ass long and hard then face fucks him with his jawbreaker cock before unloading a bucket load of goo. Williams tops Hollaway in one daddy/pup pairing, and hairy caretaker Johnson (who's in on the plot for money but knows the ghosts exist) gets plugged by smooth Rhymes in another. In the 3-way, Addams plants his shapely butt on Latin Rios' upright tool for a very penetrating fuck, and they alternate sucking on Sanders' man rod. For ghosts they manage to spew some mighty lifelike cum. Wolf and Casey secure their newfound fortune with the help of a grateful Fox, who thoroughly enjoyed sampling Wolf's assets.
CHAOS MEN
JAKE CRUISE'S COCK SURE MEN
RANDY BLUE
VIDEO ON-DEMAND: Danny Rhymes @ AEBN SMUTJUNKIES THEATER
DVDs & ON-DEMAND: Danny Rhymes @ TLA VIDEO