Handsome Muscle William Higgins Czech Gay Porn Star, Robert Drtina
Known Aliases: Robert (Big Daddy)
Years Active: 2013 – 2014
Robert Drtina is aged 18 and lives in Doksy. He is a student who enjoys fitness, athletics and sports generally. What a great looking guy Robert is. After his interview he kneels on the bed, in just his underwear. He runs his hands all over his hot, well-built chest. Then he stands up and shows his full length body, turning with his back to the camera. Robert reaches round and pulls the underwear off his ass cheeks, and up into his crack. That ass is nicely shaped as he exposed the cheeks. Turning around again Robert dips a hand into the underwear and turns his head to kiss a bicep. He looks magnificent as he stands and feels himself, squeezing his groin. He allows his cock out of a shorts leg, and the balls as well. He takes hold of the cock and wanks it a little. As he releases it we see that he is quite hard. Then Robert shucks the underwear down so we can see everything. He gets his cock rock hard, so it pokes out very well. Then he turns around and bends over to show off that hot ass. The hands spread his ass cheeks exposing his tight hole beautifully. That ass crack, lined with hair, in most inviting. Robert goes onto his knees,and shows the ass some more, with his cock nicely trapped between his huge thighs. Turning over, onto his back Robert shows that hole some more and then settles down to wank his cock. He quickly gets it rock hard again and shoots a nice creamy load over his body. Then it is off to the shower, to clean up.
William Higgins Model Name: Robert Drtina
Age (2013): 18
Home Town: Doksy
Height: 185cm/6'0″
Weight: 85kg/187lb
Foot Size: EU45/US9.1/UK8.6
Penis Size: 19cm/7.48″
Profession/Student of: High School
Hobbies: Sport
Favorite Sports: Athletics
Active Sports: Fitness
Movie/Music/Sport Stars: Gwyneth Paltrow
Visited Coutries: Germany
Want to Visit Coutries: Ireland
Dream of My Life: I don't know.
Zodiac Sign: Aquarius (January 20 – February 18)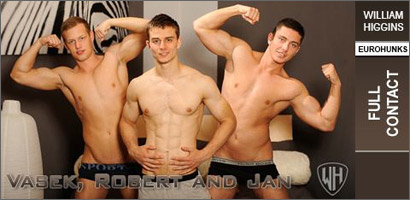 FULL CONTACT: ROBERT DRTINA, JAN FAUST & VASEK KONIK
What a wonderful scene we have today, with three of the hottest guys ever. Robert Drtina and Jan Faust sneak in to Vasek Konik's bedroom, finding him asleep. They get their phones and start to photograph him. He is naked and with a big hard cock. Jan and Robert have fun taking those naughty pics. Robert sucks on Vasek's hard cock as Jan takes pics of it on his phone. Then Jan leans over and begins to kiss Vasek, with Robert taking pics all the while. Vasek awakes and realises he wasn't dreaming. He tells the guys to carry on with the sucking and kissing. Robert happily obliges, sucking on Vasek's big hard cock some more. Jan also returns to kissing. Jan then takes turns with Robert, in sucking on Vasek's throbbing cock. The two of them lick up and down the shaft and suck the big head of Vasek's cock. Vasek kisses Robert as he also gropes him, opening his shorts and feeling inside. He pulls out Robert's rock hard cock and is soon sucking on it as Jan's mouth is wrapped tightly around his. Jan then moves over to Robert, standing next to him, naked and with a fully erect dick. Robert quickly takes Jan's huge erection in his mouth. Vasek continues to work on Robert's cock too. Then Robert slides down so that he cant suck Vasek again, as Jan stands on the bed for Vasek to suck him. He sucks and wanks on Jan's cock before moving back down to work on Robert's. Robert is back on Jan's dick. Then they form a circle and all three are being sucked at the same time. Vasek then kneels over Jan, pulling his legs up so that he can rim his hot hole. At the same time Robert is behind Vasek licking at his hole too. Jan, meanwhile, is sucking on Vasek's cock again. Moving again Robert gets between Jan's legs and slides his throbbing cock into that hot, hairy hole. He fucks Jan's tight ass. Jan's cock is rock hard too, as he gets fucked, and Vasek leans over to suck on it. Jan gets his hole filled real good. But then they change again, with Vasek sitting right down on Jan's stiff cock . He rides that cock, his hole stretched wide as he takes it all. Vasek is filled in the ass by Jan's huge cock and his own dick is beign sucked by Robert. Jan thrusts up into that tight hole as Vasek's dick stands proud. Then he starts riding that cock again. Vasek then lays on the bed, one leg up in the air, with Jan fucking his ass some more. Robert is still working on Vasek's hard cock. Jan's dick slides all the way in that beautiful ass, with nice long strokes. Vasek needs to cum and starts wanking his cock real fast. Robert is wanking himself too and it is a race to see who will cum first. Vasek's moans get louder and he dumps his cum all over. Robert continues wanking as Jan's fucking of Vasek speeds up. Jan really pounds that hole as Robert shoots his creamy load over Vasek's hot body. Then it is Jan's turn. He pulls out and fires his cum over Vasek's leg, milking his cock till all the cum is out. Robert leans down to kiss Vasek again. Then Vasek kiss Jan as well and all three lay down to rest after a wonderful session.
   and others
   WILLIAM HIGGINS
   WILLIAM HIGGINS STR8HELL
   BIG DADDY