Hung Handsome Blond Czech Gay Porn Star, Robert Driveman
Known Aliases / aka: Petr Majer, Petr Majr, Petr Myer, Dewon Williams, Jakub Krystof, Mayer Pelts, Michael Kozec, Paul Mayer, Pelo Majer, Peter May, Peter Mayer
Years Active: 2003 – 2007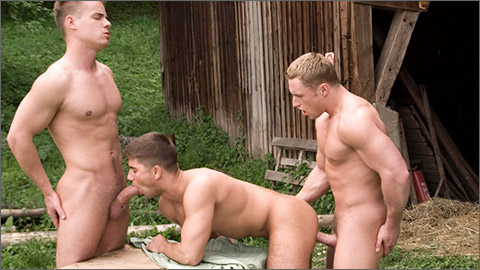 FARM FRESH: Petr Majer & Jak Black fuck Thomac Cruise
Blond, smooth and strapping Petr Majer's hard at work splitting wood, gearing up for one of those cool Czech nights. It's hard work, even for a guy as sturdily built and brawny as Petr. He's got a he-man of a helper in Jak Black, who's busy bringing him more wood, but one glance at smooth, hunky Petr is enough to make Jak forget all about bringing more wood for Petr's chopping block.
   A little playful roughhousing leads to some skillful cocksucking, as Petr and Jak dive down on each other's throbbing tools. They're not alone for long. The farm's crawling with young studs like Thomac Cruise, who brings a hunk of wood of his own to add to the pile and quickly finds himself kneeling on the floor of the barn, sucking the fat, uncut cocks of his buddies. It's just too much, and before long, the guys join together for a sensational jack off session, with Jak's huge meat busting open in spectacular sprays of jizz. So creamy and juicy, you could fill a milk bucket with it.
   The guys saunter outside for the next round, with Thomac a fertile field to plow for Jak and Petr, who take turns filling him up with their mammoth tools. Petr and Jak bust out gigantic loads of hot man-juice over Thomac, who adds his sweet spunk to the gooey mix.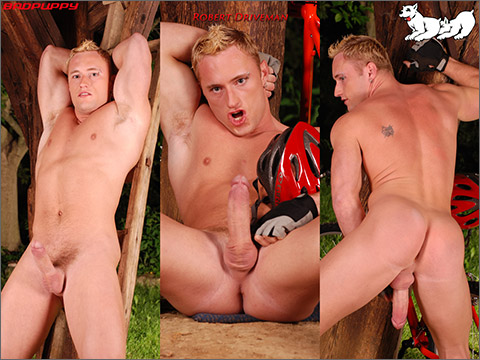 ROBERT DRIVEMAN SOLO
Muscular Robert Driveman just canít wait to show you his huge, hard cock. As he is sitting on the stairs telling us about his first sexual experiences both alone and with another person, Robert appears to be turning himself on. He stands up, unbuttons his pants and slides them to his feet. His cock, already stiff and ready for action, jumps straight up in the air. Roberts sits back down on the stairs, pulls his shirt off and while working his nipples with one hand his other hand begins jerking his dick. Robert props his feet against the stairs and lifts his ass into view letting us get a good look at his sweet, moist hole. Licking his fingers he slides them in and out of his hole like he is prepping for a good fucking. His cock rock hard, Robert stands up against the wall and continues jerking his dick with one hand. His other hand is squeezing his nipple just as hard as he can and this stimulation is all he needs. Robert squirts a load of jizz all over the stairwell, letting it run down his cock and drip to the stairs below. With a smile he leans back against the wall before heading off to the showers where Robert gives us a little surprise at the end.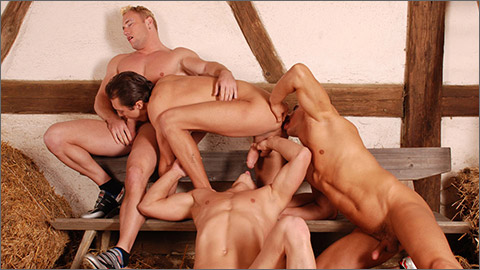 GAY MUSCLE ORGY
Jake takes a break from his bike ride by jacking off in a field. As he plays with himself, three bike riders – Casper, Fernando, and Robert – ride by. He follows them back to their place, and finds Fernando blowing Robert. He watches them, secretly, but is discovered by Casper. Casper and Jake join the fun. Casper rims Jake while Fernando continues to blow Robert. Casper loves Jake's ass so much that he decides to fuck it! Robert slides into Jake's ass next, while Casper and Fernando blow Jake's massive dick. Eventually, a big dick in his ass and two mouths on his cock are too much for Jake to handle, and he cums. That sets Casper and Fernando off, both of them blowing their loads on Jake's legs. Finally, Robert pulls out and cums on Jake's ass and back.But they're not done! They can't get enough of each other, so they move to the barn where they continue to play. Jake gets back int he middle, getting rimmed and blown while he sucks off Robert. Then jake climbs on top of Robert and rides him, while Casper rides Fernando. These boys love the fucking, because they all blow second loads!
BADPUPPY'S DANNY RAY COLLECTION
DOMINIC FORD
TITAN MEDIA / TITAN FRESH
CSABA BORBELY / DIAMOND VIDEO
HIGH OCTANE PRODUCTIONS / HERVÉ HANDSOME
WILLIAM HIGGINS
STAXUS
EUROCREME
ELITE MALE AT MALE DIGITAL