Spanish Gay Porn Star, Robbie Rojo
Years Active: 2014 – 2016
TWITTER @RobbieRojo
MEN.COM INFO:
Hair Color: Black
Sign: Virgo
Eye Color: Black
Dick Size: 7.5
Height: 5'7″
Weight: 156
Sexual Positions: Versatile Bottom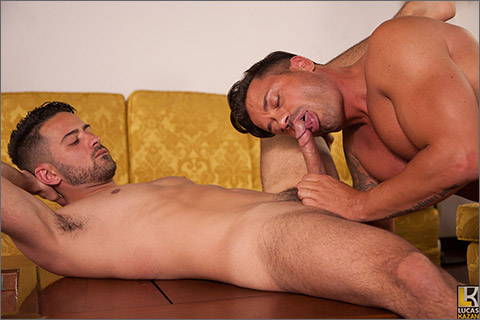 SKETCHES – PART 2
Alex is back, with another live model to draw and another bubble butt to fantasize about. Unavoidable, when that butt is Robbie Rojo's . "Great chemistry between these two", says director Ettore Tosi. "And a perfect match: Italians/Spanish; hung top/power bottom… No directing necessary!"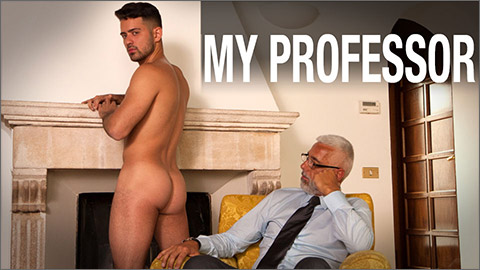 MY PROFESSOR
The sexy (and hung) 'father' in "Hotel Italia" returns to LucasKazan. "It's been more than 13 years since his last scene for us", says director Ettore Tosi. "Yet, Pietro Cattani remains one of the most popular Italian exclusives. We brought him back as a HOT silver fox in this 'daddy' fantasy". MY PROFESSOR was filmed on location in Milano, Italy.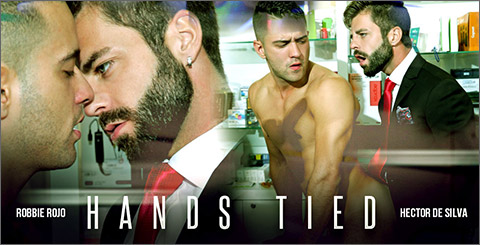 HANDS TIED
Robbie Rojo seems to be gaining quite a reputation at work, after offering sexual favours to his boss Dallas Steele – and the rumour going round is that he's an amazing fuck, and always horny for more! So when Hector asks him to swap one of his work shifts, Robbie plays hard ball and manipulates his handsome colleague to get exactly what he wants from him – except this time he wants him restraint so he can have his fill of Hectors thick, uncut cock. With Hector's hands tied firmly behind his back, Robbie gets on his knees and helps himself to an endless serving of Spanish dick. Robbie just can't get enough of it and by the look on Hectors face the rumours of his 'oral skills' were most definitely true. But what Hector wants to know if Robbie's ass is as sweet as they say, and he unties himself dying to get his tongue deep in Robbie's smooth hole, before fucking his young colleague to within an inch of his life!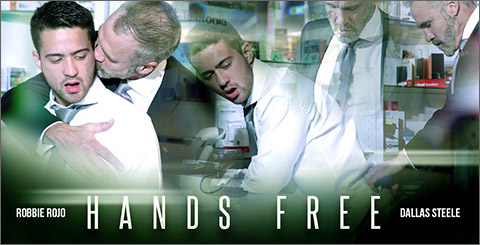 HANDS FREE
MENATPLAY goes Full Daddy-mode this week as bottom-boy Robbie Rojo gets a BIG dose of Silver Daddy Dallas Steele.
   Dallas clearly calls the shots here, so when he's feeling the horn all he has to do is snap his fingers and young Robbie will get on his knees. Unbeknownst to the customers in the shop Dallas is being deep-throated underneath the counter as he helps them out. Always the professional Dallas keeps a straight face as Robbie works on his rock-hard cock. But as soon as the customers walk out its no holds barred and Dallas pulls Robbie up from the floor an up on the shop counter to work his delicious, smooth hole with his massive tool. But he only has a few minutes between customers so Dallas gives it to him fully suit, and dick out (just who we like it!), pounding his sweet hole and using him like his very own fuck-boy. But don't think for one minute that Robbie doesn't enjoy being used by a hot, older man. Oh no, he LOVES every single deep, thrust! Begging to be fucked hard until he can't hold it any longer and shoots his load with Dallas' dick deep in his ass.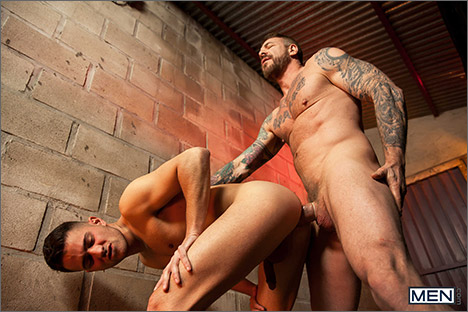 EAT, PREY, FUCK – PART 4
Rocco Steele and Robbie Rojo start off with intense chemistry! After a hot make out session Robbie drops to his knees to prime Rocco's thick tool before he backs his ass onto it and rides him in ecstasy.
LUCAS KAZAN
MEN AT PLAY
MEN.COM
LUCIO SAINTS
CLICK HERE TO GO TO HIS MEN.COM DETAILS