Cocky Boy American Gay Porn Star, Ricky Roman
Known Aliases:
Years Active: 2012 – 2017
TWITTER @RickyRomanXXX
COCKYBOYS INFO: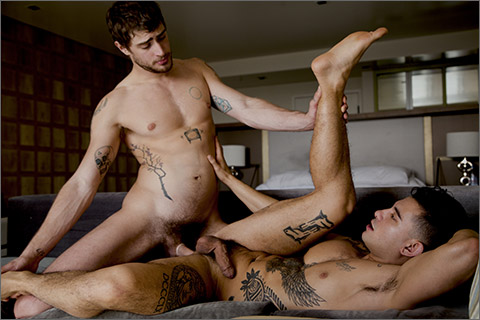 MISSED CONNECTIONS: JUSTIN BRODY & RICKY ROMAN
There's no wrong way to make a connection, even if it's as instant as a few quick glances outside a bookshop in Los Angeles. As Ricky Roman recounts with a deep, sultry narration, it's actually these passing connections that often drive us the most wild. Ricky meets a man named Justin but can't remember that this man is in fact Justin Brody. And after being so transfixed on Justin's striking blue eyes, his forwardness, and that hard bulge in his denim jeans, Ricky forgets to save Justin's phone number.
   With all the advancements in social networking over the past years, you'd think Ricky would have no problem tracking Justin down. But sometimes the good ol' fashion "Missed Connections" section on Craigslist can work wonders. It's worth a shot, and Ricky is still extremely horny fantasizing about all the things he'd let Justin do to him — kissing, playing with his nipples, playing with his dick. But little does he know that Justin will be doing much more than that in a few short hours. Almost immediately after posting his ad, Ricky receives the response he'd been waiting for and Justin is inside his hotel room just as eager to fuck!
   Working off the spontaneity of their immediate connection, the guys go all out in a never-ending fuckfest. Justin picks up Ricky and pushes him against the wall, strips him down, loosens him up with a nice rimming (already causing Ricky's cock to drip with pre-cum), and begins fucking him from behind within minutes. Wanting to savor every moment, Ricky brings Justin over to his bed and fully engulfs that cock he's been craving.
   Ricky had a hard time stuffing Justin's jumbo cock all the way down his throat, but with a little determination and a lot of infatuation, Ricky gave Justin a blowjob for the record books! Ricky's lips alone could make any guy cum within seconds, but Ricky wouldn't allow that from Justin until he got properly plowed a second and third time on that bed.
   At times slow and passionate, then quick and aggressive, Justin nailed Ricky in just about every way imaginable all throughout that hotel room. Ricky finally couldn't take it anymore and exploded during an exceptionally fast jack-hammer fuck laying on top of Justin. Turned on by Ricky's complete submission, Justin blew a huge load shortly after. Judging by their electric chemistry, it's pretty safe to say that this was one missed connection well made!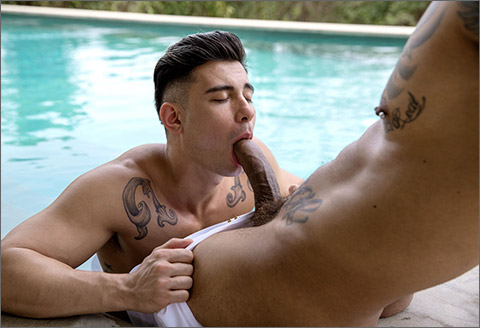 JUST LOVE 1: Boomer Banks & Ricky Roman
In honor of Pride month, CockyBoys introduces a new erotic documentary series that's simply all about LOVE — specifically loving yourself. Shot entirely on a gorgeous private island off the coast of Puerto Rico, this new series showcases exclusive models Boomer Banks, Ricky Roman, Carter Dane, Jimmy Durano, and Levi Karter opening up and being truthful about learning to love and accept themselves for exactly who they are. Novel concept, right? Well… their answers may surprise you — not because their journeys deviate from the norm per se, but because of how universally relateable they are at heart. Touching on topics such as self health, expectations and acceptance, coming out, and (don't worry!) even sex, this sensitive and insightful series aims to engage and inspire all viewers, serving up a spoonful of honest love before showing you some of the most passionate sex between men shot on film.
   The first installment of the "Just Love" series features recently signed exclusive CockyBoy, Boomer Banks, and the ever-popular Ricky Roman. While Ricky has been a CockyBoy longer than Boomer, Boomer is a complete natural in terms of sex. Getting to know the guys on a more personal, vulnerable level certainly ramped up the chemistry between two men who were already smitten. You can see the connection between the guys as soon as they lock eyes at the pool. Ricky soon wades over to Boomer sitting on the ledge, gets a taste of his famously big cock for the first time, leading Boomer to return the favor as Ricky stands and Boomer grasps the bubble butt he'll soon be rimming and pounding.
   Even for a pro like Ricky, taking all of Boomer's cock meant he'd have to sit down and ride him for a bit to get comfortable. So he took it easy at first, rocking back and forth on Boomer's lap in a deck chair near the pool, but it wasn't long before he was in a state of true ecstasy. Both being very verbal sexual partners, Boomer and Ricky whispered — and sometimes moaned — exactly what they were feeling throughout their long and hot fuck. Almost in disbelief, Ricky couldn't stop commenting on how big Boomer's cock was as Boomer pummeled him from behind after they dried off indoors. And Boomer knew exactly how to treat Ricky right. For the grand finale, the guys headed upstairs to the roof deck where Boomer spoon fucked Ricky as the sun set in the distance. A romantic, passionate, and just damn sexy hot fuck, you may have the curious feeling of overwhelming gratitude for these performers, for yourself, and for being able to connect with them on an even deeper level. In other words, it's "Just Love"!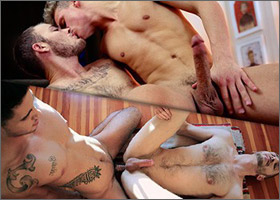 THE HAUNTING
EPISODE 3 – A KISS BEFORE GOODNIGHT: Christian Wilde, Max Ryder, Arnaud Chagall & Ricky Roman
Christian Wilde (Naked Sword exclusive model) plays Klaus Heist, a highly successful yet greatly disturbed artist who is severly lacking creative inspiration. After doing some research online, Klaus learns of an isolated manor for sale in the woods rumored to be one of the most haunted properties in New York. On impulse, he purchases the house with the hope of encountering the supernatural and drives there the following day. A spritely young real estate agent, played by Max Ryder, can't believe he's sold his first listing in just a day — especially since it's notoriously known for being haunted — and he greets Klaus enthusiastically upon arrival. But Klaus has other plans. Without warning, he slams the chipper little punk against the wall and fucks him hard… in every single room of the house. Because if that doesn't provoke the spirits to reveal themselves to him, what will? When the plan does not work in his favor, an even more flustered Klaus kicks the useless agent out of the house he now owns and retreats to his room to paint. Without the spirits connecting to him, he decides to flip the tables and create a tribute painting for them. What he discovers in his work is not fright, but an act of love — a guilt-ridden church pillar's son submitting himself to his forgiving valet, their lives lost but their passion still alive and pulsing through the house. With Arnaud Chagall as the pillar's son and Ricky Roman as the valet, Klaus is not haunted but moved by their redemptive passion fucking and the forgotten brutality that failed to tear them apart.
CLICK HERE TO GO TO HIS COCKYBOYS DETAILS
RICKY ROMAN & ANGEL CRUZ FLIP-FUCK!
CONNOR MAGUIRE FUCKS RICKY ROMAN
RICKY ROMAN FUCKS LEVI MICHAELS!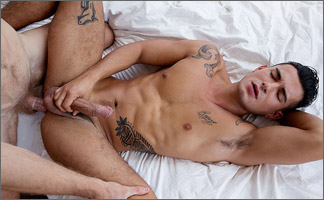 COLBY KELLER HAMMERS RICKY ROMAN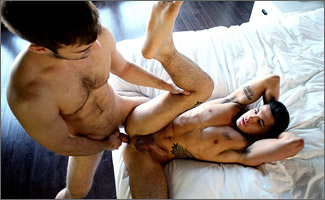 GABRIEL CLARK RAMS RICKY ROMAN
FUCK YEAH LEVI KARTER! PORN HAUS FILM FEST
RICKY ROMAN FANTASY FUCKS PIERRE FITCH
THE HAUNTING
ANSWERED PRAYERS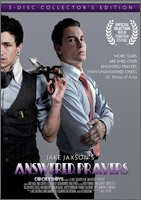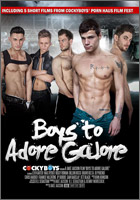 ANSWERED PRAYERS SPECIAL EDITION DVD
BOYS TO ADORE GALORE

COCKY BOYS 2015 CALENDAR
A THING OF BEAUTY