Rugged Handsome Scrappy American Gay Porn Star, Rick Randy
Known Aliases:
Years Active: 2002 – 2004
MISC. INFO:
Produced the Music and Audio for several of Ron Lloyd's Body Image Solo DVDs.
BIG MUSCLE INFO:
Year Born: 1976 (28 in 2004)
Height: 6′
Weight: 160 lbs
Waist: 30
Chest: 40.0
Arms: 13.5
Forearm: 11.0
Thigh: 21.0
Calf: 14.0
Body Fat: 5.0%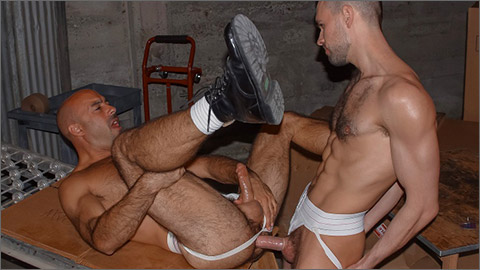 PACKERS: Andy Dill stuffs his 9″ cock in Rick Randy's eager holes
When Brad's box rolls down the gantry into the receiving room, we see it's filled with Pjur Eros. Andy Dill thinks he'll give the stuff a product test, but as soon as he's got his stiff nine incher slicked up, Rick Randy walks in, and the lean, hungry dude is all over Andy in a flash. They work each other's nipples and smack their dicks around in a way that hurts so good. Locking eyes with Rick, Andy gags on Rick's monster meat 'til his whiskers are buried in balls. Suddenly, in a hands-free cumshot, Rick's spews his massive load in an arc over Andy's head. When he pinches Andy's bruised nipples in vice-like fingers, Andy blasts his own white cream. Still hard, Andy begs Rick to work his manhole, and as pre-cum slithers from his cock, Rick slides his superbly scrumptious sausage up Andy's tightly clenched bung hole, stabbing it mercilessly until his second show-stopping monster load slams against Andy's sweaty chest hair in sticky pearls of spooge. Smearing the thick fuck sauce onto his stiff prick, Andy bucks and writhes while bringing forth his own gargantuan load like a geyser.
TITAN MEN
RON LLOYD'S LEGEND MEN
CLICK HERE TO GO TO HIS TITAN MEN DETAILS

MEN MAGAZINE PRESENTS: TITAN MEN