Sexy Str8 (ish) American Gay Porn Star, Reese Rideout
Known Aliases: Nicholas Ryan
Years Active: 2005 – 2020
RANDY BLUE INFO:
Reese is a man who is full of surprises. I remember when I first started talking to him he was certain he would only do solo. Reese identifies himself as straight and as far as I know he had no interest for boy on boy action. But sometimes some sweet talking and patience can really change things. Reese, and I have no problem admitting this is one of the hottest guys I have ever met. His body as my friend says is fierce! It's been an interesting challenge to see just where all this will go. A couple of weeks ago we got to see Reese and another R.B. favorite Jude blow each other. That was first for both of those models. God, I am getting hard just thinking about it again! The shoot might have looked simple but there was a lot going on behind the scenes to make it look hot and convincing……well maybe not too much. But it was something to see, these two hot boys giving oral for the first time. Their mouths deep throating each others big cocks! But I wanted to give the Reese fans a little more to salivate over. Why not a workout with Reese and then have him play with a couple of toys to make it a bit more exciting. Reese has one hot ass and a beautiful virgin hole. He practiced a little bit before the shoot so it wouldn't be too awful for him but I was fully aware that at first it hurt. But, once he got a rhythm going he really seemed to enjoy it. Reese rides three toys then ends up putting a big vibrator up his ass for one hot self fuck fest with a huge cum hot! Reese does an outstanding job with this little assignment! Enjoy!
PLAYGIRL INFO:
Nicholas Ryan – Gallery Hunk of the Week Sept 15th
Age: 26
Zodiac:: Libra
Eye Color: Brown
Hair Color: Brown
Height: 5'8″
Weight: 180
Favorite Food: Cheesecake
Vacation Spot: Mexico
Hobbies: Reading, Riding my Ducati, Salt Water Fish-tankery
Place to make love: Your Bed
Book: The Power of Now by Eckhart Tolle
Vacation Spot: Mexico
What do you wear to bed?: My Birthday Suit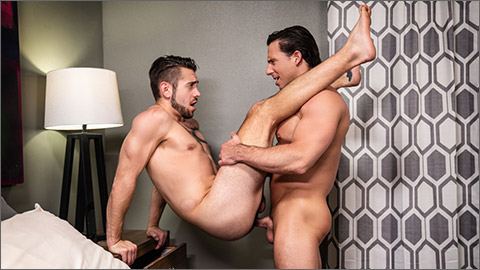 GAYBORS – PART 3: BAREBACK
When Reese Rideout sees his boyfriend, Ty Mitchell, getting pounded by hot new neighbor, Dante Colle, he marches right over there to give them a piece of his mind… and get a piece of Dante too. He tells Ty to go home and commands Dante to get on his knees to suck his dick. Ty watches from the window as Reese shows off, fucking Dante doggystyle, and Ty writes suggestions for how his man can fuck Dante even better. Ty tells Reese to destroy Dante's hole, and the top does, pounding that ass in a stand and carry, then fucking Dante mish till both guys cum. Reese heads home where he and Ty make up. Seems like these guys can be good gaybors after all!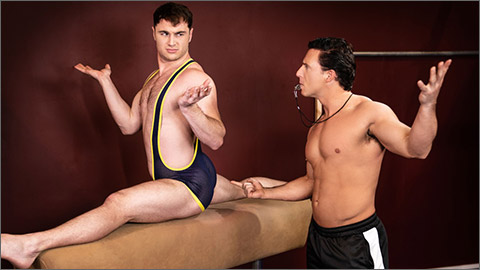 TUMBLING TOWARDS ECSTASY – PART 1: BAREBACK
Gymnast Michael Boston is doing his best as he practices his routine in a sexy low-cut unitard, but his hardass coach Reese Rideout chews him out and sends Michael to the showers. That's just a ploy for Reese to spy on Michael's naked, perfectly muscled body under the spray and to sneak a sniff of his sweaty leotard from his locker! Michael insists to his coach that he'll do whatever it takes to prove his dedication, and luckily Reese has something in mind as he gets out his hard cock. The guys stroke each other's lengths before Michael deepthroats Reese, then the gymnast does a full split lying on the bench while his coach sucks his dick. Reese pounds the flexible bottom athletically till Michael cums, then paints him with his jizz.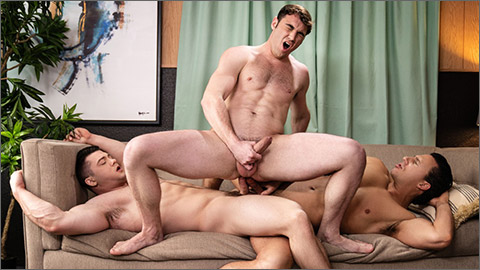 DR. WOOD – PART 3: BAREBACK
Handsome studs Collin Simpson and Michael Boston are discussing Michael's performance as a top with their muscular doctor, Reese Rideout, who suggests that Michael try bottoming to make him a better top. Wanting to lead by example, hunky Reese joins the couple as he slowly undresses, revealing his perfectly fit body, and gets on his knees to get a taste of their beautiful, hard cocks. Reese then lubes up his huge cock and slides it slowly inside gorgeous Michael's eager hole, as Michael keeps deep-throating Collin's dick. The three studs then switch positions and Michael starts riding Collin's thick cock on top of Reese's desk as Collin gets face-fucked by Reese. Collin and Reese then take turns holding Michael up in the air and take turns fucking him senseless. This incredibly hot threesome then culminates into Michael getting double penetrated by these two massive cocks until all three shoot their loads all over each other.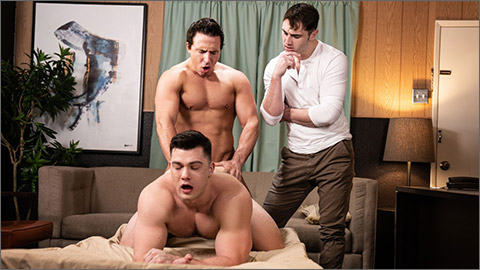 DR. WOOD – PART 1: BAREBACK
Michael Boston has come to see Dr. Reese Rideout because he's having some trouble in the bedroom. Dr. Reese calls in naked, muscular sex surrogate Collin Simpson so he can show Michael how to be more comfortable with the male form. Reese demonstrates how to stimulate the erogenous zones, rubbing Collin's nipples, ears, and shoulders, before he shows various techniques to excite the cock and balls. Michael watches intently as the doctor sucks Collin's cock and gets an unimpeded view as Reese fucks Collin doggystyle. As Collin rides Reese's cock, the treatment seems to be working as Michael starts rubbing his hard cock! The session finishes as Collin cums and Reese pulls out to finish on his hard abs, and Michael's excited to come back again soon.
CLICK HERE TO GO TO HIS MEN.COM DETAILS

MEN July 2008, August 2008, November 2008, January 2009
FRESHMEN January 2006, March 2006
[2] July/Aug 2005, Nov/Dec 2006
HONCHO March 2008
INCHES August 2009
MANDATE February 2006, January 2007, February 2007
TORSO September 2005, January 2006
PLAYGIRL November / December 2008
DNA #109
NAKED STRAIGHT MEN 2006 CALENDAR
NAKED STRAIGHT MEN 2007 CALENDAR
[2] HOT MALE COUPLES 2007
FRESHMEN 2007 CALENDAR
BRUNO GMUNDER: HOUSEHOLD IDOLS 2010 CALENDAR
MEN MAGAZINE 2010 CALENDAR
PLAYGIRL 2010 CALENDAR
MEN MAGAZINE 2012 CALENDAR
BRUNO GMUNDER: HOUSEHOLD IDOLS
FRESHMEN 15
GAY PORN HEROES: 100 MOST FAMOUS PORN STARS
MEN OF THE INTERNET
VIDEO ON-DEMAND: Reese Rideout @ AEBN SMUTJUNKIES THEATER
DVDs & ON-DEMAND: Reese Rideout @ TLA VIDEO