Staxus European Twink Gay Porn Star, Ray Mannix
Known Aliases: Lukas Watkins
Years Active: 2014 – 2015
TWITTER @raymannix
STAXUS INFO:
He arrived at the STAXUS studio with a friend, claiming that he wasn't interested in doing porn. A few hours later and he was out of his pants and doing what comes naturally to guys his age! Fact is he's a right little cock-whore – something our fans will no doubt love about him more than anything else!!
Date of birth: 22nd April 1994
Height: 5′ 11″ / 180 cms
Cock size: 7″ / 18 cm
Ethnicity: Czech
Role: Bottom
Interesting Fact:
Ray is a big Tom Hanks fan and claims to have watched (and enjoyed) every film the US actor has starred in. Is the appreciation replicated, we wonder??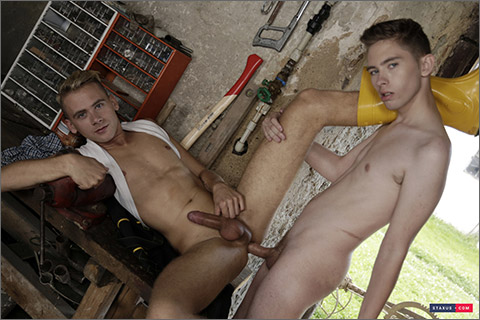 CUM HARVEST: BOOTED FARMHAND FUCKERS ENJOY A KINKED-UP FLIP-FLOP NUTTING
Given the country backdrop, it's perhaps rather fitting that young Brit, Clyde Walton, should have a penchant for country-and-western music – but to be fair that's not the element of his personality that particularly attracts Czechia's very own slut par excellence, Ray Mannix. Discovering the visitor in the local barn as gives a sweet rendition and sharpens his tools, Mannix immediately underlines his reputation as a cock-whore by making a beeline for Walton's crotch. Suffice it to say that it's barely seconds before he's down on his knees and savouring every fucking gorgeous inch that the boy from London has to offer; before very eagerly rimming the visitor's arse in anticipation of a hard fuck to come.
   Clearly wishing to add a little spice into the encounter, however, Mannix decides to ease his mate towards ecstasy with a little tool play of a different nature – pushing the handle-end of a file into the hungry crack! Mannix being the boy that he is, however, it's not too long before his appetite for action gets the better of him and he forces his dick in its place; signalling the start of a terrific fucking that will almost certainly have you pulling on your zipper for relief.
   Don't think for one moment that Mannix has turned top, however. Having pummelled Walton's cute pucker for all he's worth, he's soon demanding some attention of his own; at which point the horned-up Briton pushes Mannix onto a table and hammers the Czech lad with true British gusto. No fucking wonder that Mannix is busting his nut in no time at all; before Walton christens his pal's lips with a jizzy wad!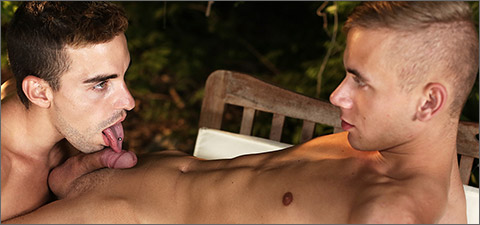 SUN, SANGRIA AND SEX: HUNKY SPANIARD GIVES RAY MANNIX A HARD FINGERING & FUCKING!
It's clear from the off that Josh Milk is in a particularly provocative mood at the start of this scene – teasing the camera with his mean, broody glare, whilst deliberately dribbling the contents of a drinks-can down his handsomely toned torso. Little wonder that Ray Mannix is quite literally like a rabbit-in-headlights as a result. No doubt about it, the young Czech beauty is helpless against such a high-octane display of raw sexuality; and before you know it he's down on his knees, pulling Milk's cock out of his speedos and giving head as if it was his one and only duty!
   Not that the Spaniard is noted for having any less enthusiasm for dick, it must be said – a fact that's promptly underlined when the two fellows switch roles and Milk gives his buddy a clearly much-needed blowjob in return. But there's no disguising the fact that Milk is the dominant partner in this scene; and it comes as no surprise when he finally bundles the blond boy over a bench and proceeds to finger Mannix's hungry little pucker. Not that playing with the lad's butt-hole is ever going to be enough to satisfy Milk's overriding libido; and it comes as no surprise when he finally replaces his probing fingers with his thick, meaty, uncut cock.
   In no time at all, the Spanish stud is balls-deep in Slavic butt – signalling the start of a terrific set-piece that will almost certainly push you over the edge. Not before Mannix has displayed his first-class sluttish credentials, however – taking time out to suck Milk's cock between positions. All of which eventually culminates in fine blasts of spunk from both horny bastards!

SUN, SANGRIA AND SEX: RAY MANNIX ENJOYS AN ALFRESCO SPANISH INVASION OF HARD COCK!
An inflatable crocodile would be a great toy for Ray Mannix and Ruben Bart to play with if they were by the pool, but unfortunately they're nowhere near any water. As a result, they have to find other things to amuse them; which in this particular instance means slipping out of their swimming trunks and playing with each other's cocks.
   Not that that's something that seems to particularly bother either of these horned-up buddies given what promptly ensues between them – but then seeing who we're dealing with here that surely won't come as any surprise! After all, they may hail from different sides of Europe but neither Mannix nor Bart appear to show the slightest bit of reserve when it comes to all things carnal. A point that's promptly underlined when the Czech visitor goes down on his Spanish host's deliciously curved shaft and starts giving head like his whole holiday experience depended on it. Then again, of course, we are talking here about a boy who quite literally lives for cock and who doesn't seem entirely himself unless he's getting his ass-hole stretched to the max by some uncompromising phallus!
   Fortunately for all concerned, it's not long before Bart is ready to oblige in that respect. Having engaged in a brief, but very energetic session of 69-ing, the home-boy promptly positions his dick to the sky so that Mannix can ride it to heaven and back – an offer that's accepted with typical relish! Suffice it to say that both buddies are soon peeking as a result, with very generous sprays of pent-up spooge being splattered over each other's faces!
CLICK HERE TO GO TO HIS STAXUS DETAILS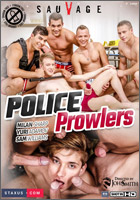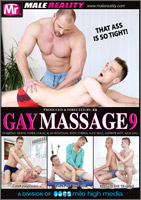 BIG FARE
CUM WITH ME!
TWINKS DESTROYED 5
CAMP OUT
POLICE PROWLERS
SPANISH SUN
SUN, SANGRIA AND SEX
OIL UP
PUMP THIS!
GAY MASSAGE 9