Handsome Masculine Gay Porn Star and Director, Ray Dragon
Known Aliases / aka:
Years Active: 1991 – 2008
TWITTER @raydragonxxx
AEBN INFO:
Gender:Male
Date of Birth:6/20/62
Height: 5 ft 8 in (172 cm)
Weight: 180 lbs (81 kg)
Hair: Brown
Eyes: Brown
Ethnicity: White
Gymnastic training and dance experience gave handsome Ray Dragon the body that would inspire countless fantasies and orgasms when he entered the gay porn world. It was his passion, work ethic, and creativity that made him a legend. Born June 20, 1962 in Detroit, Ray earned degrees in computer engineering and performing arts from Michigan State University. He later moved to New York City and worked as a go-go dancer in the city's gay clubs, which helped him earn the money to start up his own fashion label. In the early 90s, Ray's lover sent photos of him to Colt Studios. Colt founder Jim French was impressed and photographed Ray himself, which soon launched him to cover model status. Audiences couldn't get enough of this hot, well-built stud with the 8.5″ cock.
   Ray left the XXX business for a few years in 1996 to concentrate on fashion, but when he returned in 2001 he was better than ever, appearing in a string of hot films for Titan Media and Colt Studios. He began directing and producing his own films under the Dragon Media name in 2003, receiving acclaim and nominations from the GayVN Awards.
   While achieving legendary status as a top in films that showcased his masculine perfection, Ray built and maintained a successful fashion career with celebrity clients and designs showcased in magazines such as Details and Vanity Fair. His creations have appeared on Broadway, in Alvin Ailey productions, and in ballet productions. Ray's swimsuit collection is featured at raymonddragon.com.
   Ray was inducted into the GayVN Hall of Fame in 2007. He has been in a steady relationship with his partner Tim Cass since 1989.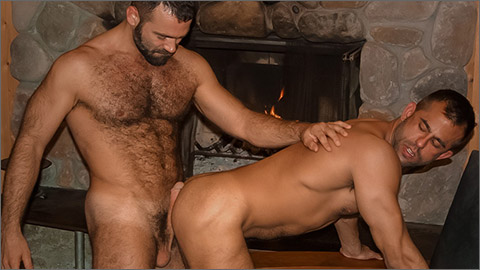 WOODSMEN: Ray Dragon fucks Jon Galt
Jon and Ray's furry bodies are matted with spit; heavy strands of Jon's saliva hang off the shiny head of Ray's great cock. Both their members ooze sweet nectar. Ray buries his stubble-covered face deep in Jon's ass. With Ray's thick, rockhard cock bucking wildly in his rapidly constricting hole, Jon can't help shooting. But instead of stopping there, Jon spreads his legs and begs for more. And he gets it, in a fierce and ferocious ride that leaves the musk-drenched pair covered in buckets of jizz and salty sweat.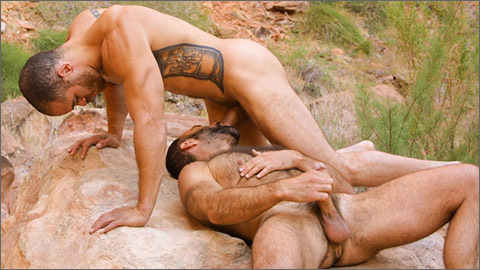 GORGE: Dred Scott & Ray Dragon
CLICK HERE TO GO TO HIS TITAN MEN DETAILS

COLT CALENDAR MEN #11 – LEATHER
COLT Calendar Men Digital Magazine #11 – Leather is a full-color digital compilation of major highlights from various COLT Calendars which features some of our most iconic COLT Men from over our 52+ years in PDF downloadable format.
Features COLT Men Icons: Cover man Walt Ford, Pete Kuzak, Mike Pereyra, Joe Falco, Mark Alexander, Haus, Neal Howard, Nick Dipalma, Franco Corelli, Joel Hancock, Tony Mills, Beau Wheeler, Pat Webb, Ed Ventresca, Mike West, Skip Piston, Tom Chase, Erik Korngold, Buddy Houston, Ken Ryker, Buck Hayes, John Bell, Tony Lombardy, Jake Andrews, Wade Neff, Rod Roddick, Rio Majeska, Jesse Ditmar, Jake Tanner, Chet O'Roark, Mike Dasher, Billy Herrington, Marshall Cline, Todd Maxwell, Jason Brahm, Carlo Masi, Nick Battle, Scott Butcher, Frank Vickers, Link Benedict, Gus Mattox, Ray Dragon, Diego De La Hoya, Zak Spears, Gunner Hyde, Paul Underwood, Bruce Abidor, Matt Horner, Fritz Bowman, Tony Ganz, Taylor Burbank, Jeff Williams, JD Amos and Brant Royale.

MEN MAGAZINE PRESENTS: TITAN MEN
MEN  September 2006
UNZIPPED  August 2004
BEAR  46 (German)
COLT ANNIVERSARY ALBUM #1
COLT ANNIVERSARY ALBUM #3: MACHO IMAGE
COLT CALENDAR MEN #5
COLT MEN 32
COLT MEN 40
COLT STUDIO PRESENTS 17: HAIRY CHESTED MALE
COLT SPURS 26: UNDERCOVER
COLT ANNUAL MAN CALENDAR 1993
COLT CALENDAR 1993
COLT LEATHER CALENDAR 1993
COLT MEN CALENDAR 1995
COLT HAIRY CHESTED MEN CALENDAR 1996
COLT LEATHER CALENDAR 1997
COLT COUPLES CALENDAR 2000
COLT HAIRY CHESTED CALENDAR 2005
COLT LEATHER CALENDAR 2005
COLT HAIRY CHESTED CALENDAR 2007
HAIRY CHESTED 2011 CALENDAR
HAIRY CHESTED 2012 CALENDAR
HAIRY CHESTED 2013 CALENDAR
HAIRY CHESTED 2014 CALENDAR
COLOR PRINTS: CP-258
COLOR PRINTS: CP-259
B&W PRINTS: T 44
SLIDE SET: S 311
HAIRY CHESTED MEN PLAYING CARDS
JIM FRENCH: masc.
BRUNO GMUNDER: TITAN MEN 2004 CALENDAR
BRUNO GMUNDER: REAL MEN – RAY DRAGON
COLT – HAIRY CHESTED MEN
ADAM GAY VIDEO: 500 WORLD'S GREATEST PORN STARS
TITAN MEN 2003 CALENDAR
MEN MAGAZINE PRESENTS: TITAN MEN
TITANMEN 2007 CALENDAR
COLT STUDIO PRESENTS 17: HAIRY CHESTED MALE
VIDEO ON-DEMAND: AEBN SMUTJUNKIES THEATER