Monster Cock American Gay Porn Star, Ray Diesel
Known Aliases / aka:
Years Active: 2014 – 2020
AEBN INFO:
A name like Ray Diesel is a promise of power and masculinity. You don't call yourself something like that if you aren't prepared to back it up. As a matter of fact, gay porn star/gogo dancer Ray Diesel is as potent and manly as his name suggests, and then some. With a huge, curved cock, this strong Black stud is a top who will deliver the pounding that every hungry bottom needs.
IN CALL OF BUTY 3: GOING COMMANDO from Dark Alley Media/Raw Fuck Club, four soldiers on their down time in the barracks are playing a game and having some drinks, which leads to a hard-driving gangbang with double anal penetration! Ray's always a standout in gangbangs, also appearing in Raw Fuck Club's Alex's Birthday Gangbang. He and Alessio Romero ream and cream the greedy hole of super bottom Aarin Asker.
Renowned bareback porn studio Treasure Island Media cast Ray as one of the tops in FILL 'ER UP, an awesome dick pig extravaganza for the ages.
Produced by: Mr. Hankey
Year Produced: 2019
MR. HANKEY'S TOYS: RAY DIESEL REALISTIC LIFE CAST DILDO
Ray Diesel, the man with the giant cock! Now available in five sizes – starting with the small size and going all the way up to the massive XXXL size. This toy is an actual lifecasting of Ray Diesel's rock-hard, extra wide man-meat – it's an exact copy of the well hung master's member! Every detail has been captured, even the natural bend in his shaft! We are so proud of this one that we have released it in five sizes – there is sure to be a size here to please anyone! You can check out Rey Diesel in action here and here. We have upsized and downsized this toy, if you are looking for the actual life size version, select the 'Medium – Original' size. Take Ray Diesel home with you today and enjoy!
Specifications:
RAY DIESEL – SMALL
Circumference near head (rim): 5.50″
Circumference near middle: 6.25″
Circumference near base: 6.20″
Overall length: 9.10″
Insertable length: 7.10″
Texture: Realistic w/vein and skin detail
Strapon Ring Size: 2.50″ (fits slightly loose)
RAY DIESEL – MEDIUM (ORIGINAL SIZE)
Circumference near head (rim): 6.25″
Circumference near middle: 7.25″
Circumference near base: 7.30″
Overall length: 10.75″
Insertable length: 8.65″
Texture: Realistic w/vein and skin detail
Strapon Ring Size: 2.50″
RAY DIESEL – LARGE/XL
Circumference near head (rim): 7.00″
Circumference near middle: 8.50″
Circumference near base: 8.55″
Overall length: 12.25″
Insertable length: 9.80″
Texture: Realistic w/vein and skin detail
Strapon Ring Size: 3.00″
RAY DIESEL – XXL
Circumference near head: 7.80″
Circumference near middle: 9.50″
Circumference near base: 9.75″
Overall length: 13.50″
Insertable length: 11.00″
Texture: Realistic w/vein and skin detail
Strapon Ring Size: 3.00″ (Tight fit, use lube)
RAY DIESEL – XXXL
Circumference near head: 8.50″
Circumference near middle: 10.90″
Circumference near base: 11.05″
Overall length: 15.00″
Insertable length: 12.25″
Texture: Realistic w/vein and skin detail
Strapon Ring Size: NA
Hankey's Toys offers the internet's finest sex toys and dildos, and we've got the goods to prove it. From extra small to giant dildos, realistic or fantastic, you're bound to find something new to reinvigorate your sex life with. Thrill your partner in mind-blowing ways with realistic dildos or explore the truly exotic. Mr.Hankey has the goods in a wide range of sizes to pleasure all bodies.
GO TO: MR. HANKEY – BEST SEX TOYS IN THE WORLD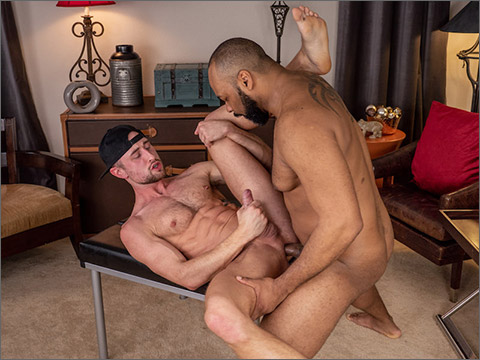 FUCKING DADDIES: Ray Diesel fucks Drew Dixon
British power bottom, Drew Dixon, needs dick and there's no one better to give him what he wants than monster hung American, Ray Diesel. Drew chows down on Ray's big brown monster cock, then Ray returns the favor. He sucks the skinny little white boy before once more offering up his own meaty tube steak. Ray sucks on the curved slab but he doesn't stop, not even when he gags, or when Ray fucks his face, and even then, it's only to come up for air. Soon tattooed Drew is on his knees, ass up. Ray makes a meal out of his hole, and the sex faces Drew makes are HOT! It's a rimming delight for those who like to eat ass or get tongue fucked. Ray primes Drew full of spit, getting him ready for that "Diesel Dick." Things get deliciously nasty as Ray continues with more dirty trash talk. And as he breaks past Drew's first, then his second, inner ring, the dirty talk gets even filthier! Drew doesn't just take Ray's raw cock. He doesn't just get fucked bareback. Drew gets his hungry hole STRETCHED and pounded, deep and hard, the way a whore should be taken. Ray fucks the cum out of the power bottom then splatters his own seed all over Drew. It's a copious load, one of the largest we've ever seen. For full effect, we suggest you pop in those earbuds and listen to these horny bastards rut like pigs!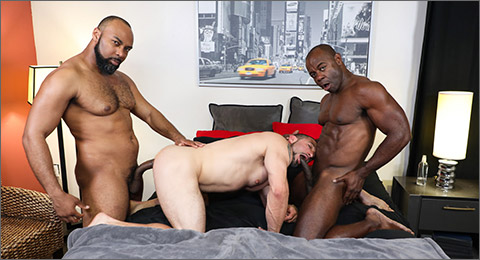 SCROLLING FOR BIG COCK
Ceasar Ventura is lying in his bed stroking his cock and begging for Aaron Trainer and Ray Diesel to pull out their big cocks. He has been scrolling online for days looking for cock and he cannot believe he finally has two on either side of him. They both reveal their big cocks and Ceasar takes turns sucking both of them. After getting their cocks wet, he gets on all fours and Aaron rims him while he sucks Ray. He then turns around and Ray rims him while he sucks Aaron. Ray then lubes up his cock and starts fucking Ceasar long and deep with his massive cock. He then turns around and gives his ass to Aaron to fuck. Ceasar then rides Aarons cock while he sucks Ray. He then lies on his back and Ray fucks him until he cannot hold back and Caesar shoots his own load onto himself. Both Aaron and Ray then shoot their loads.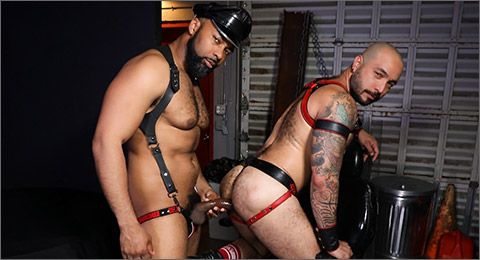 BEGGING FOR DADDY'S BIG COCK
Ray Diesel has invited Julian to his playroom and as he sits back in his chair stroking his huge cock, he has Julian Torres begging for it and crawling on his hands and knees to service him. Once he gives in and allows Julian to suck his cock, he has him start out slow and then feeds the entire thing to him. Julian does his best to take it all down his throat as he gags and spits on the massive cock. He manages to work the entire cock into his mouth and throat and is eager to please his daddy as he gags on his cock. Ray then puts Julian on his back and begins eating his ass and fingering his hole to get it ready for his cock. He then bends him over the chair and begins fucking him deep and hard with his massive cock. He puts Julian on his back up on the table and continues to fuck him deeper and deeper until Julian cannot hold off and he shoots his own load. Ray pulls out and shoots a huge thick creamy load all over Julian's cock and balls and then shoves his cock back inside his used hole.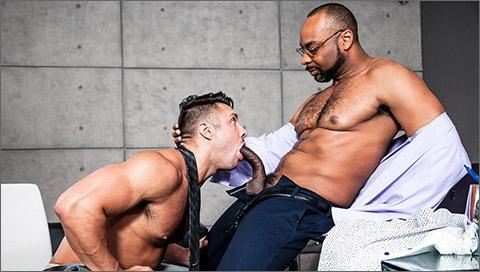 THE JOB INTERVIEW
There is no doubt who the boss is, and Ray Diesel is the epitome of a strong and sexy boss. His newly hired assistant, Seth Santoro, has taken full notice of his hot boss, now he just needs to show Ray he has all the qualifications that Ray requires. Ray sits down with Seth to let him know exactly what he needs to do to get ahead in the company and Seth is more than happy to give head to get ahead, as he slurps on the man's massive cock, taking him deep. Ray's got the perfect assistant now, happy to fill all his needs while he fills Seth's hot holes.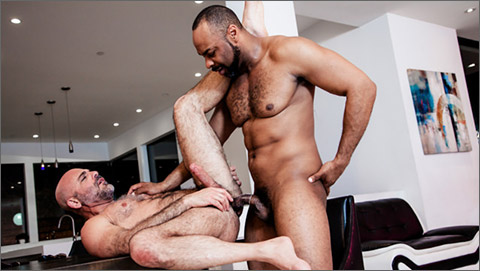 THE REAL ESTATE AGENT
Hot, fit, successful, daddy, real estate agent, Adam Russo is getting ready to show a prime property to his new, mouthwatering client, Ray Diesel. Adam is the top agent in the area and today is his lucky day because it's clear Ray likes more that just the views. Adam will do whatever it takes to close the deal and get a taste of Ray's thick cock, while breaking in every room in the house.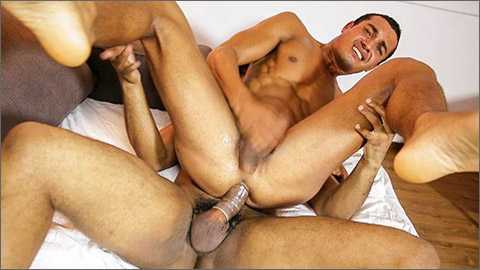 RAY DIESEL FUCKS PEDRO DIAZ
You probably know Pedro Diaz from a video we shot with him in London. He just visited us at home and we actually found he has become even more attractive in the meantime. That perfect skin, almost like gold when the light shines on it. And Pedro is so sensual, you feel it just by watching. As the Top we have someone for the friends of curved cocks. Ray Diesel, visiting from the States, gave Pedro a hell of an anal treatment with his big special tool. Just watch Pedro's face to see how good it feels…

RAY DIESEL FUCKS TONY AXEL
Big Ray Diesel is back and uses his huge curved cock on power bottom Tony Axel from Paris. Tony makes clear that what he needs is a big man to really take care of his ass and to whom he can give himself completely. And on that afternoon, Ray showed that he would be there for him and do whatever he needed to get satisfied. Just as a good Top should. And I just recorded that and made a nice video out of it for you.
   So now, just play and have fun.
CLICK HERE TO GO TO HIS PRIDE STUDIOS DETAILS
VIDEO ON-DEMAND: Ray Diesel @ AEBN SMUTJUNKIES THEATER
DVDs & ON-DEMAND: Ray Diesel @ TLA VIDEO