Rugged Italian Gay Porn Star, Raul Korso
Years Active: 2014 – 2015
LUCAS KAZAN INFO:
Tomas Brand was originally booked for a scene with Hungarian Marco Sessions. When Marco injured his back and couldn't make it down to Sicily, Tomas recommended an italian hunk he had just met online: swarthy, bearded, hairy-chested… In a few words, the exact opposite of Tomas' Northern European looks. So, what happens when pornstars cast each other? Real chemistry, hot sex, short filming days. Raul began referring to Tomas as to his "Viagra naturale". No need for drugs when two gay men are truly into each other. No need for on-set directions either.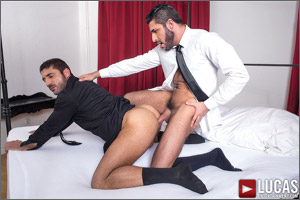 RAUL KORSO SWALLOWS MAX TORO'S COCK BEFORE BAREBACK SEX
Raul Korso swallows Max Toro's cock before bareback sex: The cut in Raul Korso's eyebrow is sexy, and it's even sexier when you notice it mid-fellatio. Who is the guy getting his cock sucked? It's Max Toro, and the package he shows off on camera is a beauty. The initial chemistry between these two men at the onset of the scene is apparent and strong. Granted, they're in suits, but they begin undoing their clothing as quick as possible. Both Max and Raul have a passion for oral sex acts, and the attention they show to each other's asses and cocks is exciting — at least until the raw fucking begins. Raul first mounts Max like a crazed dog in heat — just check out 10:55 to see what I mean!
   and others
   LUCAS KAZAN
   LUCAS ENTERTAINMENT
   TIM TALES